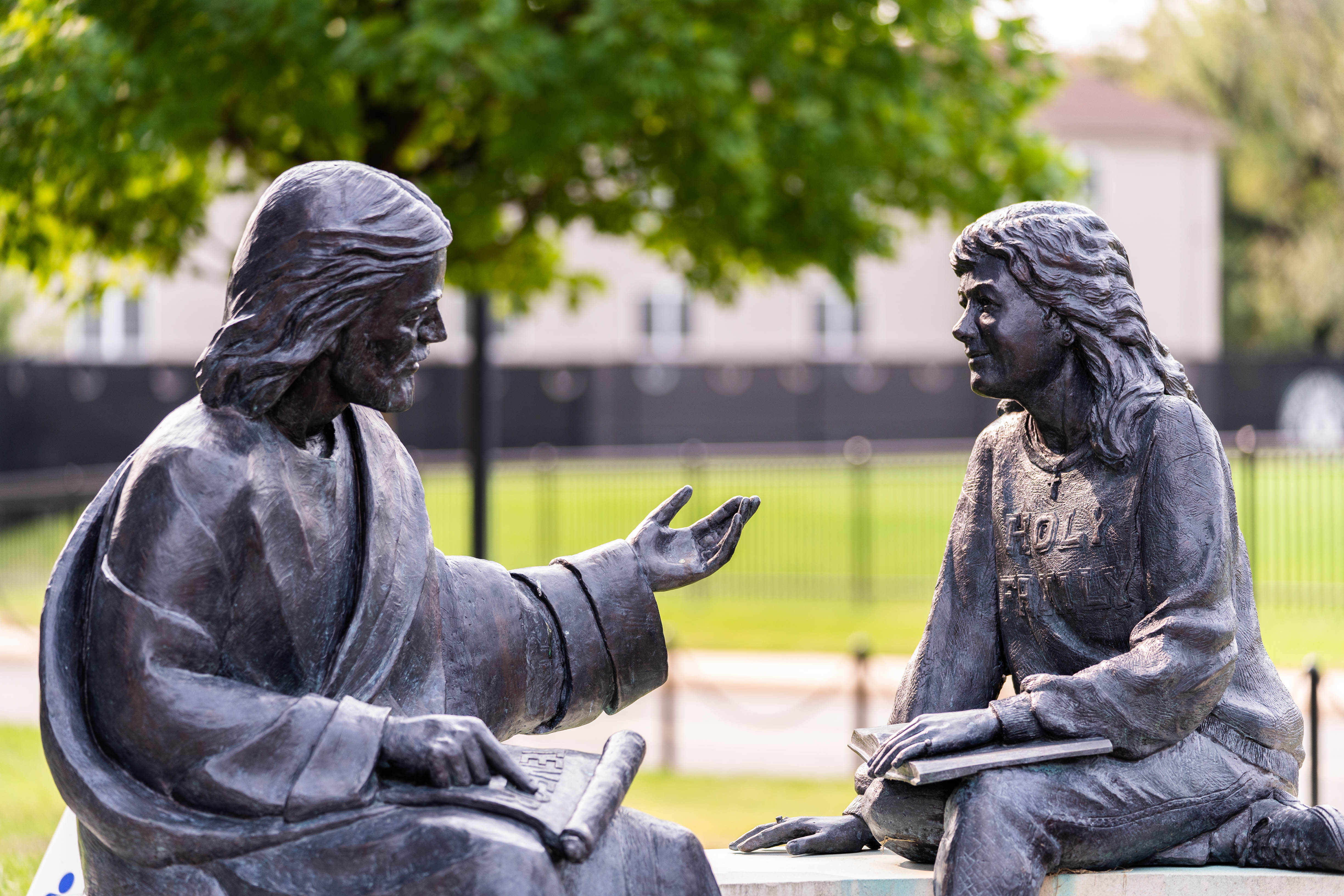 Helping a Friend: Information for Students
Helping a Friend: Information for Students
Helping a Friend in Distress
Sometimes a friend will be going through a tough time, and you may want to help. It is generally helpful to approach this student in a concerned, caring, and non-judgmental way. Tell the person specifically why you are concerned (e.g., "I am concerned about you because you are worried so much and have not been able to sleep for three days").
You can recommend that the person make an appointment to speak with a Counselor in the Counseling Center.
Frequently, this person will be relieved that someone has noticed their distress. If this person is willing, you can help them call the counseling center, and even accompany them to the first appointment if they want you to be there.
Booking an appointment
Students also can receive a free, confidential initial intake assessment and/or consultation with the Counseling Services Center in order to determine their need for mental health treatment and the type that would be most appropriate for them. Students can book this appointment online from our landing page. You can also find out more detailed information about the specific services we offer at the Counseling Services Center.
If you have any questions or feel you would like to personally speak to one of our counselors, please reach out to us via email counselingcenter@holyfamily.edu or by calling 267-341-3222. Do not leave detailed personal information via email or voicemail for confidentiality purposes. Leave your and the student's name and contact information to call you back.
What Happens Once a Student Books an Appointment?
A student who comes to the Counseling Center will meet with one of the Counselors for an initial intake assessment session in which the Counselor and the student will begin to determine what help is needed and how best to assist the student. This may be simply one visit at the Counseling Center, counseling at the Counseling Center, referral to another campus office, or possibly an off-campus referral for other types of intervention or more specialized longer-term treatment.
What If Your Friend Does Not Want Help?
Sometimes the person might state that they are not interested in talking to someone at this time. Sometimes this is because they may feel uncomfortable talking with a Counselor, or may be scared to talk about a problem because it feels overwhelming. They may minimize the problem or think the Counseling Center cannot be of assistance. If it is not an emergency situation, try to be open to the fact that the person may need some time to choose to talk to someone.
As mentioned, if it is not an emergency or crisis situation, be patient, supportive and friendly. You may also consult with one of the Counselors about how to help this person. Your request for assistance will be kept confidential in accordance with the Counseling Center's policies on confidentiality.
Encourage them to Take a Check-Up from the Neck-Up. ULifeline is available for free information, screening, and ideas on ways to help friends. In addition, there are many other resources on-line that can provide additional information about helping others. Check out the self-help resources page for links to education and assessment tools for a variety of concerns college students often face. You can share this information with your friend and search the sites together.
Mental Health Distress Dos 
Do call 911 or Public Safety if you have immediate concerns for student's safety or the safety of others
Do speak to the individual privately in a non-judgmental fashion
Do let the student know you are concerned for their welfare
Do use active Listening Skills
Do Validate and Explore Options
Do remind help is available and a signal of strength
Do maintain clear and consistent boundaries
Do refer individual to appropriate campus or community resource
Do acknowledge and discuss the student's fears and concerns about seeking a consultation from a mental health professional
Do point out that a situation Does not have to reach crisis proportions for the student to benefit from professional help
Mental Health Distress Don'ts
Don't ignore unusual behavior or minimize their situation
Don't ignore warning signs about individual's safety or the safety of others
Don't promise confidentiality
Don't judge or criticize
Don't make the problem your own
Don't involve yourself beyond the limits of your time, skill, or emotional well-being
Don't make promises regarding services
Don't forget to call Counseling Services to receive your own support and guidance in helping our students receive effective treatment
Don't pathologize a student's experience. All people experience negative emotions and experience trying periods in their life
Don't promise specific treatment to the student.
Mental Health Crisis
In rare situations, if you feel that a friend or loved one is at risk to harm themselves or others or you are unsure about their safety and they are on campus, you can bring them to the Counseling Center and request immediate help from a counselor or contact Public Safety at 267-341-3333.
If the student of concern is off campus, please do one of the following:
Call 911
Go to your nearest emergency room
Call Mental Health Delegate/Mobile Crisis in your community and ask for a welfare check (Mental Health Delegate of Philadelphia at 215-685-6440)
Call or Text the National Suicide Prevention Lifeline (1-800-273-8255)/ Text "Home" to 741-741. This service is available 24/7. 
 
What if the student is feeling really upset, depressed, or anxious, but it is not an emergency?
There are several things individuals can do in times of great distress to relieve some of this distress such as:
Journal or write down your thoughts in any creative way you can think of such as poetry, music lyrics, etc.
Talk to a trusted friend, family member, or adult role model
Practice relaxation techniques or meditate (check out our self-help link!)
Listen to soothing music or watch a comforting or funny movie
Exercise or do anything active such as take a walk or play a sport
Color, draw, craft, paint, etc.
Distract yourself with any healthy and soothing activity you can think of
Free Mental Health Resources 
These online Mental Health Trainings and Referral Assistance to help you assist students in distress.
Ask, Listen, Refer

Take this Suicide Prevention Training to better equip yourself in responding to student mental health crisis. The Ask, Listen, Refer Suicide Prevention Training Program is designed to help you recognize the risk factors and warning signs of suicide and respond appropriately.
This 15-20 minute interactive training program can be found at Ask, Listen, Refer. The purpose of this program is to encourage concerned persons to Ask if someone is thinking about suicide, Listen to their response carefully, and Refer them to a professional.
Through this program, you will learn about the prevalence of suicide among the college population, suicide warning signs, and sample conversations to guide you through this difficult time.
Tao Therapy Assistance Online

We believe in giving our campus community the tools and resources to take control of your wellness and achieve your goals. With the recent addition of TAO Connect, the Holy Family University Counseling Services Center, and campus partners have made this even more accessible! TAO includes over 150 brief, effective, educational sessions covering over 50 common topics and skills related to mental health, wellness, and substance use issues. TAO Includes interactive sessions, mindfulness exercises and practice tools all aimed at helping students achieve their goals. 
Our TAO page will explain more about how students can create an account. Please feel free to reach out to us for a consultation about how you can utilize this tool to promote health and wellness in your course. 
ThrivingCampus: Find Community Providers

Holy Family University has partnered with ThrivingCampus, to make it easier for you to connect with off-campus mental health care and well-being services. This online directory contains licensed mental health clinicians, many of whom specialize in working with students. You can browse and filter providers based on your needs and preferences.
Other Resources
There are numerous resources that can provide assistance to students. In addition to the Counseling Center, these include a physician, Health Services, Center for Academic Enhancement, Academic Advising, Campus Ministry, Careers Center, Disability Services, Residence Life, and parents. When you refer to students or a loved one, it is important that you encourage them to contact these resources on their own. Although you may desire to call or arrange an appointment for the student, except in a serious emergency or life-threatening situation, it is important for the student to arrange these appointments for themselves.