Office of Student Success Staff
Office of Student Success Staff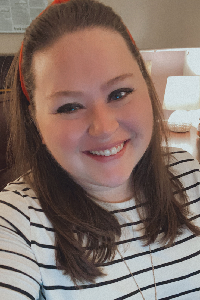 DIRECTOR OF STUDENT SUCCESS
Sammie Davis, M.A.
My name is Sammie Davis (she/her), and I serve as your Director of Student Success! I have my Bachelor's degree in Fashion Design from Centenary University, and a Master's degree in Counseling with a concentration in Student Affairs from Montclair State University. Within my role at Holy Family, I manage the Office of Student Success, supervise our Student Success Counselor Team, and create University initiatives aimed at reducing barriers to success. Our Office's goal is to help you thrive - however that means to you! I coordinate our Orientation, Transition, and Retention programs, First Year Student Success Course, Success Through Academic Readiness (STAR), Mentoring Programs, and support referrals and resources. I look forward to working with you as you begin your Holy Family journey!
STUDENT SUCCESS COUNSELORS
Damilola Babarinde
Hello everyone, my name is Damilola Babarinde (she/her/hers), and I am a student success counselor for the University. I am also a student in the Counseling Psychology M.S program dedicated to developing skills and gaining experience to become an ethical and professionally competent counselor successfully. As a student success counselor, my goal is to play a crucial role in supporting students to achieve academic success. I enjoy cooking, listening to music, and working out in my free time. Go Tigers!
Anthony Clarkson
Hi everyone! My name is Anthony Clarkson (he/him). I am a 3rd year School Counseling Master's student here at Holy Family. I joined the Student Success Team because I am passionate about helping students realize and maximize their potential to achieve their goals. I understand that balancing school and life can be difficult, so I want to use my training and my own experiences to help you succeed! Some additional info on me is that I love music, film, reading manga, and watching the 76ers. My interests in Psychology include social psychology and mindfulness practices. I am also an advocate for social justice. I am looking forward to working with you!
Casey Dever
Hey everyone! My name is Casey Dever (she/her) and I am a Student Success Counselor at Holy Family. I am also currently in my second year of Holy Family's Clinical Mental Health Counseling program. I was also an undergraduate student at Holy Family where I received my Bachelors in Neuroscience. Being associated with the University for over five years, I am able to truly provide the best resources for students. As a Student Success Counselor at Holy Family, I want to help students succeed and reach their academic goals. I work closely with my supervisor and peers to accommodate students to succeed at Holy Family. I am dedicated to helping students with time management, test preparation, and prioritizing. My strengths are that I am caring, empathetic, organized, and consistent. I am an animal lover and advocate for fighting the stigma against mental health. I look forward to being a mentor for many students at Holy Family!
Leyette Moll
Hello everyone. My name is Leyette Moll (she/her or they/them) and I am a Student Success Counselor and graduate student at Holy Family University. My undergraduate was at Widener University, where I received my BA in Middle Years Education, but I am currently studying to be a Behavioral Mental Health Counselor in the graduate level Psychology program. In addition to working as a Student Success Counselor, I also work another part time job, so when I'm not busy buzzing around at work I like to write, draw, and read while cuddling up with my cat baby, KitKat (don't tell my pet tarantula or she'll get jealous.) I look forward to getting to know you all this year and welcome anyone who wants to stop by, even if it's just to say hello. Good luck in all you do, and Go Birds!