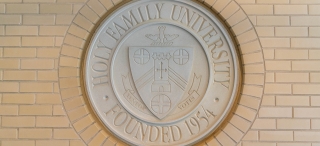 Abigail Wernicki, Ph.D.
Abigail Wernicki, Ph.D.
Vice President, Enrollment Management
Education
Ph.D., Theological and Philosophical Studies, Drew University
MA, Theological and Philosophical Studies, Drew University
BA, Philosophy, Randolph College (formerly Randolph-Macon Woman's College)
Background
Dr. Wernicki is an experienced leader and educator, with a diverse background in higher education administration, teaching, marketing and communications. Her areas of expertise include enrollment management and strategic planning, and she has over ten years of experience teaching undergraduate courses in the humanities. Dr. Wernicki's experience in the corporate sector includes continuing medical education management, marketing, and program development.
Prior to joining the HFU family, Dr. Wernicki served as director of admissions and enrollment services at Reading Area Community College in Reading, Pennsylvania, the state's only officially designated Hispanic Serving Institution. Before that, Dr. Wernicki was director of graduate admissions at DeSales University in Center Valley, Pennsylvania, where her chief responsibilities included strategic enrollment management of six master's programs and three doctoral programs, including the university's nationally ranked Master of Science in Physician Assistant Studies program. Dr. Wernicki also spent several years as managing director for medical education and program development for Bryn Mawr Communications Group, LLC, in Wayne, Pennsylvania before making the move to higher education administration.
Dr. Wernicki's primary scholarly interests include the philosophy of Arthur Schopenhauer, aesthetics, and religious naturalism.
Select Publications
"The sublime as sacred: reading Schopenhauer as a religious naturalist" in The Routledge Handbook of Religious Naturalism (2018), edited by Jerome Stone and Donald Crosby.