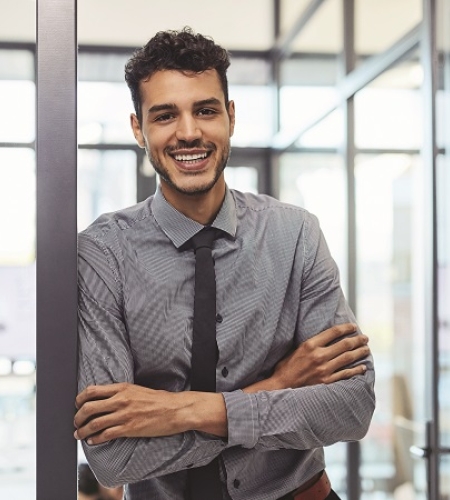 Business Administration, M.B.A. (Online)
Business Administration, M.B.A. (Online)
G
The MBA program at Holy Family University is an accelerated program for students with a minimum of three years of managerial experience seeking to enhance their knowledge and advance their careers.
Program Overview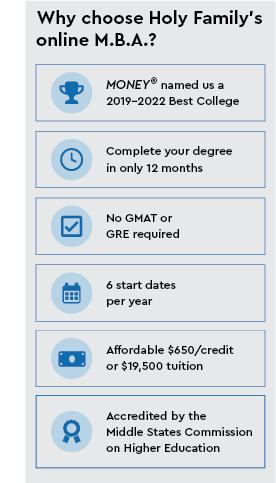 The MBA program is a writing and project intensive experience that utilizes the case study methodology. Students may be able to complete the program in as little as one year.
The program is offered in an online format with eight-week terms. The online format is fully asynchronous, allowing students a more flexible schedule for completing coursework. 
Students must choose one concentration, consisting of three courses, of either Criminal Justice, Finance, Health Care Administration, Human Resource Management, or Information Systems Management.
What Can I Do with this Degree?
An MBA degree offers professional and personal benefits, regardless of your field of business. A MBA degree will open opportunities for greater responsibility, career advancement, and increased financial reward across many fields of business whether it be technology, finance, management, marketing, or manufacturing.
An MBA will improve your communication and leadership skills which are vital to professional success. Below are additional benefits of possessing an MBA:
●   New job opportunities where a graduate, or MBA specifically, is required
●   New career paths if changing careers
●   Increased earning potential
●   Enhanced professional skills
●   Improved job security
●   Gain a global perspective of the world
●   Expanded professional network
●   Become more knowledgeable about the areas of business in which you are most interested
●   Become a respected member of your professional community with a valued credential
An MBA prepares individuals for many types of careers. Many MBA graduates use their degree to change careers. Graduating with an MBA prepares the candidate for a position in any one of the following careers:
Business analyst
Business development manager
Director 
Entrepreneur or founder
Financial analyst
Management consultant
Marketing analyst
Operations analyst
Portfolio manager
Program manager
Program Information
Degree Awarded

Master of Business Administration

Program Location
Make a virtual appointment to speak with J. Barry Dickinson, Ph.D., Professor in the School of Business & Professional Studies