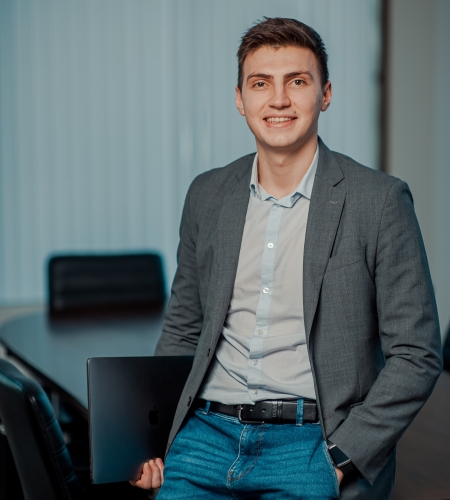 Business Administration, New Professionals, M.B.A. (Blended)
Business Administration, New Professionals, M.B.A. (Blended)
G
The MBA for New Professionals Blended program accepts students with less than three years of business experience, which is typically required for MBA programs. By starting students in a duo of professional skills courses, the program prepares qualified candidates for the rigors of the program and a successful business career. The program may be completed in as little as two years.
Program Overview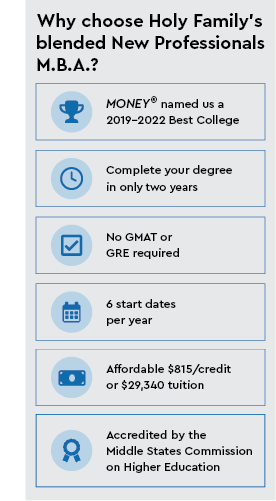 The program is offered in a blended format with eight-week terms. The blended format is a combination of face-to-face and online classes for students that prefer a campus experience. The Master of Business Administration program for New Professionals is also offered in a fully online format, which is a fully asynchronous format allowing students a more flexible schedule for completing coursework. 
Students must choose one concentration, consisting of three courses, of either Criminal Justice, Finance, Health Care Administration, Human Resource Management, or Information Systems Management.
What Can I Do with this Degree?
An MBA degree offers professional and personal benefits, regardless of your field of business. An MBA will open opportunities for greater responsibility, career advancement, and increased financial reward across many fields of business whether it be technology, finance, management, marketing, or manufacturing. An MBA will improve your communication and leadership skills which are vital to professional success. Below are additional benefits of possessing an MBA:
●   New job opportunities where a graduate, or MBA specifically, is required
●   New career paths if changing careers
●   Increased earning potential
●   Enhanced professional skills
●   Improved job security
●   Gain a global perspective of the world
●   Expanded professional network
●   Become more knowledgeable about the areas of business in which you are most interested
●   Become a respected member of your professional community with a valued credential
An MBA prepares individuals for many types of careers. Many MBA graduates use their degrees to change careers. Graduating with an MBA prepares the candidate for a position in any one of the below careers:
Business analyst or strategist
Business development analyst, associate, or manager
Director (of a department)
Entrepreneur/founder
Financial analyst
Management consultant
Marketing associate, analyst, or manager
Operations analyst, associate, or manager
Portfolio manager
Project, product, or program manager
Where Students and Alumni Intern and Work
A2DRadio.com LLC
American Heritage Credit Union
Archbishop Ryan High School
Atlantic Diagnostic Labs 
C-Biz
Career Directions
Central Jersey Tents
Chik-Fila Whitman Square
Code Ninjas
Comcast Spectacor - Wells Fargo Center
CompuData
Defense Logistics Agency
Department of Licenses & Inspections
DLA 
eAuditRx
Failsafe Advisors
FANTASYSTAND
Father Judge High School
First Heritage Realty Alliance
Flyers Skatezone
Forrest Elementary
Fox Chase Lock & Key Incorporated
Franklintowne Charter
Fusion Gym
Garces Events
Gloucester County Institute of Technology
HBK CPA's & Consultants
Intelligent Networks Inc
Interiors by Donna Hoffman
Jetzy
KD Financial
Kinney Center for Autism Education and Support
Kreischer Miller
Livengrin
Morsion Cogen LLC
Niehoff Endex North America Inc
Northeast Chamber of Commerce
Patch Management
Philadelphia Gas Works
Philadelphia Public League
Philadelphia Soul
Phoenix Nexus Corporation
Rosenberg, Smith, Cooney, & Migliore, PC
School District of Philadelphia
Sofive Soccer Center
Spectrum Sports
Spike's Trophies
Sponsor United
SR Snodgrass
St. Clair CPA Solutions
St. Huberts
Torresdale Library
Trevose Day School
YMCA 
 
Program Information
Degree Awarded

Master of Business Administration

Program Location
Make a virtual appointment to speak with J. Barry Dickinson, Ph.D., Professor in the School of Business & Professional Studies