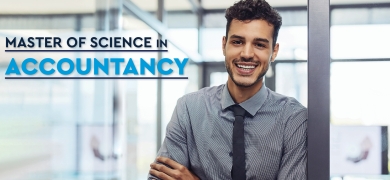 MS in Accountancy - Advance Your Career
What skills will I learn in the MS in Accountancy program?
The MSA Program is designed to provide students with:
The skills and technical competence they will need in leadership roles in the accounting profession.
Comprehensive, advanced accounting courses for professional careers in accounting.
A solid foundation of knowledge and professionalism that they will carry throughout their careers.
A program that promotes critical thinking, professional values, technical skills, and leadership capabilities.
The encouragement to become life-long learners and pursue professional certifications.
How will getting a Master's in Accountancy help my career?
The MS in Accountancy Program meets the needs of accountants in the industry seeking to enhance their professional credentials and gain the necessary credits to sit for the CPA Exam while obtaining an advanced degree. Additionally, this program provides degreed individuals with the opportunity to change their professional path by getting an advanced degree in the growing field of accounting.
Potential jobs include:
Corporate Accountant
Financial Analyst
Controller
Forensic Accountant
Auditor
Taxation Specialist
Budget Analyst
Personal Financial Planner
What career options are available for those who earn a Master of Science in Accountancy degree?
A Master in Accountancy degree is incredibly practical, and graduates can find management-level roles in almost every industry in the country, including banking, insurance, finance, construction, manufacturing, government and high tech. Practically any company with a finance division will have a need for someone with this degree.
Curriculum (30 credits)
Foundations of Business
Financial Accounting I
Financial Accounting II
Advanced Financial Accounting
Advanced Managerial Accounting
Taxation I
Taxation II
Auditing
Restricted Elective
Independent Project
Why choose Holy Family University for your Master of Science in Accountancy (MSA) degree?
What are you looking for in your university education? If you're seeking a warm, inclusionary and supportive environment, we may be the answer. While we're highly proud of our winning teams, exciting courses, and active campus life, our greatest satisfaction comes from helping students to fulfill their dreams. If you're interested, we can help you to learn more about courses and financial options.
Furthermore, our value is recognized nationally. Money® named us a 2017-2018 Best College and ranked us as a value all-star for three years running. In 2015, The Economist ranked us #11 in the nation for economic value, while NPR ranked us a top 50 school in the nation for upward mobility. In 2016, The Chronicle of Higher Education ranked us #10 in the nation for colleges with the best salary outcomes.