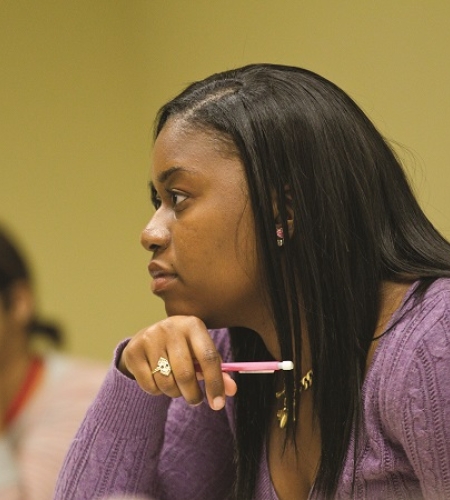 Psychology, B.A., Accelerated Degree
Psychology, B.A., Accelerated Degree
UG
The Bachelor of Arts in Psychology, Accelerated Degree is a degree-completion program that prepares you to function in a wide variety of settings within social service agencies and educational environments. The program studies the many subfields of psychology including biological, clinical, cognitive, developmental, and social psychology.
What Can I Do with this Degree?
Students who have majored in Psychology have found jobs at psychiatric hospitals, community mental health centers, and schools—whereas others have gone on to pursue graduate degrees. With your degree in Psychology you'll have the ability to start a career or graduate program in the following areas:
ABA counselor
Advertising
Clinical and counseling psychology
Clinical research assistant
Correctional psychology
Early childhood behavioral specialist
Education
Family therapy
Forensic examiner
Forensic science technician
Human factor psychology
Human resources
Law enforcement
Market research
Nonprofit management
Occupational or physical therapy
Pharmacy technician
Public relations
Real estate
Recreational therapist
Research coordinator
School counselor
School psychology
Scientific writing
Social policy research
Social work
Sports psychology
Substance abuse counselor
Teacher's assistant
Program Information
Degree Awarded

Program Type

Program Location

Main Campus - Northeast Philadelphia
Program Overview
Holy Family University has designed this program with flexibility to fit your lifestyle. Courses will be held in an eight-week format that blends face-to-face meetings with online learning. Weekend intensive options will be available to maximize flexibility for you to complete your degree sooner. The program requires you to become actively engaged in the learning process through critical reflection, oral and written communications, and rigorous curiosity. Each student's life experiences are acknowledged as contributions each of us brings to the classroom.
I have an Associate's Degree
Holy Family University is pleased to expand our Community Bridge program to include our new Rapid Degree Bachelor of Arts in Psychology program. Students transferring an Associate's Degree (A.A. or A.S.) can join our new cohort program immediately! In this program, you will only take classes that are required to graduate, you will be taking just major courses, the core capstone course, and an internship that you can do right at your place of employment.
What does this mean to you? With continuous enrollment in the cohort, you will:
Complete your degree requirements in as little as 20 months.
Complete your courses quickly: 8-week sessions, two end-of-semester weekend intensive courses.
Share class-time with committed, like-minded dedicated adult students like you!
I plan to transfer up to 84 credits
Even without an Associate's degree, transfer students will benefit from the program format. We will be working with you to accelerate the completion of your Bachelor's degree in the shortest time possible.
If you are transferring in between 60 and 84 credits, you are on a fast path to degree completion. With 84 credits, you may be able to finish your degree within 12-18 months.
Students transferring in fewer than 60 credits will be guided to the fastest path to success. You will receive individualized and tailored advising to help you earn your Bachelor of Arts in Psychology as quickly as possible.
Where Students and Alumni Intern and Work
21st Century
Arc
Archdiocese Office for Child and Youth Protection
Archdiocese of Philadelphia
Atlantic Diagnostic Labratories
Baldi Middle School
Bayada
Better Homes of American Heritage Realtors
Buxmont Academy
CHOP
CO-MANS
Career Directions
Center for Families and Relationships
Chesterbrook Academy
Compassionate Care
Council Rock School District (South)
ESF Summer Camp
Emmaus Home
FMV (Families of Murder Victims)
Feast of Justice
Forrest Elementary
Foundation Community Partnership
Foundations Behavioral Health
Franklin Towne Charter High School
Friend's Hospital
Goddard School
Heraeus
Holy Family University
Holy Reedemer
Huntington Learning Center
IPL Collaborative
IRS
John Hancock School
Kensington Management services
KidsPeace
Kinney Center for Autism Education and Support
Kintock
Kol Emet
Labrum Middle School
Learn Empower Grow
Levingrin
Libertae
Little People Daycare
Livengrin
Maple Point Middle School
Merakey
Milestone Behavioral Health
Mitzvah Circle Foundation
Nationalities Service Center
Neshaminy High School
Newtown Athletic Club
No Longer Bound Prevention Services
NovaCare
PATH CENTER
Peaceful Living Counseling and Professional services
Pegasus Therapeutic Riding Center
Penn Vet Working Dog Center
Penndel Mental Health
Piece of Our Puzzle
Precious Ones ChildCare Center
SPIN
Spectrum Sports
Spikes Trophies
St. Lucy School for Children with Visual Impairment
The Enrichment Workshop for Children
The Healing Way
Trevose Day School
We Care Behavioral
Wesley Enhanced Living
Woods Services
Young Achievers Learning Center
Youth Services Agency
 
Fall Open House
Hear from Admissions, Financial Aid, Faculty, and more, and discover all that Holy Family University has to offer.
Register for this Event
-
Campus Center, 9801 Frankford Avenue, Philadelphia, PA 19114