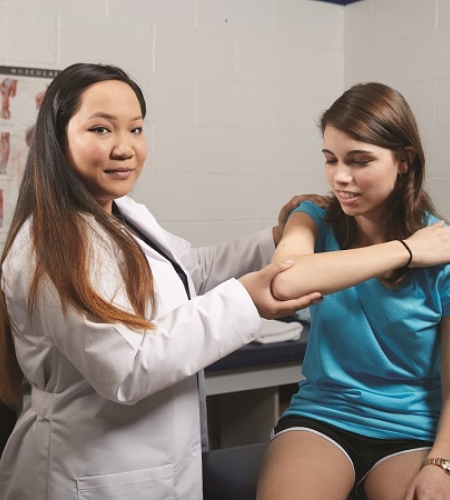 Biology/Pre-Physical Therapy, B.A.
Biology/Pre-Physical Therapy, B.A.
UG
The Bachelor of Arts in Biology/Pre-Physical Therapy program trains students in preparation for becoming physical therapists. These health care professionals are responsible for the diagnosis and treatment of individuals who have health-related conditions that limit their abilities to move and perform functional activities in their daily lives.
What Can I Do with this Degree?
Graduates of this program will be competitive for admission into graduate schools that offer a Doctoral degree in Physical Therapy. It is important to note that the Pre-Physical Therapy program does not provide any licensing, certification, or direct opportunity to practice physical therapy once this degree is granted.
Program Information
Degree Awarded

Program Type

Program Location

Main Campus - Northeast Philadelphia
Program Overview
The curriculum detailed in this program track differs from other undergraduate institutions in that it not only meets the pre-requisites for admission into Doctor of Physical Therapy (DPT) programs, but it also exposes participants to concepts they will have to master in their graduate training. These courses include Pharmacology, Toxicology, Medical Pathology, Kinesiology, and Biomechanics.
 
The senior year allows students the opportunity to gain valuable volunteer or shadowing Physical Therapy experience. This internship is completed under the mentorship of a licensed Physical Therapist at a corresponding hospital, rehabilitation center, or outpatient clinic.
 
Due to the size of the program, the medical advisor personally helps each applicant with each step of the admission process including assistance with personal statements, directional guidance with the GRE, and mock professional interviews.
Where Students and Alumni Intern and Work
Academy Injury and Health
Centra State Medical
Charles River Labs
Children's Hospital of Philadelphia 
Churchville Nature Center
Comprehensive Dental Care
CVS Pharmacy
Drexel Community, Family and Preventive Health
Drexel University, Department of Microbiology and Immunology
Dutton Road Veterinary Clinic
Einstein Medical Center
Elizabeth Carroll
Esco Technologies
Fels Institute for Cancer Research
Fitchett Chiropractic Center
Fox Chase Cancer Center
Genesis Biotech Group
Glen Foerd
I.Rice
IC Laser Eye Care PC
InReach
Jefferson-Frankford Hospital
Jefferson-Torresdale Hospital
Jefferson University Hospital- Urogynecology and Female Medicine
Leonard and Madlyn Abramson Pediatric Research Center
Mercer County Wildlife Center
Montgomery County Rehab & Sports Therapy
NovaCare
Pathways to Housing PA
Peninsula Physical Therapy LLC
Penn Vet Working Dog Center
Penndel Middletown EMS
Pennypack Environmental Center
Petroski Physiotherapy and Performance
Specialty Assays
St. Mary's Medical Center
Suburban Testing Labs
Temple Fels Institute
Temple Medical Research Center
Temple Shriner's Hospital
Temple University Lewis Katz School of Medicine
University of Pennsylvania, CDB
Wuxi Advanced Therapies
Spring Open House
Hear from Admissions, Financial Aid, Faculty, and more, and discover all that Holy Family University has to offer.
Register for this Event
Campus Center, 9801 Frankford Avenue, Philadelphia, PA 19114