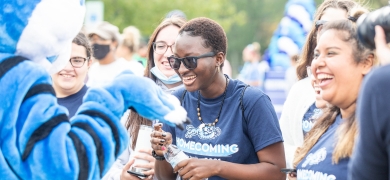 Clubs & Activities
Looking for some fun on campus? Look no further than the Student Engagement Office (SEO) for a guaranteed good time!
The Student Engagement Office produces an engaging and transformative campus experience through holistic student leadership opportunities and diverse program offerings. SEO staff and students provide pathways for our colleagues to grow in an environment where we feel appreciated and connected to the campus community.
To achieve this mission, SEO hosts numerous programs and incorporate the following medium:
Films
Speakers
Service projects
Workshops
Annual Leadership Conference
Online and in-person trainings
Recognition ceremonies
Mentorship opportunities
Programs
Explore our webpage to learn more about the various types of programming we offer.
Learn More
To learn more about a student organization, email the Student Engagement Office at SEO@holyfamily.edu or contact individual RSOs.
Don't see your desired club or interest group?
The Student Engagement Office would be happy to help you get that organization started here at HFU! Email us at SEO@holyfamily.edu and we will get a meeting scheduled to review the process for creating your own Registered Student Organization.
The Student Engagement Office staff is composed of professional staff members, the help of a graduate assistant, and numerous Federal Work Study positions.