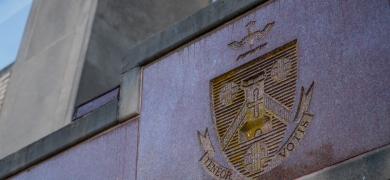 Admissions Requirements
Admission to Holy Family University is selective. In its evaluation of the applicant's credentials, the Admissions Committee examines many different factors, some of which are listed below. The Committee is more interested in the quality of a student's work and in the general promise and seriousness of purpose of each candidate than in merely counting units of specifically required preparatory subjects.
Emphasis is placed on the applicant's academic record, potential and interest, personal integrity, and on the student's desire to pursue a path in higher education at Holy Family University. Neither religious affiliation nor ethnic characteristics influence the granting of admission.
Merit scholarships may be awarded to new, full-time incoming undergraduate students in our traditional programs based on the student's academic record. For more information about qualifications, contact the Admissions Office at 215-637-3050 or admissions@holyfamily.edu.
All supporting documents may be accepted either electronically or by mail. If using an online transcript service, the email is: admissions@holyfamily.edu.
For documents being sent by mail, the address is:
Holy Family University
Undergraduate Admissions
9801 Frankford Ave
Philadelphia, PA 19114
First-Year Students
High school transcript (or equivalent)
Acceptable scores on the Scholastic Aptitude Test (SAT) or ACT
(Currently, submission of test scores is OPTIONAL for all applicants)
Completion with satisfactory grades of 16 units of high school work distributed as follows:
English 4 units
History 2 units
Mathematics 3 units
Modern Second Language** 2 units
Science 2 units
Electives 3 units
All majors must complete a full year of Algebra I and II and Geometry.
Students planning to major in Mathematics, Nursing, Radiologic Science, or Science are expected to have completed the following high school courses***:
Mathematics–Trigonometry
Nursing–Biology, Chemistry, a science elective, and three units of Social Studies (History)
Radiologic Science–Biology and Chemistry; Physics recommended but not required
Science–Biology, Chemistry, and Trigonometry.
* Exceptions to any of these criteria can be made at the discretion of the University authorities. Adult students, 21 years of age or older, who may not have previously attended college and who seek admission to Holy Family need not submit SAT/ACT scores.
** Students without the second language requirement may be admitted to the University and will be placed in the introductory level of a language.
*** Students who have not completed any of these courses will be advised to take the appropriate University courses.
Transfer Students
Proof of graduation from an accredited high school or equivalent
Completion of required courses listed above (under Freshmen) either in high school or at the collegiate level.
Acceptable GPA from previous institution(s) which may vary by program. A minimum 2.5 GPA is required for most programs while others may require a 3.0 GPA or higher.
Students may be admitted to the University by transfer from other colleges and universities. These applicants will be admitted to advanced standing only upon completion of all required documentation. Upon presentation of the credentials, the applicant is admitted with Freshman, Sophomore, or Junior status. Only credits applicable to the program of study will be considered for transfer.
With this stipulation, courses in which the applicant has earned a minimum grade of C at a regionally accredited institution of higher learning within 10 years of application to Holy Family may be accepted. Courses over 10 years may be accepted but are subject to review. Up to a maximum of 75 credits may be accepted from a 2-year institution and/or 90 credits from a 4-year institution.
Accepted students must complete a minimum of 30 credits in coursework at Holy Family including requirements in the area of specialization, core requirements, the comprehensive examination, and/or any special examinations. A minimum 2.0 GPA must be maintained for the additional credits earned. The minimum GPA may vary by program (e.g., Education, Nursing). Specific program requirements should be consulted for relevant information.
Nursing Transfer Student Additional Requirements
Overall cumulative GPA of 3.0 (all previous institutions combined)
Math and Science GPA of a 2.75 (courses considered include core Science, core Math, Anatomy & Physiology I, II, and Microbiology)
No individual science or math course grade may be lower than a "C"; students may only repeat one science or math one-time in order to achieve the required GPA or required minimum course grade
If currently or previously enrolled in an ASN, ADN or BSN program, you must provide written documentation of good academic standing in that program from a program representative. Admission to Holy Family University's Nursing program will not be granted to anyone who has failed out of a prior Nursing program.
International Students Additional Requirements
International students seeking to study full-time at Holy Family University must present the credentials and admission forms required of all applicants. All foreign transcripts must be evaluated by World Education Services, Inc. (WES – www.wes.org) an official credit evaluation agency, before being submitted.
International students must demonstrate strong English proficiency as evidenced by scores from the Test of English as a Second Language (TOSFL), SAT I Test, or ACT Test and satisfactory achievement in their preparatory studies. In addition, the student must meet all academic responsibilities and must demonstrate financial capability before arriving in the United States.
After the Admissions Office receives the necessary documents needed to make a favorable decision, the I-20 form will be issued. Because of the complexities involved in the admission of international students, all must apply well in advance of the anticipated date of enrollment, preferably at least four months prior to the desired start term.