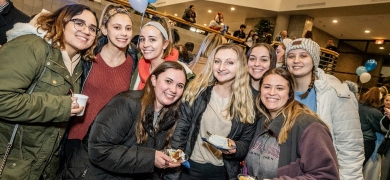 Commuting to Campus
Whether you live on or off campus, you're part of the Holy Family University family. Holy Family is renowned for its welcoming and supportive culture and our close-knit community. We are proud to serve as a home-away-from-home for all students, no matter where you choose to live while earning your degree.
Clubs and Sports
You don't have to live on campus to easily explore new interests or get to know your classmates. Home to dozens of student clubs and organizations, Holy Family invites commuter students to take part in the unique campus traditions and experiences that happen outside of the classroom. 
Make your college experience memorable and meaningful by joining—or even leading—one or more of our exciting clubs:
Academic and professional organizations
Affinity and inclusion groups
Student organizations 
Club sports
Special interest groups
Is there an organization you want to be a member of that does not yet exist? The Student Engagement Office would be happy to help you get that organization started here at HFU! Email SEO@holyfamily.edu and we will get a meeting scheduled to review the process for creating your own Registered Student Organization!
As a commuter student, you also have a Student Government Association representative who can address your concerns. If you want to change something on campus or need to discuss an ongoing issue, contact your SGA representative.
Parking at Holy Family University
Forget pricey parking plans, parking garages, and meters that the city-based schools require. One of the benefits of our campus locations in Philadelphia and Newtown is access to free parking in our spacious lots.
Parking is available on a first-come, first-served basis, so you may want to get to campus early on busy days. Commuters and residents may park in three designated lots.
Parking for commuter and residential students is available in both student lots off Stevenson Lane. All automobiles must be registered with Public Safety. There is no registration fee, but you must provide your license plate number when registering.
When submitting the form, students will choose whether they want to pick up their permits at the Command Center at the Northeast Philadelphia Campus (located inside the Campus Center) or at the Newtown Campus front desk.
New students must register their vehicles prior to the start of a semester and have a new parking permit issued (Students will need to have their license plate numbers and their cars' year, make, model, and color. The University assumes no responsibility for property loss, damage, or personal injury.
Everyone must register their motor vehicle(s) with the Office of Public Safety. Read our Parking Rules and Regulations.
Request a Parking Permit
Please complete the Parking Permit Form. 
Meal Plans
All commuter students have the option to purchase a campus meal plan, though it is not mandatory. Please visit Dining Services to find a plan that's right for you.
Study Areas
Why drive all the way home in between classes when you can relax or study on campus? The most popular spots to meet up with friends, finish homework, or study include:
Philadelphia Campus
Library: The Library is open as follows: Monday - Thursday, 7:30 a.m. - 9:00 p.m.; Friday, 7:30 a.m. - 6 p.m.; Saturday, 9 a.m. - 4 p.m. While the Library is closed on Sunday, online access is available 24/7.
Center for Teaching and Learning: This new state-of-the-art space opened in Fall 2020 and offers modular seating for individual and group work as well as spaces for tutoring, group work, or to just relax and regroup.
Campus Center common areas: Study areas are available outside of the Holy Family University Bookstore, upstairs in our Student Affairs quiet study area, and adjacent to the Dining Commons. When the weather is warm, the exterior deck offers ample outdoor seating with scenic overlooks of the campus.
Education and Technology Center (ETC) common areas
Newtown Campus
Library Resource Center
Newtown Campus common areas: This bucolic campus offers indoor and outdoor space for quiet study and beautiful views.
Wi-Fi for Commuters
Commuters can access the University's secure Wi-Fi network using their Holy Family University username and password.
Around Campus
Holy Family University is at the center of activity in our Northeast Philadelphia neighborhood. Whether you want to get lunch, run errands, or shop in between classes, you can find what you need up and down Frankford Avenue. This popular neighborhood and business district is within walking distance and features major retailers, restaurants, and more. 
Public Safety 
Get campus alerts in a timely fashion by signing up for the Holy Family University LiveSafe app for Tiger Alerts. The University uses this mass notification system to send instant alerts via text or email for emergencies, weather delays, and campus closures. The LiveSafe app provides the following features:
Receive TigerAlerts, including weather advisories and safety alerts, via the app or text message.
Access safety and security information including a safety map.
Access SafeWalk to have a virtual escort monitor your location on a real-time app to get you safely to your destination.
Get help immediately -- the app uses your location to dispatch support.
Note: The LiveSafe app uses minimal device memory so won't drain your battery.
Follow These Simple Steps:
Download the app in the App Store or Google Play.
Open the app to sign up with your Holy Family University email and mobile number.
Create your password. You may be prompted to reset your password first. If so, request a password reset email and follow the instructions once you receive it.
Log in to the app with your email or phone number and password.
When prompted, select Holy Family University as your organization.