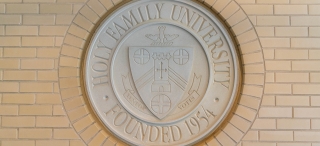 President's Cabinet
Anne M. Prisco, Ph.D. 
President
Sister Rita Fanning, CSFN, '89 
Vice President, Mission and Diversity
Joshua E. Liss
Interim Vice President for University Advancement
Sherrie A. Madia, Ph.D. 
Vice President, Marketing & Communications
Sylvia McGeary, Ph.D.  
Chief of Staff
Michael McNulty-Bobholz 
Interim Vice President, Student Life
Eric Nelson, MBA 
Vice President, Finance and Administration and Chief Financial Officer
Shelley Robbins, Ph.D. 
Interim Vice President, Academic Affairs
Abigail Wernicki, Ph.D. 
Vice President, Enrollment Management
Board Leadership
William Strecker
Board Chair
Retired President and CEO of Kingsbury, Inc.

William Mandia, Esq.
Board Vice Chair
Partner, Stradley Ronon Stevens & Young, LLP
Sister Cynthia Meyer, CSFN
Board Secretary
Sisters of the Holy Family of Nazareth
Trustees
James Dever Bennett, Esq. '82
Senior Vice President and Chief Legal Officer
Ellucian
Albert T. Chadwick, III, H'14
President
AT Chadwick Company, Inc.
Sister Janice Fulmer, CSFN, Ph.D., H'10
Sisters of the Holy Family of Nazareth
Sister Rosemarie Griffin, CSFN '63
Sisters of the Holy Family of Nazareth
Daniel P. Kilcoyne '04
President and Chairman
Mini Melts of America, Inc.
Sister Thea Krause, CSFN, Ph.D., H'16
Sisters of the Holy Family of Nazareth
C. William Moffitt
Founder
Moffitt Investment Management, LLC
Sean O'Hara M'07
Chief Financial Officer
Kingsbury, Inc.
Carolyn Padovano, Ph.D., RN
Senior Program Director
Institute for Public Health Innovation
Anne M. Prisco, Ph.D., ex officio
President
Holy Family University
Skaria (Roshan) Pulimkalayil, '16, M '18
Labor & Employee Relations Analyst
City of Philadelphia Office of Labor Relations
Patrick Ryan, Esq.
Of Counsel
Montgomery, McCracken, Walker & Rhoads, LLP
Joseph Slabinski, III
Owner and President
Slabinski-Sucharski Funeral Homes
Albert M. Tantala Sr., H'18
President
Tantala Associates Engineers & Architects, LLC
Mary Keirans Vassallo '85
Community Volunteer
Sister Celine Warnilo, CSFN '74, H'08
Sisters of the Holy Family of Nazareth
Karen Wold
Group Head
Emigrant Business Credit Corporation
CSFN Representative
Sister Loretta Theresa Felici, CSFN '79
President
CSFN Mission and Ministry, Inc. (MMI)
Trustees Emeritus
Ray Angelo
Dennis Colgan
Loretta Hennessey '71
Dominic Marano
Anne Marie Pettit '69
Anthony Szuszczewicz
President Emerita
Sister Maureen McGarrity, CSFN, Ph.D.
President's Advisory Council Members
The President's Advisory Council at Holy Family University is comprised of a select group of distinguished professionals from varied industries who provide insight and counsel to the President on strategic issues facing the University. As industry leaders with diverse skill sets, council members provide a breadth and depth of experience in the management of complex organizations.
Karen Fox '94, MS '08, Chair
Vice President of Talent Acquisition
Berkadia
John Biasiello, III '97, MS '03
President
Sukay & Associates
Mark Chadwick
President
Chadwick Service Company
Philip R. Earley
Owner
Liebermann Earley & Company
Salvatore Faia
Founder and President
Vigilant Compliance, LLC
Roger Falloon '97
Chief Operating Officer
Chickie's & Pete's
Vincent Frascatore '90
Director, Global Market Access
Merck
Janice Gibson '10, MSN '14
Clinical Nurse Specialist
Aria Health
Donna Goud '69
Ryan Keller '17
Director of Admissions
Mercy Career & Technical High School
Keith Lafferty '89
Director; Emergency Medicine/Education
Gulf Coast Medical Center
Fred Leh '03
Senior Vice President of Global Human Resources
Signode Industrial Group LLC
Michelle Pickels '01, MBA '11
Special Agent
U.S. Government, Department of Justice
David Rudy '83
Property Manager
Rudy Properties
Peter Tantala
Principal Engineer
Tantala Associates, LLC, Engineers & Architects
Edward Turzanski
National Security, Intelligence, Political Analyst
Resilience Consulting, LLC
Gerald Wydro '90
Chair of Emergency Medicine
Aria-Jefferson Health
Joshua E. Liss, ex officio
Interim Vice President for University Advancement
Holy Family University