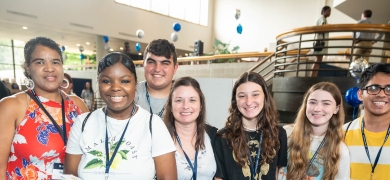 Student Experience
Holy Family University realizes that we are not just offering education--we are providing a transformative path designed to create a holistic experience so that students will be armed to do well and do good. So we provide support services and resources to ensure that every has access to an excellent education and a top-notch experience.
We focus on ensuring that first-year students successfully transition from high school to college life, and we begin preparing them right away for potential careers. We begin with resources to guide students as they develop both independence and confidence.
On the academic side, we offer programs designed to develop learning proficiencies and self-advocacy skills so that our students feel empowered to achieve academic and personal success. 
We also know that college is about more than book work. It is a critical journey of enlightenment and self-discovery, so we provide countless opportunities for students to explore--from activities and intriguing discussions, to experiences with different cultures and perspectives so that student can learn about others and themselves. 
All undergraduate students participate in experiential learning through internships, which helps them to better understand where they might like to work, and how to prepare for professional life.
Nestled in a suburban neighborhood, Holy Family University is one of the safest campus environments in the city, yet is just minutes away from all that Center City has to offer. 
Our welcoming campus means that residential and commuter students alike can feel right at home. After all, at Holy Family University, you are part of the family!