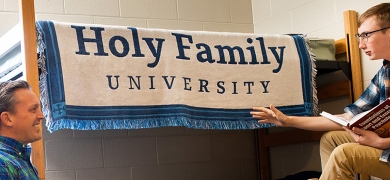 Living on Campus
Welcome to Your Home Away from Home
Follow Residence Life on Instagram @HFUreslife!
The Office of Residence Life offers an engaging, transformative campus experience through holistic learning opportunities and diverse program offerings. The Residence Life staff is dedicated to this mission in addition to providing you with a home-away from-home experience.
Living on campus is not just about having a place to stay, it's about building your skills in community engagement, cultural competency, health and wellness, and critical thinking. Oh, and you'll have fun making lasting friendships and lifelong connections, too!
Housing Forms
Housing Cancellation Form
Attention
Housing at Holy Family University is currently at full capacity for Fall 2023. 
Any questions please email the Office of Residence Life, reslife@holyfamily.edu.