Undergraduate Admissions
At Holy Family University, you're not only a student--you're part of the family! Here, you'll be guided by expert faculty, surrounded by like-minded students who are setting forth on a journey filled with purpose. You will be challenged to think critically and empowered to innovate. You'll meet fellow students who will become lifelong friends. And you will become part of a powerful network of individuals who are committed to one another's success. 
So look around. Learn about our academic programs. Explore our campus locations, student and residence life, how to finance your education, and much more.
Start Your Journey
For First-Year Students
Selecting a college is probably one of the biggest decisions you will have to make. Learn how Holy Family University can help you achieve your goals. Read about our academic programs and find a major that's just right for you. Check out all of the ways to become engaged in student life. Better yet, why not stop by for a visit at one of our open house events, or a one-on-one meeting and tour from our friendly admissions team. We'd love to show you around!
For Transfer Students
Thinking about transferring? Each year, more than 300 students from community colleges, state schools, and private universities in Philadelphia and across the nation make the switch to Holy Family University. We make transferring easy! Take a look at our undergraduate programs and financial aid opportunities. And consider a visit to campus to meet with our faculty and admissions staff who can create a plan of study that's just right for you.
For International Students
Thinking about expanding your education in the United States? Philadelphia is one of the top college towns in the U.S.--from its historic landmarks, art museums, and dining, to cultural activities and night life. Holy Family University is just minutes away from Center City--the heart of Philadelphia. Our location affords our students a quiet residential neighborhood setting and a world of opportunity close by.
For Parents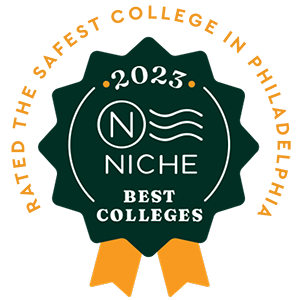 As a parent, you want to be sure that your student is in an environment that's safe, academically challenging, and a good value for the money. Holy Family University is one of the lowest net cost options among private universities in Pennsylvania. We are recognized year after year by Money® as an Added Value All-Star and have been named a Best College four years in a row. The Economist ranked us #11 nationally for economic value, and Niche ranked us the safest college in Philadelphia. And 100% of our students receive some type of financial aid. Importantly, we are a values-based institution which means we treat each and every student with dignity, respect, and as a member of our family. After all, family is our middle name!
For School Counselors
As a school counselor, we know you play a critical role in the college selection process. You are truly one of the best resources for high school students looking to develop a list of schools and universities in Philadelphia that might serve as a right fit. Our admissions team will happily provide you with resources to provide to your students. Contact admissions@holyfamily.edu and a friendly admissions counselor will be happy to assist with an in-person information session, open house invitations, and more.