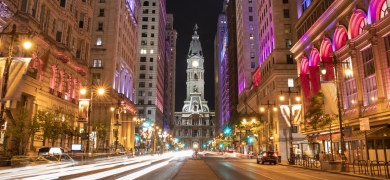 Philadelphia, PA
About Philadelphia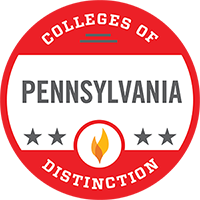 Holy Family University — a Part of the Philadelphia Experience!
Holy Family University has many benefits as a college near Philadelphia. As a student, you'll have the comfort of a quiet college campus; however, one of the world's liveliest cities is at your doorstep and ready to be explored. "Philly" is famous for history, commerce, sports, cheesesteaks, fine dining, nightlife, theatre, and art. Additionally, this major hub provides an opportunity for internships and experiential learning experiences.
Philadelphia hosts a Stock Exchange and the headquarters of many global firms. New York City is just 1½ hours away by train, as is Washington, DC. The city of Philadelphia is often rated as one of the best places to be a student in the USA.
Historic Past, Vibrant Future
Philadelphia, PA is an extraordinary and diverse city, with distinctive traditions found nowhere else. The city's past is steeped in significance, as many of the values of the young American nation were formulated here–in fact, the city is known as the Birthplace of America.
The United States Declaration of Independence was signed on July 4, 1776, at Independence Hall, an architectural icon that receives millions of visitors each year. You'll find the Liberty Bell across the street. While paying homage to the past, though, Philadelphia is booming, with a healthy economy and an outlook for an exciting and robust future.
A Taste of Europe, but All-American
Aspects of our city may suggest European capitals with streetcars, architectural landmarks, and a town center rich in history. Pedestrian malls and colorful outdoor cafes are plentiful. Other features are solely Philadelphian. Take cheesesteaks (Pat's in the old Italian neighborhood of South Philly is credited as the originator of steak sandwiches in America), hoagies, and scrapple. Restaurants cover all tastes and budgets, from celebrated 5-star to casual street stall. Don't miss Station Market either, where you can find a barbecued soft shell crab sandwich or world celebrated mac 'n' cheese.
Sports and Arenas Abound
As home to legendary professional sports teams that include the Phillies (baseball), Eagles (football), Flyers (hockey), 76ers (basketball), the Union (soccer), and a healthy selection of other sports like rowing and soccer, Philadelphians and students in colleges near Philadelphia are spoiled for choice. You'll find championship stadiums throughout the city. Grabbing a hoagie or a hot dog and taking in a game is a lifetime memory.
Cultural Amenities, Exciting Nightlife
The City of Brotherly Love (the name chosen by founder William Penn in 1681) is rich in culture, boasting some of the world's finest art museums–among them the Philadelphia Museum of Art (whose steps appeared in the "Rocky" films) and the Rodin Museum. World-class theater, orchestras, and a lively independent gallery scene add infinite variety. Voted one of the 10 Best Cities for Nightlife many years in a row, you'll find diversions to fit every wallet.
About the Area
Our Northeast campus is conveniently situated near both SEPTA's Trenton regional Torresdale train station and Route 66, 84 & 19 buses. Our Newtown, Bucks County site is conveniently accessed by public transportation or by car.