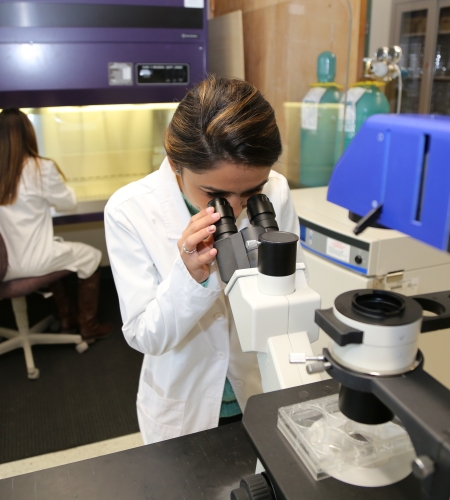 Medical Laboratory Science, B.S.
Medical Laboratory Science, B.S.
UG
The degree in Medical Laboratory Science (MLS), also known as Clinical Laboratory Science, combines biology and chemistry with a Bachelor of Science degree that prepares students for an exciting career in medical diagnostics.
What Can I Do with this Degree?
For students who enjoy applied sciences and are looking for excellent career opportunities with competitive salaries in a dynamic, versatile, and high-tech field, the Medical Laboratory Science program may be for you.
Graduates with a Medical Laboratory Science degree typically choose hospital or clinic laboratories post-graduation. Career paths also include the following:
Biotechnology
Cytology and histology laboratories
Education
Forensics
Industrial labs
Medical administration
Medical research
Medical sales
Program Information
Degree Awarded

Program Type

Program Location

Main Campus - Northeast Philadelphia
Program Overview
A Medical Laboratory Scientist is an integral part of the medical team responsible for detection, diagnosis and treatment of disease and does much of the detective work utilizing sophisticated instrumentation, conducting laboratory testing, and analyzing patient specimens to diagnose and develop treatment plans for medical conditions.
MLS students at Holy Family University are well prepared for clinical rotations. They are instructed by Chemistry and Biology faculty members in basic theory. Upon graduation with this degree, career options are bountiful, as professionals in this field are in high demand. 
Spring Open House
Hear from Admissions, Financial Aid, Faculty, and more, and discover all that Holy Family University has to offer.
Register for this Event
Campus Center, 9801 Frankford Avenue, Philadelphia, PA 19114