Alumni Reunion
Alumni Reunion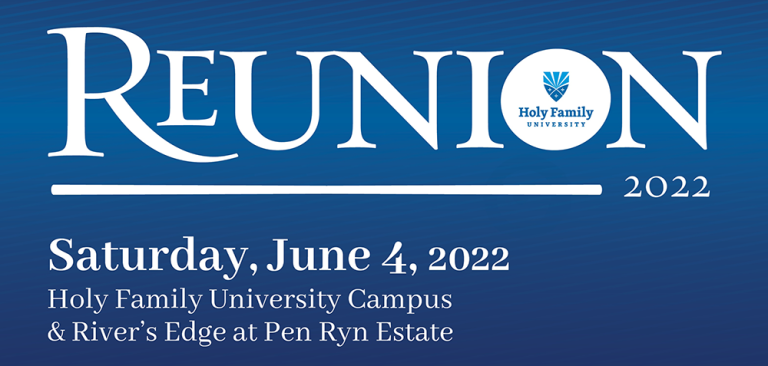 All Holy Family alumni are invited to an evening of celebration, remembrance, and fun at Reunion 2022 on Saturday, June 4, 2022!
Join us as we celebrate the 2022 Reunion Classes (all classes ending in "2" and "7") and Alumni Achievement Award recipients, the Golden Alumni Society (Classes of 1958–1972), and the newest members of the Alumni Family - the Class of 2022!
See complete details below and register online today!
Schedule of Events & Locations
1:00 PM Campus Tours (Available Upon Request)
2:00 PM Holy Family Bookstore Open
3:00 pm | Golden Alumni Society Reception - Campus Center Rooms 115
Members of the Golden Alumni Society (Classes of 1958-1971) and the Class of 1972 are invited to this special reception to kick off Reunion 2022, which will include Afternoon Tea with University President, Dr. Anne M. Prisco, the Induction of the Class of 1972 into the Golden Alumni Society, Class & Group Photos, and the "Then & Now" Panel Discussion with current Holy Family students. This event will also be livestreamed.
4:30 pm | Alumni Memorial Mass - Campus Center Chapel
All are welcome to join in this special Reunion Mass, which will honor and remember all Holy Family Alumni, Faculty and Staff members who have passed away. Mass will be celebrated by Father James MacNew, OSFS, Director of Campus Ministry. This event will also be livestreamed.
5:30 pm – 10:30 pm | le dîner en bleu gala & Alumni Achievement Awards Presentation - River's Edge Garden Pavilion at Pen Ryn Estate
All alumni and friends are invited to this signature Reunion event located minutes from the main campus at 1601 State Rd in Bensalem, PA. Beginning with a cocktail reception, featuring hors d'oeuvres, signature drinks and an open bar, guests will also enjoy a full dinner, dancing, dessert, and the 2022 Alumni Achievement Awards Presentation. Modeled after the popular dîner en Blanc event where all guests wear white from head to toe, we ask all guests to wear semi-formal attire in any shade of blue for this event.
Registration
Registration is required to attend and must be received no later than Friday, May 20.
For any other questions, if the form below doesn't load, or to register offline, please contact Julie Rempfer '10, Director for Alumni and Parent Relations, at (267) 341-5017 or alumni@holyfamily.edu. 
 
Additional Information
About the River's Edge Garden Pavilion at Pen Ryn Estate
Address (for GPS):
River's Edge Garden Pavilion at Pen Ryn Estate
1601 State Rd.
Bensalem, PA 19020
Built in 2020, the River's Edge Garden Pavilion is a secluded, 10,000 square foot tented complex beaming with breathtaking views of Delaware River. The space can be fully temperature controlled or the tent walls can be removed to enjoy the fresh air of a nice evening on the waterfront. Upon arrival at the Pen Ryn Estate, guests will be guided to a spacious parking area and will have the option to walk or to be shuttled to the venue entrance. Handicap guests can be brought via their own vehicles to the front circle directly. See complete information at penrynestate.com.
Special Needs/Accessibility Assistance
In compliance with the Americans with Disabilities Act (ADA) of 1990, the Campus Center and River's Edge Garden Pavilion at Pen Ryn Estate are fully Handicap Accessible, with public-use elevators, handicap parking, and handicap-accessible restrooms. Please indicate your accessibility needs when you register.
Overnight Accommodations
For those traveling from out of town, we recommend the Holiday Inn Express Philadelphia NE–Bensalem at 1329 Bristol Pike, Bensalem PA, 19020. To reserve your room, call the hotel at 215-245-5222 and mention the "Holy Family University Alumni" discount to get your room for only $99!
Volunteers
To volunteer as a Class Representative or event host, please contact Julie Rempfer '10, Director for Alumni and Parent Relations, at alumni@holyfamily.edu or call (267) 341-5017.
The return of le diner en bleu gala!
As with previous years' events, all guests will be encouraged to dress in shades of blue. Recall the fun from Reunion 2019 and Reunion 2018 with our photo galleries.
Reunion Giving
Your reunion is a special time to renew friendships, reminisce about your years at Holy Family, and discover the changes that have taken place since you graduated. We hope you will join us by partaking in Holy Family's long-standing reunion tradition of giving back to support current students.
Whether you can attend Reunion or not, your philanthropic support is a powerful way for you to leave a lasting legacy at your alma mater. It will ensure that current undergraduates following in your footsteps will be able to enjoy the same transformative Holy Family experience that has added so much to your life. Your generosity is truly life-changing.
To make a gift in honor of your reunion, simply add your gift when registering online or you can make an individual gift at holyfamily.edu/giveonline. For more information, please contact Christina Bender, Director of Development, at 267-341-3017 or cbender@holyfamily.edu.
Stay in Touch!
Let us know what you've been up to! Marriages, birth announcements, job promotions, academic achievements, etc. are all things to be celebrated! Now sharing your good news with your classmates and fellow alumni is as easy as updating your alumni profile.