Alumni Reunion
Alumni Reunion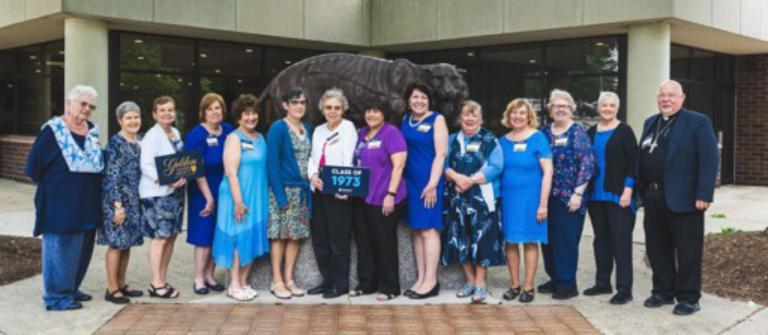 Thank you to everyone who attended Reunion 2023 on Saturday, May 13! View the photos from the event on Flickr and Facebook.
Save the Date for Reunion 2024 on Saturday, April 20th!
All are invited to join us as we celebrate the 2024 Reunion Classes (all classes ending in "4" and "9"), the Golden Alumni Society (Classes of 1958–1973), and the 2024 Alumni Award recipients!
Details to be announced during Spring 2024.
Recall the Fun
 Recall the fun from Reunion 2022, Reunion 2019 and Reunion 2018 with our photo galleries.
Reunion Giving
Your reunion is a special time to renew friendships, reminisce about your years at Holy Family, and discover the changes that have taken place since you graduated.  We hope you will join us by partaking in Holy Family's long-standing reunion tradition of giving back to support current students.  
Whether you can attend Reunion or not, your philanthropic support is a powerful way for you to leave a lasting legacy at your alma mater.  It will ensure that current undergraduates following in your footsteps will be able to enjoy the same transformative Holy Family experience that has added so much to your life.  Your generosity is truly life-changing.  
To make a gift in honor of your reunion, simply add your gift when registering online or you can make an individual gift at holyfamily.edu/giveonline. 
For more information, please contact the Office of University Advancement at 267-341-5005 or development@holyfamily.edu. 
Stay in Touch!
Let us know what you've been up to! Marriages, birth announcements, job promotions, academic achievements, etc. are all things to be celebrated! Now sharing your good news with your classmates and fellow alumni is as easy as updating your alumni profile.