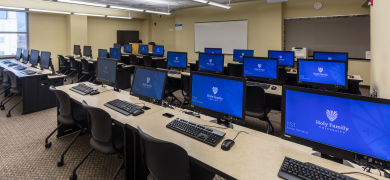 Information Technology
How Can We Help?
There are several ways to get support from the Information Technology Department. The fastest way is by calling the Help Desk at 267-341-3402. If you prefer finding your own answers to your questions, explore articles in the Knowledge Base. Rather submit a support ticket? Our technicians respond within one business day.
If you prefer in-person assistance, visit the IT Help Desk Office:
Holy Family Hall -  Holy Family Hall - Room 111 
Monday - Friday 8:00 a.m. - 4:00 p.m.
I Need To...
Essential Resources
Popular Tools
Academic Technology
The Academic Technology team provides support and resources for students, graduate students, and faculty. Our staff collaborates with campus partners to assist instructors in enhancing their teaching tools, whether on campus or online, to deepen student learning.