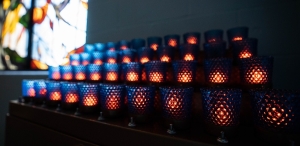 Spiritual Life
Spiritual Life
Searching for your purpose in life? Holy Family University is the perfect place to find it.
Take an opportunity to explore your spiritual side. Through questioning and developing your individual beliefs, you'll learn more about your spirituality.
Campus Ministry
Campus Ministry is not a social club or organization, but rather, a leadership opportunity for Holy Family students to serve as leaders in Church and Society.
Campus Ministry encompasses the entire campus community and involves a myriad of community and individual services and initiatives, ranging from daily liturgy, the sacrament of reconciliation, appropriate devotional and service opportunities, and faith-based confidential counseling.
 
Learn More about HFU's Campus Ministry ➜
Interfaith Reflection Room
At Holy Family University, we welcome all faith traditions and encourage our community to express their beliefs in support of spiritual development and identity within the community.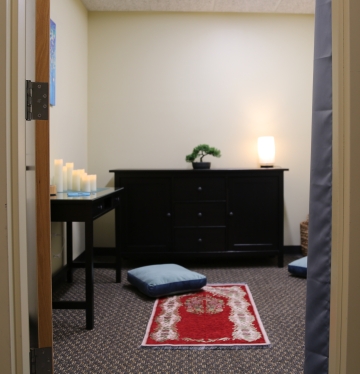 Under the direction of the Vice President for Mission and Diversity, the University strives to create opportunities for religious growth and development in a welcoming and inviting atmosphere.
Holy Family University's Reflection Room (Education and Technology Center, Room 204), is a space for spiritual expression, contemplation, or prayer. 
Holy Family University is a member of the Institute on Teaching and Learning for Campus-wide Interfaith Excellence.
Worship, Meeting & Reflection Spaces
Blessed Sacrament Chapel, Northeast Philadelphia Campus (Education and Technology Center, Room 319)
Interfaith Reflection Room (Education and Technology Center, Room 204)
Chapel, Campus Center, Philadelphia Campus
Chapel, Newtown Campus
Neighboring Places of Worship
Beit-Harambam
9981 Verree Road
Philadelphia, PA 19115
Interfaith Philadelphia - Oxford Mills
100 W Oxford Street Ste E-1300
Philadelphia, PA 19122
https://www.interfaithphiladelphia.org/
MYCP Muslim Youth Center of Philadelphia
11080 Knights Road
Philadelphia, PA 19154
https://www.msdvpa.org/
Philadelphia Korean Seventh-Day Adventist Church
1620 Pine Road
Huntingdon Valley, PA 19006
http://www.pakasda.com/
Eben-Ezer Church of God
2605 Welsh Road
Philadelphia, PA 19114
https://www.ebenezerphila.org/
Bethany AME Church
8898 Ashton Road P
hiladelphia, PA 19136
Grace City Church of the Northeast
8950 Ashton Road
Philadelphia, PA 19136
https://gracecityphilly.com/
World Mission Society Church of God
Arendell Avenue (near Liam's Auto Repair)
Philadelphia, PA 19114
https://watv.org/
Shreenathji Haveli
2746 Bristol Pike
Bensalem, PA 19020