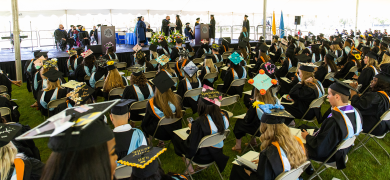 Graduate Resources
Additional Information and Resources
Your questions about Commencement are very important. This is a very special day for Holy Family graduates, their families, and friends as well as the faculty, administration, staff, alumni, and trustees of the University.
Please direct all questions concerning:
Academic Attire
Contact the HFU Bookstore at 267-341-3588 for questions about academic attire.
Diplomas
Contact the Registrar's Office with questions concerning diplomas:
Office of the Registrar
registrar@holyfamily.edu
267-341-3212
Mass of Joyful Celebration
The Mass of Joyful Celebration is scheduled for Thursday, May 18 at 6:30 p.m. in the Campus Center. A reception hosted by President Anne Prisco, Ph.D. will follow the Mass. Family and friends are welcome to attend.
Tickets
Call the Commencement Line at 267-341-3534 or commencement@holyfamily.edu.
Financial Information
Office of Student Accounts at 267-341-3202.