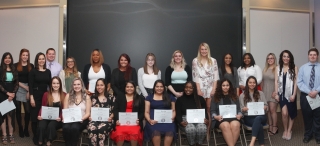 Honor Societies
While you are at Holy Family University, you may consider joining an Honor Society. These organizations uphold the values of higher education and recognize students for extraordinary achievement in undergraduate, graduate, and professional studies.
Membership and affiliation inspires student leadership, service and in some cases, research undertakings. Each honor society has its own criteria for membership, but as a rule, superior grade point averages are required.
Holy Family University currently has more than 10 active honor societies:
Alpha Alpha Alpha (First Generation College Students)
Beta Phi Chapter, 2021
Faculty Advisor: Patricia Palmer, MSN
Alpha Epsilon Delta (Preprofessional Health)
Pennsylvania Tau Chapter, 2020
Alpha Phi Sigma (Criminal Justice)
Zeta Eta Chapter
Advisor: David Whelan, Ph.D.
Beta Beta Beta (Biological Studies)
Lambda Chi Chapter, 1970
Advisor: Stanley Mauldin, Ph.D.
Co-Advisor: Jaclyn Myers, Ph.D.
Chi Alpha Sigma (National College Athlete Honor Society)
Psi Chapter
Advisor: Sister Mary Joan Jacobs, CFSN, Ed.D.
Delta Mu Delta (Business Administration)
Mu Gamma Chapter, 2011
Advisor: Bernice Purcell, DBA
Kappa Delta Pi (Education)
Upsilon Omicron Chapter
Advisor: Kimberly Heuschkel, Ed.D.
Kappa Mu Epsilon (Mathematics)
Pennsylvania Kappa Chapter, 1971
Advisor: Sister M. Louise Marcella Wallowicz, CSFN, Ph.D.
Lambda Nu (Radiologic and Imaging Sciences)
Pennsylvania Chi Chapter, 2004
Advisor: Mark Ness, BS
Phi Alpha Theta (History)
Alpha Eta Iota, 1995
Advisor: Mary Carroll Johansen, Ph.D.
Psi Chi (Psychology)
Undergraduate Chapter Advisor: Stacy McDonald, Ph.D.
Undergraduate Chapter Advisor: Jennifer DeCicco, Ph.D.
Graduate Chapter Advisor: Patrick McElwaine, Psy.D.
Sigma Theta Tau (Nursing)
Delta Tau at-Large Chapter, 1980
Advisor: Monica Drayton, MSN
Honor Society Induction Ceremonies
Traditionally hosted toward the end of March/beginning of April each Spring Semester, the Honor Societies team up to host two nights where induction ceremonies occur concurrently to celebrate the accomplishments of all new members together. To learn more about the upcoming induction ceremonies, contact the Student Engagement Office at SEO@holyfamily.edu.