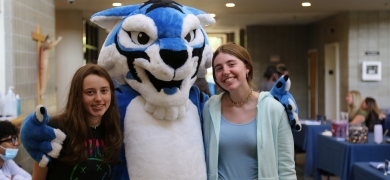 Office of Student Success
About Us
The Office of Student Success exists to help encourage, intervene, and advocate for students through their entire college career. As a support team, we offer several Orientation, Transition, and Retention programs and services aimed at empowering students to progress towards their degree. Students and our office work together to establish strategies for student success, including self-advocacy, time management, assignment submission tracking, setting study schedules, focus, prioritization, communication with professors, and much more.
Even if you are not sure exactly what the challenge is or where to go for support, share your experience with us to determine an action plan moving forward. We will do our very best to help you thrive at Holy Family!
First Year College Success Course (FEXP)
One of our most popular courses is aptly named First Year College Success. The goal is simple: to help lay a foundation of success for your Holy Family journey. This course is centered on the Mission and Core Values of the University. Throughout the semester, you'll meet with faculty, staff and student mentors as you develop personal, academic and social skills that will not only help you to achieve more here, but also in future endeavors.
First Year and Transfer Student Orientation
Each semester, we welcome all our new Tigers during Orientation! This program is designed to help you gain all the need to know information before classes begin. Throughout the day you will hear from different campus representatives, and have the opportunity to mix and mingle with faculty, staff and other incoming students.
Student Success Coaching
Student Success Coaches are here to help you! They meet with students to discuss academic and personal concerns that are barriers to success. Success Counselors are available for one-on-one appointments, and will host workshops throughout the semester.
Topics Student Success Coaches can assist with:
Organization and time management
Goal setting
Planning for the semester
Stress management techniques
And so much more!
Success Through Academic Readiness (STAR) Program
The STAR Program is the pathway for students who exhibit the potential to succeed in college, but whose application into the University does not meet regular admissions criteria. The primary purpose of the STAR Program is to help students succeed at Holy Family University.
The STAR program is committed to offering increased academic readiness skills, expanded interpersonal and communication skills, and to build new connections to the University and community at large. As a result of the successful implementation of the STAR Program, the University hopes to retain more students, identify and remove retention barriers, and provide positive life experiences to convert students into graduates and active alumni.
Contact Us
Office of Student Success
We will do our very best to help you thrive at Holy Family!