2022 Taylor Awards to Fund Three Faculty Research Initiatives
2022 Taylor Awards to Fund Three Faculty Research Initiatives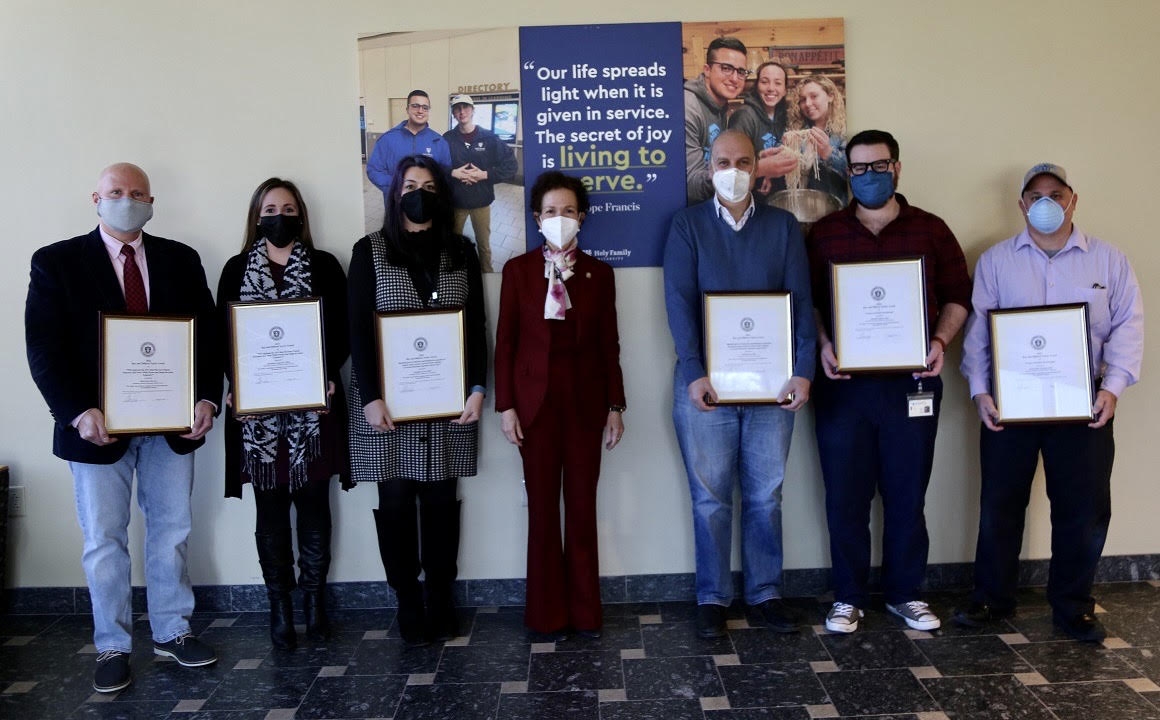 Seven Holy Family University professors are recipients of the 2022 Ray and Mildred Taylor Awards to fund three important research and publication initiatives, according to Shelley Robbins, Ph.D., interim vice president of Academic Affairs.
The award program was established through an endowment created by Carol Taylor, RN, Ph.D., a former University faculty member who served from 1979-1987 and 1995-1997 in the School of Nursing & Health Sciences. Taylor and her family created the award to honor her parents: Ray and Mildred Taylor. Carol was honored by the School Nursing & Health Sciences in October 2012 with its highest award, the Distinguished Nursing Alumni Award.
The Ray and Mildred Taylor Awards provide funding to faculty who have completed at least two years of full-time teaching at Holy Family. Requests are made in the form of formal proposals to the Ray and Mildred Taylor Committee, with priority given to those projects that advance faculty research and scholarship.
The 2022 Taylor Awards were awarded for the following proposals:
Camera Enabled Stereoscope
Edward Waddell, Ph.D. and Christopher Carbone, Ph.D. (School of Arts & Sciences)
This proposal is seeking funding for the purchase of a Digital Stereo Microscope with a Camera to characterize and study pain in the Drosophila melanogaster, commonly known as the fruit fly. Since pain is primarily studied from the perspective of it being an unwanted sensory modality, this study will look at pain in terms of a survival mechanism in lower-order animals. Although there is evidence that invertebrates with higher cognitive functions can experience the emotional component of pain, it is unknown if it is universal to all organisms. This study would further that research.
Identification of chemical and biological properties of organic plant extracts on the invasive species, Lycorma delicatula (Spotted Lantern Fly)
Daniel Bassi, Ph.D. and Elizabeth Carroll, Ph.D. (School of Arts & Sciences)
This proposal aims to combine disciplines (ecology and biology and natural products) to study the identification of potential chemoattractants to aid in the elimination of infestation of the Spotted Lantern Fly using biological means, as opposed to trapping and killing insects or using pesticides that have a negative impact on the environment and human health. The proposal seeks resources to conduct this research in three phases: 1) Extraction of potential chemoattractant compounds 2) Preliminary evaluation of chemoattractant activities and 3) Quantitative extraction and large-scale confirmation.
Will Applying the 15% Rule Decrease Patient Entrance Skin Dose While Preserving Image Receptor Exposure?
Mark Ness, MA, Ed.; Samantha Cepparulo, MHSc; and Shana DiBenedetto, Ph.D. (School of Nursing & Health Sciences)
This proposal seeks resources to study whether or not the 15% rule decreases the patient exposure to radiation while preserving the quality of the image. This proposal will promote the research of the faculty involved and have implications for future patients as well as students in the courses where this technique is taught.
The committee members on the 2022 Taylor Grant Award Committee Members are Maria Agnew, Ph.D., Chair (School of Education); Beryl Broughton, Ed.D. (School of Nursing & Health Sciences); Beth Jones. Ph.D. (School of Education); Karl Malaszczyk, J.D., LLM (School of Business & Professional Studies); Jaclyn Myers, Ph.D. (School of Arts & Sciences); and Melissa Rampelli, Ph.D. (School of Arts & Sciences).