Accounting Students Find Strength in Numbers
Accounting Students Find Strength in Numbers
For accounting students Michael Weiss, Carli Mastantuno, and Lauren Apice, the decision to work with numbers has always been an easy choice.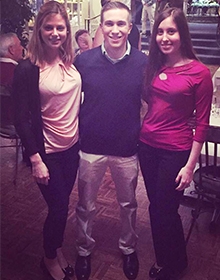 Facing an overloaded credit schedule to eventually sit for the CPA exam, the group pools its resources to form a permanent study group, acting as academic, social, and emotional support during a sometimes difficult schedule. Their relationship has earned them the nickname "the accounting nuts." Three might just be their lucky number.
"We rely on each other when it comes to taking notes or clarifying an aspect in class that maybe one of us didn't quite understand," Apice said. "We have formed a tight study group and are always there to help or answer each other's questions. After spending so many long days and hours with them, I am proud to say that they have become two of my best friends."
"Originally, I thought I was the only Accounting and Finance major until I met Mike on the first day of college. We both had the same idea that majoring in dual subjects and getting 150 credits, the required amount of credits to sit for the CPA exam, in a four-year timeframe was the best path to follow. We convinced Carli, an Accounting major at the time, to pursue the dual degree with us. After that, we had all of the same business classes together and seemed to gravitate towards one another, especially since we are all dedicated and extremely hard workers."
The dedication to the dual degrees has helped all three with studying the required material. As a constant study group, the team uses each other for clarification, extra help, or some much needed stress relief.
"Because we all take the same classes and share the same break, we normally work together on any assignments that are due for the upcoming week," Mastantuno said. "Although each assignment is our own thoughts and own ideas, we are all there to provide feedback to one another, while helping each other improve any mistakes one of us may have made. There are also times during our breaks where we have managed to go to the mall or to lunch if we did not have any schoolwork to complete."
As the group continues on their degree path, with extra classes filling up the little free time they already had, Weiss, Mastantuno, and Apice are glad to have each other, making the process easier to overcome.
"Working with them has made the course overload much more bearable," Weiss said. "The three of us work together and always push each other to limit, while having fun and bonding as much as possible. Lauren and Carli have become my close friends, and there are no other people I would want to spend my academic career working with."