Advance Your Career with the Early Childhood Education Pathway Program at Holy Family University
Advance Your Career with the Early Childhood Education Pathway Program at Holy Family University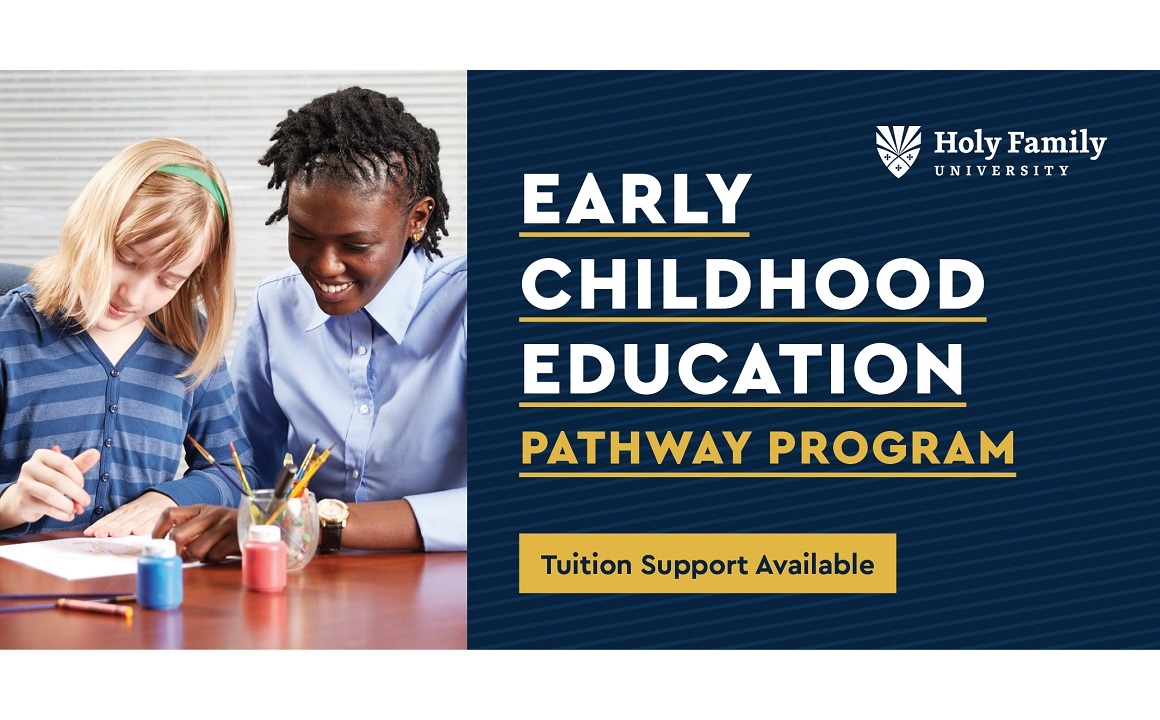 The School of Education at Holy Family University is currently offering tuition support for students who work in licensed childcare facilities entering or currently in the Early Childhood Education Pathway Program, an opportunity to earn a PreK-4 or PreK-4/Special Ed bachelor's degree and Pennsylvania teaching certification in a format that meets the needs of busy working professionals.
The Early Childhood Education (ECE) Pathway Program is for students who have earned an Associates of Arts degree in Early Childhood Education or have completed the first two years of a four-year Early Education program.
In addition, Holy Family University has partnered with the Community College of Philadelphia and Bucks County Community College to establish formal program-to-program agreements that allow students to complete a PreK-4 degree in as little as two years if they have their basic skills testing requirement.
The ECE Pathway Program began accepting students in Fall 2020. One of the students who is currently enrolled, Laura Stephenson, has found that the program is the perfect fit for her goals and schedule. "The biggest factor that convinced me to apply for the ECE Pathway Program was the opportunity to continue to work full time and still complete my bachelor's degree in Early Childhood Education in two years," said Stephenson. "The ECE Pathway Program offers nighttime classes just two days a week which made adjusting my work hours very simple. The experience has been wonderful and I am so happy I am part of the ECE Pathway Program."
Sherry Cohen '06, who graduated from Holy Family University's Bachelor of Arts in Early Childhood program, works in a daycare facility as a teacher and director. From her knowledge as both an educator and an administrator, Cohen identifies the advantages of the ECE Pathway Program for a career in education. "When I heard about Holy Family's ECE Pathway Program, I instantly thought of some of my educators and how they would be perfect candidates for such an amazing opportunity," said Cohen. "Holy Family showed me the importance of quality education and what it means to be a qualified educator. As a director, I am always searching for teachers with an advanced education and the compensation rates are higher when your professional portfolio is stronger. Being an early childhood educator and administrator doesn't only financially benefit an individual, but it also serves as a fulfilling role in a child's development and future."
"This program fits in perfectly with our values of inclusiveness here at Holy Family University," said Janet R. McNellis, Ph.D., associate dean for the School of Education. "We are always looking for ways to make our programs more affordable to a greater number of students. This program greatly reduces the cost of a bachelor's degree. In fact, students who qualify for T.E.A.C.H. funding end up paying very little out-of-pocket expenses."
The program is a convenient and student-centered pathway to degree and certification completion and includes courses that are offered year-round in the evenings and classes that are held in a blended format with in-person and online experiences. 
Please contact ECEpathway@holyfamily.edu or call an admissions representative at 267-341-3555 for additional admissions information. If you attended another institution, contact an admissions representative to evaluate your transcripts and work with you to create an individualized completion plan.