From the Air Force to Holy Family's Second Degree BSN Program: Meet Stephanie Biggans
From the Air Force to Holy Family's Second Degree BSN Program: Meet Stephanie Biggans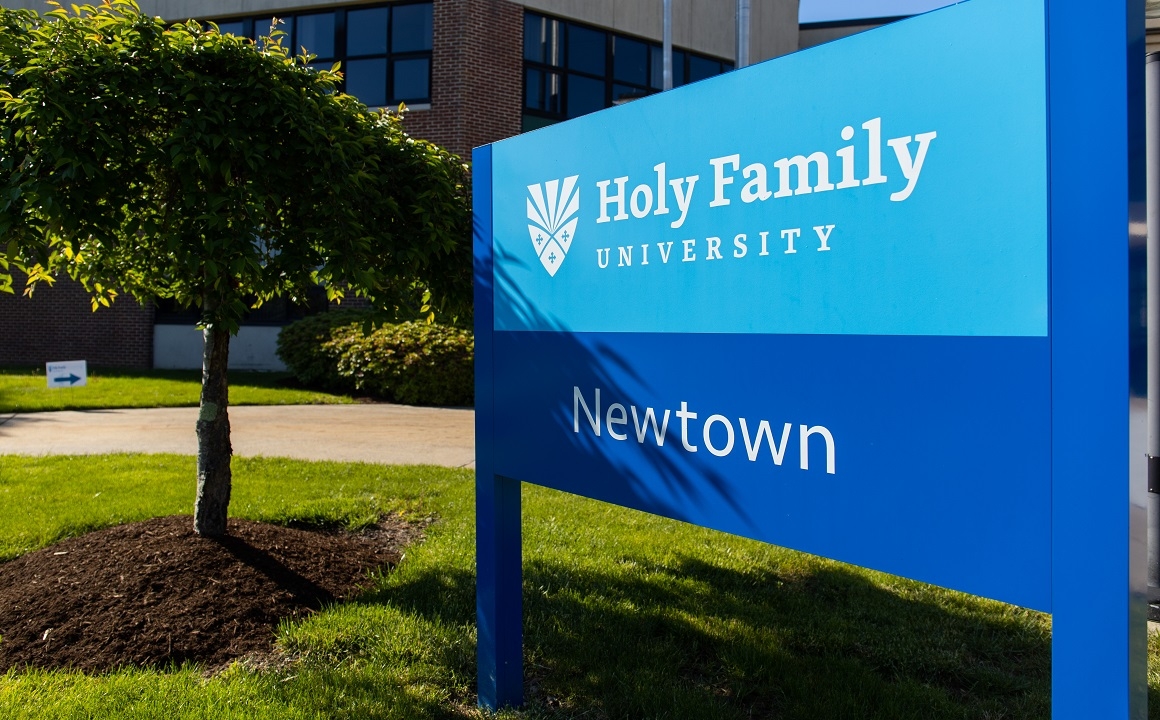 Students at Holy Family University come from many diverse backgrounds before they begin their first semester at the University. For some, their education at Holy Family is the beginning of a second career.
For Stephanie Biggans, a current student in the Second Degree BSN 14-Month Accelerated Degree Program, her nursing career will be her third career in a life that has already been filled with impressive professional accomplishments.
Stephanie is a 17-year veteran of the U.S. Air Force, where she served as an air traffic controller. Stephanie was medically retired from the service after a knee injury, and the numerous surgeries she underwent sparked her interest in starting a second career in the medical field. "After I got out of the service, I used the GI Bill to go to go to school to become an x-ray tech," she explains.
As it turns out, Stephanie was not the only member of her family who was interested in pursuing a career in medicine. Stephanie's sister, Melissa Wenzel, who is also a veteran of the Air Force and retired from the service in August 2020, decided to go to school for nursing.
"Melissa, who was a medic in the Air Force, had been talking about going to nursing school," says Stephanie. "We grew up in Philadelphia, so we were looking for schools in the area. We knew about Holy Family because we grew up in Mayfair, and we saw that they had an accelerated BSN program."
After her sister entered the Second Degree BSN program at Holy Family University (Wenzel will graduate from the program in February 2022), Stephanie considered pursuing that career path as well. The COVID-19 pandemic gave her another push toward a nursing career.
"Once the pandemic happened, I started thinking that I should go back to school for nursing, too," notes Stephanie. "I really saw and felt the impact of the pandemic. As radiology technologists, we were in every patient's room from the ER to the ICU and even the OR. As an x-ray tech, I already give a lot to patients—but I wanted to give more."
Stephanie entered the Second Degree BSN 14-Month Accelerated Degree Program in August 2021. So far, the program has exceeded her expectations. "The experience at Holy Family has been great," she says. "Having been through x-ray school I had expectations of what nursing school would be like, but it has been very different. All of the students in the program already have bachelor's degrees, so it's a mature, friendly, and engaging group of students. Everyone has been so supportive. It's not about who is the smartest or who's getting the best grades, it's about how everyone made it into this program and helping each other."
In particular, Stephanie has strong praise for her experience with the faculty of the School of Nursing & Health Sciences. "The faculty is here to see us succeed," Stephanie explains. "I think when you're in an accelerated program where the material is so intense, that can really make or break how you succeed."
Holy Family University was recently named a Top 10 Accelerated Nursing Program in Philadelphia for 2021 by Best Value Schools. The University enrolls two Second Degree BSN Cohort – 14-Month Daytime Cohorts and two Second Degree BSN Cohort – 22-Month Evenings + Weekends Cohorts a year (spring and fall). Due to a limited number of spaces each semester, admission to the program is highly competitive. For more information (including admission requirements), please visit the program website or contact the Graduate and Professional Studies Office at 267-341-3327 or e-mail gradstudy@holyfamily.edu.