Holy Family University Awarded Collegiate Recovery Program Grant from the Independence Blue Cross Foundation in Collaboration with the Association of Recovery in Higher Education
Holy Family University Awarded Collegiate Recovery Program Grant from the Independence Blue Cross Foundation in Collaboration with the Association of Recovery in Higher Education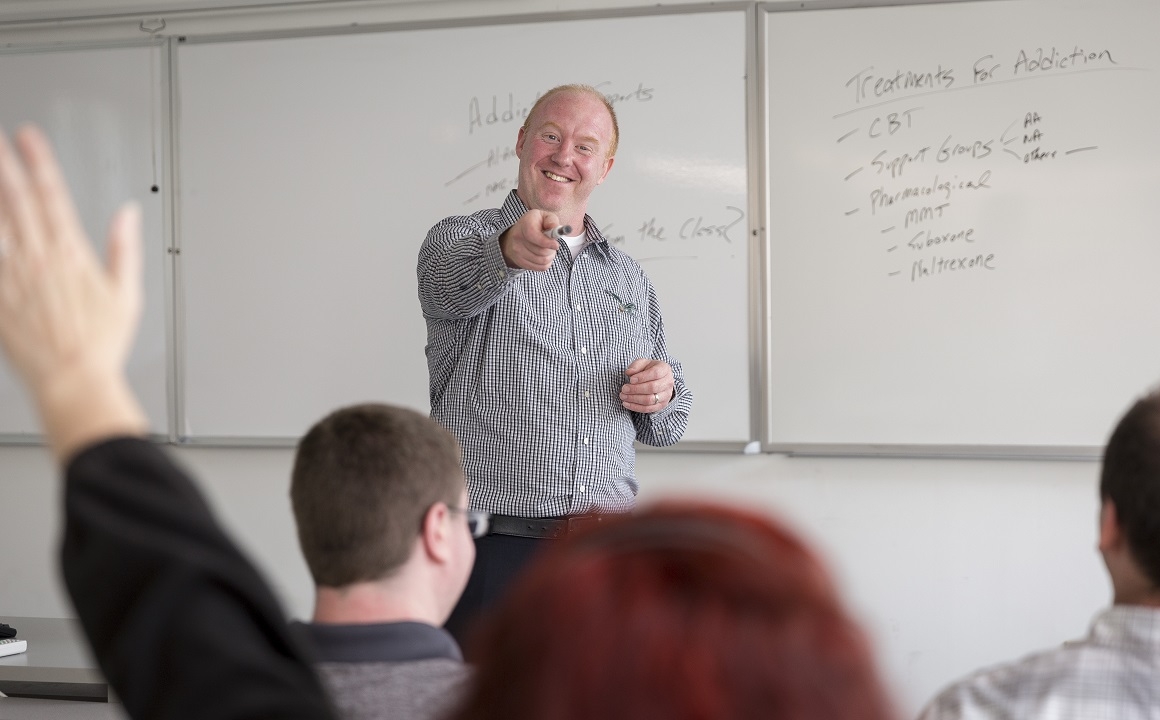 Grant will fund campus initiatives to develop drug and alcohol recovery programs
Holy Family University has been awarded a Collegiate Recovery Program grant from the Independence Blue Cross Foundation in collaboration with the Association of Recovery in Higher Education (ARHE). The University will be awarded $50,000 that will provide funding to develop drug and alcohol recovery programs on campus for students and help create and sustain a "culture of recovery" for Holy Family University.
Holy Family University's Collegiate Recovery Program will be led by Patrick McElwaine '00, M'04, Psy.D., associate professor of Counseling Psychology. Dr. McElwaine is a Licensed Clinical Psychologist and Licensed Professional Counselor (LPC) with over 25 years of clinical experience in community mental health, primary care, private practice, wrap-around services, residential treatment facilities, inpatient hospitals, and academia As a faculty member at the Beck Institute, Dr. McElwaine provides supervision and conducts various workshops focused on Cognitive Behavior Therapy (CBT) with substance abuse, depression, anxiety, suicide, and trauma. Dr. McElwaine is also a columnist for Treatment Magazine and Psychology Today. Dr. McElwaine is also active in his recovery from alcohol and drug addiction. He believes that substance use disorder and mental health concerns such as anxiety, depression, trauma, and grief are closely connected. Currently, Dr. McElwaine has 13 years of continued recovery.
"Holy Family University aims to create a culture of recovery for students impacted by mental health concerns and addiction," said Dr. McElwaine. "According to the Substance Abuse and Mental Health Services Administration (SAMHSA), in 2019, 840,000 full-time students attending college in the U.S. will be in recovery. However, only 100 schools have formalized recovery programs for their students. Holy Family University can now be included with those schools that offer support and healing to their students. The Collegiate Recovery Program allows us to sustain a culture of recovery, reduce stigma, and support all of our students with succeeding in school and creating a better, brighter future."
"Holy Family University is grateful that we have been awarded this grant from the Independence Blue Cross Foundation in Collaboration with the Association of Recovery in Higher Education," said Dr. Anne Prisco, President of Holy Family University. "By launching a Collegiate Recovery Program, our University is sending the message to our students that we are here to support you and we are here to help you succeed in and outside of the classroom."
Holy Family University will implement strategies on its campuses with the support of Independence Blue Cross Foundation's Supporting Treatment and Overdose Prevention (STOP) initiative and the ARHE. The goals of the program include developing assessments to survey the scope of knowledge and information from the University community, identifying a designated room for recovery, and purchasing recovery-oriented materials and literature. The University will also host two recovery groups that meet weekly, with each led by a graduate assistant. A future initiative for the program includes an annual one-day conference with recovery-based agencies and speakers.