Holy Family University Celebrates the Inauguration of President Anne M. Prisco, Ph.D.
Holy Family University Celebrates the Inauguration of President Anne M. Prisco, Ph.D.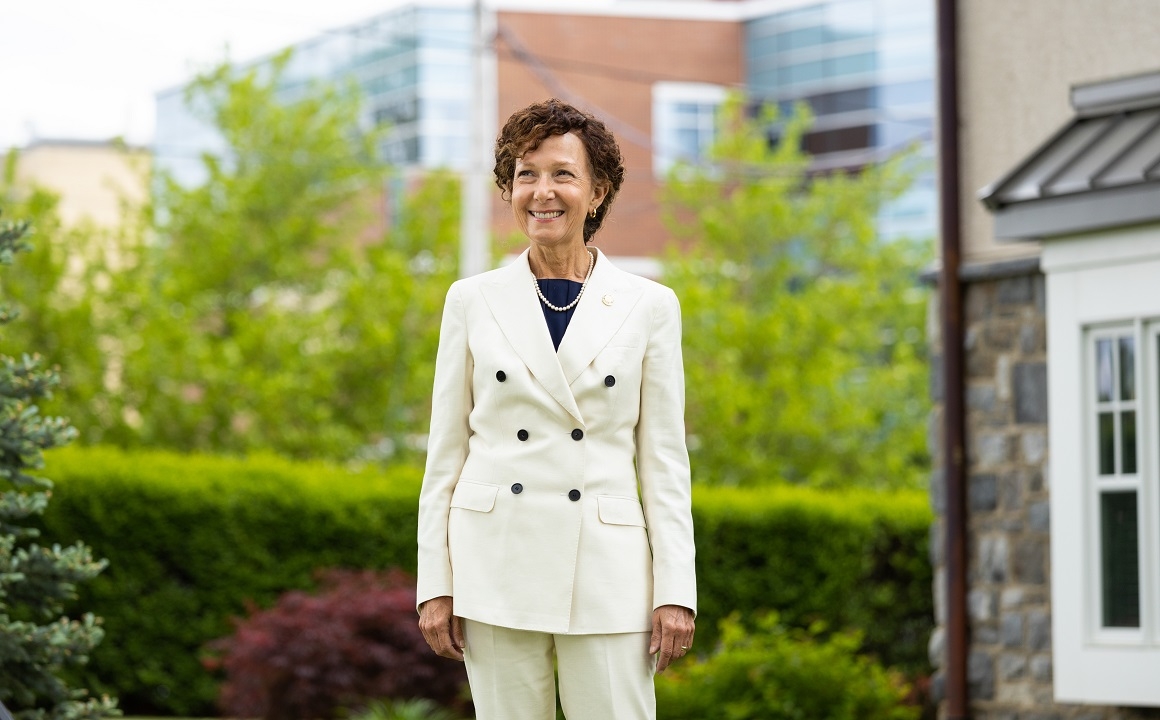 President Prisco is the sixth President of the University.
The Board of Trustees, faculty, staff, and students of Holy Family University are pleased to announce the Inauguration of President Anne M. Prisco, Ph.D. as the University's sixth President. President Prisco will be formally installed in office on Friday, April 8, 2022, at Holy Family University's Northeast Philadelphia Campus.
Dr. Anne Prisco began her tenure as the sixth president of Holy Family University in July 2021. She has dedicated herself to advancing higher education and student success. Over the course of her impressive career, Dr. Prisco has served as an administrator, faculty member, researcher, and consultant. From 2012 to 2020, Dr. Prisco served at Felician University where she was also their first lay leader. Prior to that, Dr. Prisco served in a number of higher education institutions, including as a Vice President at Loyola Marymount University, a faculty member at St John's University, and a policy researcher at New York University.
As excerpted from Dr. Prisco's Installation remarks, "Holy Family University is a vital institution, anchoring communities in Northeast Philadelphia, and in Newtown, Bucks County. Our students grow up in these communities, are educated in these communities, and share their knowledge and life's work to better these communities."
She is the recipient of numerous academic, leadership, and service awards including a public policy fellowship from Columbia University, named a Top 50 Business Women in New Jersey, and the Wise Woman award from the National Organization for Italian-American Women. Dr. Prisco serves on the board of DePaul University. She is a member of the Forum of Executive Women and a founding president of Excelencia in Education's Presidents for Latino Student Success. She is a member of the Greater Northeast Philadelphia Chamber of Commerce and the Greater Philadelphia Chamber of Commerce.
Dr. Prisco is frequently invited to speak on higher education policy, leadership, and transformational change.  She has served on both state and national boards. Dr. Prisco holds a bachelor's degree from the University of Arizona with the highest distinction, an MBA in Finance from Fordham University, and a Ph.D. in Economics and Education from Columbia University.
Resources
LINK to President Anne Prisco photos
LINK to Livestream of Mass at Nazareth Chapel (April 8, 2022 at 10 a.m. EDT)
LINK to Livestream of Installation (April 8, 2022 at 12 p.m. EDT)

Select Media Coverage
Holy Family University Expects to Free Up Millions for Projects After Credit Rating Upgrade
(Philadelphia Business Journal) – February 6, 2022
Women to Watch Media with Sue Rocco: Anne M. Prisco, Ph.D., Holy Family University
(Women to Watch Media) - November 28, 2021 
Holy Family's Dr. Anne Prisco is Out to Embrace the Transforming Diversity of Philly 
(Al Día) – October 27, 2021
 
Holy Family University Taps First Lay President 
(Philadelphia Inquirer) - April 8, 2021
 
Interviews
For interviews with President Prisco: Contact Christopher McKittrick, Communications Manager, at cmkittrick@holyfamily.edu.
About Holy Family University
Holy Family University is a private Catholic institution located in Philadelphia, PA. Founded in 1954, the University's mission is informed by its core values of family, respect, integrity, service and responsibility, learning, and vision. The University embraces diversity and inclusion, ensuring a welcoming and accessible learning community for all. Holy Family University educates students in liberal arts and professional studies to fulfill lifelong responsibilities toward God, society, and self. The University is composed of four schools: Arts & Sciences, Business & Professional Studies, Education, and Nursing & Health Sciences. Nestled in the heart of a historic residential neighborhood in the Northeast, the University is just minutes from the excitement of Center City. Holy Family enrolls more than 3100 students at the undergraduate, graduate, and doctoral levels at its Philadelphia and Newtown campus locations.
Holy Family University is a sponsored ministry of the Sisters of the Holy Family of Nazareth.