Holy Family University Hosts Assessment Day 2022
Holy Family University Hosts Assessment Day 2022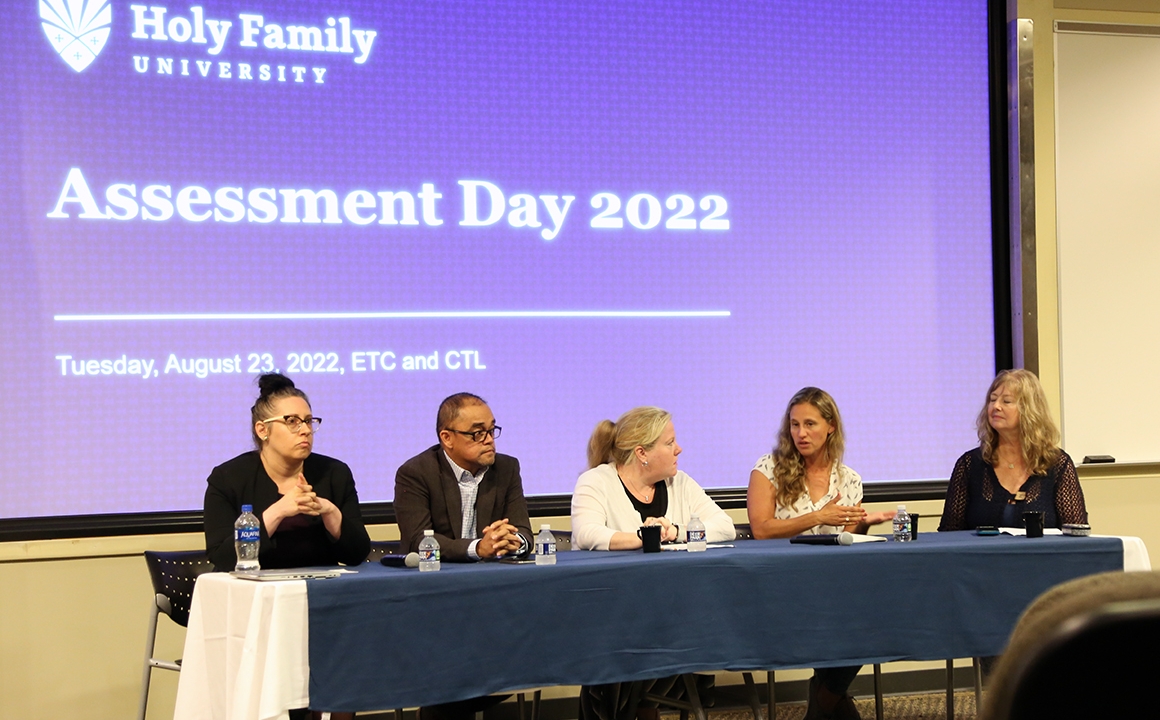 On August 23, Holy Family University hosted Assessment Day, an opportunity for administrators, faculty, and staff to learn more about the process of assessment and how to incorporate it into practice to help evaluate and improve the quality of the University's programs and support structures.
The full-day conference was organized by an Assessment Day Committee led by Bernice M. Purcell, DBA, director of University Assessment. "Our goal for Assessment Day was to provide something for everyone, from learning basics about assessment to sharing assessment experiences and expertise," said Dr. Purcell. "We wanted to be able to engage and benefit the assessment newbie as well as the assessment veteran. I was pleased to see a true cross-campus representation among participants."
In addition to members of the University's staff and faculty speaking at Assessment Day, a plenary session was presented by Jodi Levine-Laufgraben, vice provost for Academic Affairs, Assessment, and Institutional Research at Temple University. Dr. Levine-Laufgraben spoke about the tools that she has developed at her institution to improve assessment throughout Temple University as well as how Temple had benefited from the data collected and analyzed.
Assessment Day 2022 also featured the following presentations:
Morning Sessions
8:45 – Welcome – Dr. Anne Prisco
9:00 – Opening Remarks and Plenary Introduction – Dr. Bernice Purcell
9:15 – Plenary session –Dr. Jodi Laufgraben (all levels)
10:15 –Concurrent Sessions:
Using Assessment Results Panel – Dennis Millan, Jackie Myers, Shana Dibenedetto, and Angela Cutchineal (moderated by Diane Menago)
Accessing and Using Data: Interactive Case Study – Mark Green and Bernice Purcell
Tour of P&SS – Erin Carney
11:15 – Concurrent Sessions:
General Education Revision – Jenai Murtha, Dan Bramer, and Shelley Robbins
Assessment for Beginners: Why Chocolate Chip Cookies Count! –Roseanna Wright, Lisa Ratmansky, and Beth Jones
IT Sessions – Driss Atlagh, Carson Campbel, and John Hain
Afternoon Sessions
1:15 – Concurrent Sessions
Assessment 101 – Mark Green
Mission – Sr. Rita Fanning
IT Sessions – Driss Atlagh, Carson Campbel, and John Hain
2:15 – Concurrent Sessions
Assessment Vision – What Happens After Assessment Day 2022 – Bernice Purcell
Strategic Plan Update – Dr. Sylvia McGeary
Tour of P&SS – Angela Cutchineal
3:15 – Plenary Session – Panel – My Assessment Experiences– Drs. Sylvia McGeary, Ilana Lane, and Shelley Robbins (Moderated by Beth Jones)
4:00 – Closing Remarks – Assessing the Day – Bernice Purcell