Holy Family University Instructor Parlays Sports Background into Teaching Opportunity
Holy Family University Instructor Parlays Sports Background into Teaching Opportunity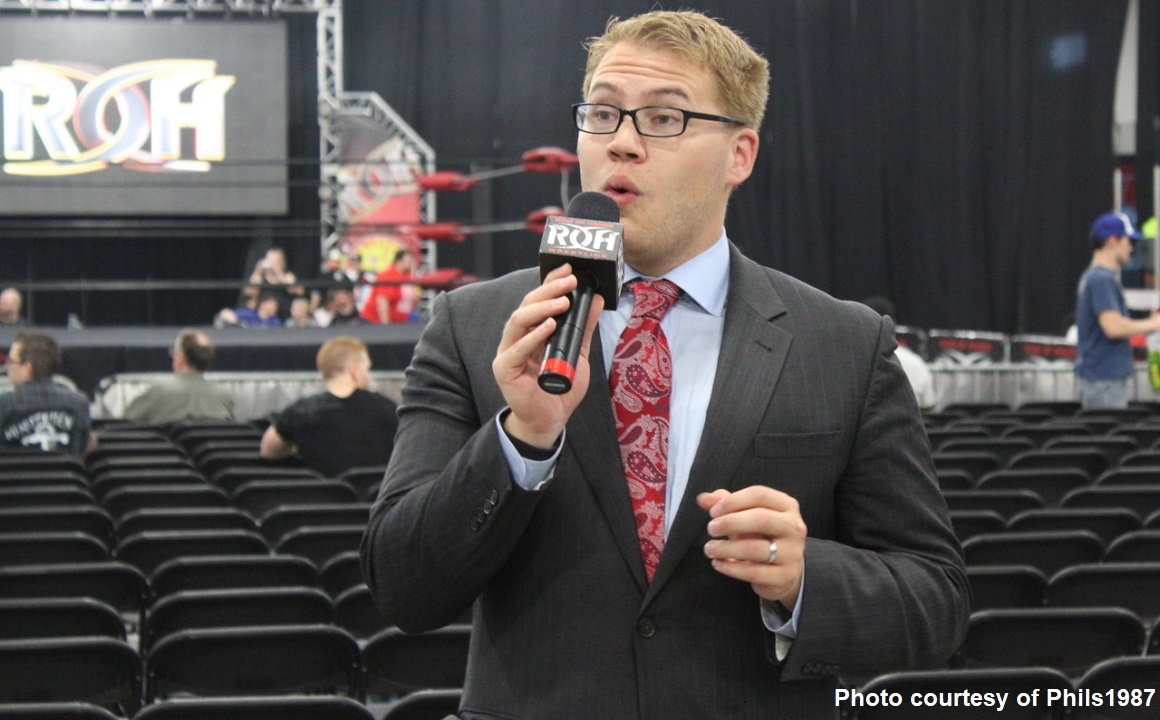 What do you get when you cross a professional wrestling announcer, a Philadelphia Phillies TV personality, an author, and a pharmaceutical rep? If you couldn't figure it out—you're probably not alone.
However, the students in the Introduction to Sports Media class are getting all of these things rolled into one, in the form of their professor, Ian Riccaboni. An announcer for the professional wrestling company Ring of Honor, a TV personality for Phillies Nation TV on The Comcast Network, and author of Phillies Nation Presents The 100 Greatest Phillies of All Time, Riccaboni is bringing his sports background to Holy Family University, where he made his teaching debut this semester.
We sat down with Riccaboni as he discusses his sports background and his introduction into the teaching world.
Where are you originally from?
I was born and raised in Allentown, PA. My wife Sarah and I have lived in Glenside, PA now for about three years, and we love it. We have the best neighbors, are excited about how our neighborhood is growing, and love being near the Keswick Theater, where some great musicians and comedians perform.
What is your educational background?
I earned a Bachelor's of Science in Media and Communications from New York University and a Master's of Science in Education from the University of Pennsylvania.
Besides teaching, announcing wrestling, and talking about the Phillies, is there anything else you do?
I am actually involved in Pharmaceutical Access and Reimbursement as a Field Reimbursement Manager. It is an amazingly rewarding job where I am able to connect with doctor's offices and let them know ways patients are able to afford their treatment regiments. Because of the job, I have been able to travel to places I likely would never have been able to go otherwise like Sioux Falls, SD; Saranac Lake, NY; and my favorite city to visit, Omaha, NE.
What made you want to get into teaching and that Holy Family University was where you wanted to do it?
Brian Michael is an instructor at Holy Family University and we talked a bit about my desire to teach. I always asked him to let me know if an opening popped up. I was in Nashville visiting with family after a Ring of Honor event and I hadn't spoken to Brian in a few weeks. I texted him offering to be a guest speaker, something we had discussed in the past, for Spring 2016. He told me, "Hang tight. I might be sending you something, soon." Sure enough, there was an opening to teach Introduction to Media Relations in Sport, a class he had taught, and I couldn't apply fast enough!
How did you get involved with Ring of Honor?
I have been a professional wrestling fan for as long as I can remember. Working with ROH came through a series of serendipitous meetings and occurrences. Through Phillies Nation TV on Comcast Network, I was interviewing famous Phillies fans. I interviewed former WWE and ECW star The Blue Meanie, and he suggested we use the Monster Factory in Paulsboro, NJ as the backdrop. We filmed the segment, and I asked Danny Cage, the owner of the Monster Factory, how someone would get involved doing interviews and commentary. He told me to show up on a certain date and time and I went. I cut a couple 60-second promos, and then Kevin Kelly and "Brutal" Bob Evans talked to me about starting to come to some of the ROH shows. I started out as ring crew and then called my first match for them a few months later in Nashville.
Switching to baseball, can you tell me about how you linked up with TCN to talk about the Phillies?
Phillies Nation TV on The Comcast Network is something I am very proud to be a part of. If you have ever seen that diagram of the tip of the iceberg that is going around on social media, where everyone sees just the tip, the visible success, but nobody sees what is underwater, the struggle, the elbow grease, that's what the show has been and what has made it so rewarding.
Pat Gallen, now of CBS 3 Philly, and Corey Seidman, now of Comcast SportsNet, were filming web shorts with excellent production values with Brian Michael from Holy Family University, who runs Phillies Nation. I had just come aboard as a writer for the site and suggested airing a full-length show on Allentown's Service Electric TV 2.
The meetings went well and we started airing there in 2012 and the following year, we latched on with Comcast Network with replays on Comcast SportsNet. I was really bad on camera in my first couple interviews. Really, truly horrible—but I believe that if you work hard enough, you can do anything.
Can you tell me more about your book, Phillies Nation Presents The 100 Greatest Phillies of All Time? What made you want to chronicle the best Phillies to ever play the game?
With the book, it kind of happened by accident. In November 2013, Pat, Corey, and I met to discuss potential topics for the site and we talked about a countdown of the 100 greatest Phillies. I made an initial list and Pat and I worked on it pretty extensively to try to come up with a fair assessment of each player.
My mother-in-law, Barbara Morris, is an award-winning editor and after Pat believed that I had enough to make a book out of, I connected with Barb and asked her to edit what I had. I had no intentions of writing a book but am very happy with how it turned out!
Now that you're in the classroom at HFU teaching Sports Media, how can you take everything you've done—from ROH to the Phillies to authoring a book—and incorporate it into a lesson plan for the students?
The biggest thing that I hope to incorporate into lessons for the students is teaching them from my mistakes. I did an interview with Pete Orr once where I broke every unwritten journalism rule ever, including insulting the interview subject by complete accident. I want to tell them those stories—tell them how I learned by failing but also helping them avoid some of the pitfalls I faced.
HFU: What is your teaching philosophy? What do you want the students to be able to say at the conclusion of your course?
IR: "At the end of this course, I hope that the students recognize the role media plays in the popularity of sport and how sports use the media to influence consumers. It is a very mutually beneficial relationship that is now morphing as social media allows athletes to go directly to their fans. I want them to be able to dissect a sports broadcast and explain the 'who, what, where, when, why, and how" of all the elements—such as interviews and video packages."