Holy Family University Launches Asked & Answered Podcast with President Anne Prisco
Holy Family University Launches Asked & Answered Podcast with President Anne Prisco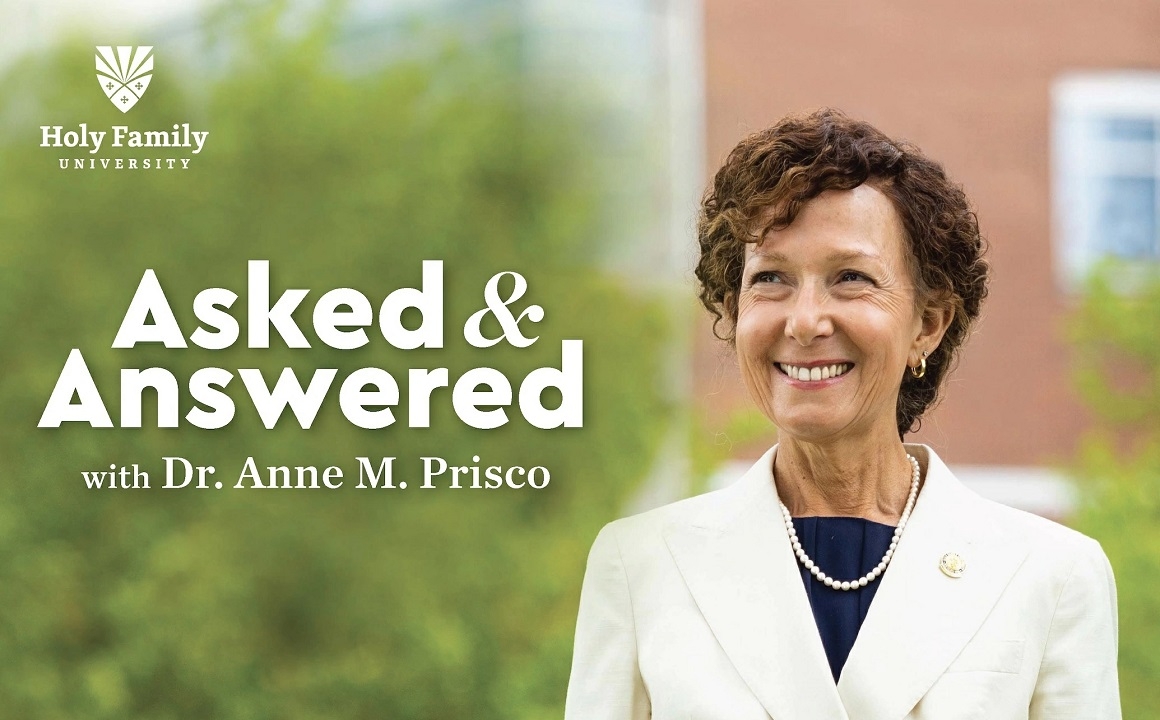 University President to Interview Influential Leaders in Philadelphia and University Faculty and Alumni
Holy Family University has launched a new podcast, Asked & Answered with Dr. Anne Prisco, President of Holy Family University. In Asked & Answered, Dr. Prisco gets to know the most influential leaders in Philadelphia, including sharing the stories of Holy Family faculty and alumni who are making major impacts in their communities. Asked & Answered is available on Apple Podcasts, Google Podcasts, Spotify, Amazon Music, iHeart Radio, and the Podbean App.
"Holy Family's values are centered on our shared humanity and collective responsibility to one another, our neighbors, and our communities," said Dr. Prisco. "In Asked & Answered, I introduce listeners to a host of community leaders to share the wonderful work that they do and to engage in fascinating conversations designed to broaden our collective understanding of the impact of leadership."
The Asked & Answered podcast launches with three episodes:
• Criminal Justice Reform and Community Engagement with Dr. Patricia Griffin, Holy Family Assistant Professor of Criminal Justice
• Investing in Nurses for Greater Community Health with IBC Foundation President Rev. Dr. Lorina Marshall-Blake
• Entrepreneurship and Ice Cream with Dan Kilcoyne '04, Mini Melts USA President & CEO
Dr. Anne Prisco began her tenure as the sixth president of Holy Family University in July 2021. She has dedicated herself to advancing higher education and student success. Over the course of her impressive career, Dr. Prisco has served as an administrator, faculty member, researcher, and consultant. From 2012 to 2020, Dr. Prisco served at Felician University where she was their first lay leader. Prior to that, Dr. Prisco served at a number of higher education institutions including as a Vice President at Loyola Marymount University, and as a faculty member at St. John's University. She has also held senior leadership roles at Hunter College and Lehman College, CUNY.
She is the recipient of numerous academic, leadership, and service awards including a public policy fellowship from Columbia University and the Wise Woman award from the National Organization for Italian-American Women. She was also named to the Top 50 Business Women in New Jersey. Dr. Prisco serves on the board of DePaul University. She is a member of the Forum of Executive Women and a founding president of Excelencia in Education's Presidents for Latino Student Success. She is a member of the Greater Northeast Philadelphia Chamber of Commerce and the Greater Philadelphia Chamber of Commerce and is a visiting faculty at Pepperdine University.
Dr. Prisco is frequently invited to speak on higher education policy, leadership, and transformational change. She has served on both state and national boards. Dr. Prisco holds a bachelor's degree from the University of Arizona with the highest distinction, an MBA in Finance from Fordham University, and a Ph.D. in Economics and Education from Columbia University.