Holy Family University Named a Money Magazine Best College in 2017-18
Holy Family University Named a Money Magazine Best College in 2017-18
Holy Family University was named the 196th Best College by Money Magazine in 2017-18.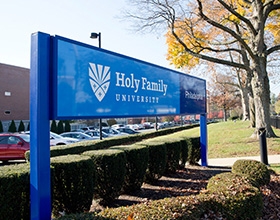 Money's list ranked the top 711 colleges and universities across the United States based on educational quality, affordability, and alumni success.
Holy Family University was the third highest Philadelphia-based university, behind the University of Pennsylvania (27) and Temple University (160).
"Holy Family University continuously strives to provide students with the highest quality education across our three locations," said President Sister Maureen McGarrity, CSFN, Ph.D. "We're thankful to be recognized by Money Magazine for the fruits of our labor as we prepare for a new academic year, filled with fresh opportunities for our students, faculty, and staff.
According to Money, to make the initial cut, colleges and universities had to:
Have at least 500 students.
Have sufficient, reliable data to be analyzed.
Not be in financial distress.
Have a graduation rate that was at or above the median for its institutional category (public or private), or have a high "value-added" graduation rate (in other words: score in the top 25% of Money's test of graduation rates after accounting for the average test scores and percentage of low-income students among its enrollees).
Of the 2,400 colleges and universities across the United States, 711 met the above requirements. These colleges were then ranked on 27 factors in three categories—education quality, affordability, and outcomes.