Holy Family University Partners with Conwell-Egan High School
Holy Family University Partners with Conwell-Egan High School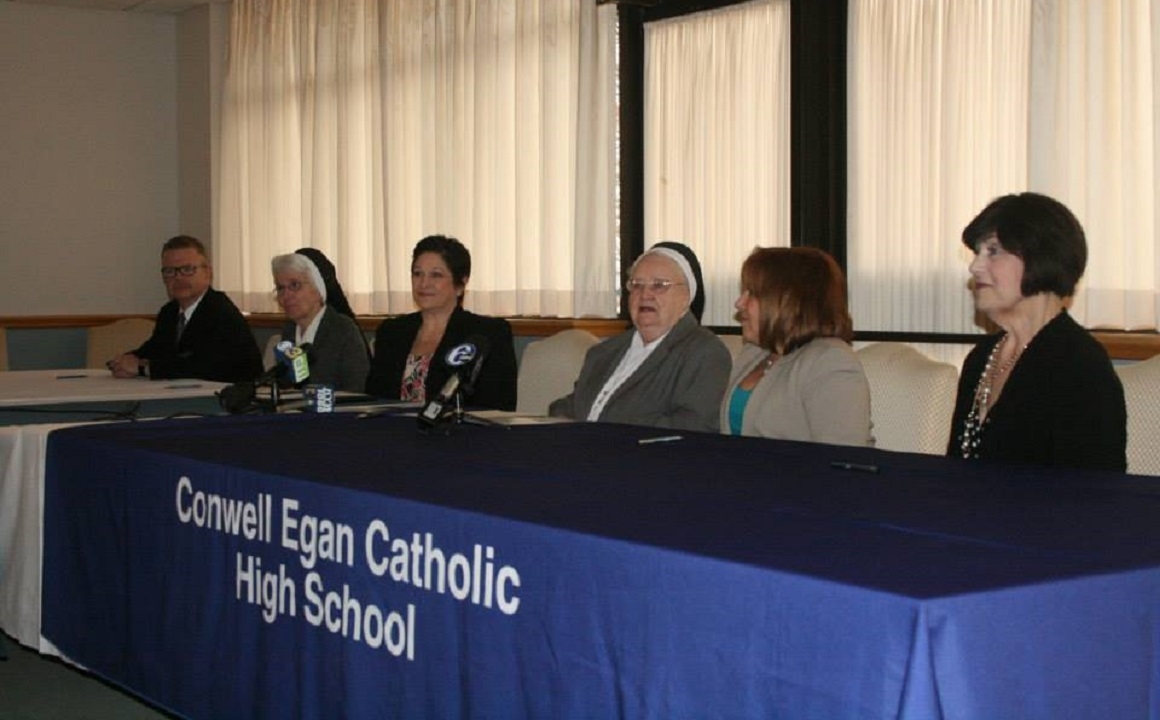 Administrators from Conwell-Egan Catholic High School, located in Fairless Hills, PA, joined officials from Holy Family University to sign an agreement that enters both schools into a collaborative educational partnership.
The agreement consists of three components, including admissions and scholarship, a university and dual credit agreement, and continuing education. The partnership reinforces the commitment of both schools to offer advanced educational opportunities for the personal and intellectual growth of their students and faculty.
Students from Conwell-Egan Catholic High School who graduate with a 2.5 GPA or higher, with acceptable SAT/ACT scores, are guaranteed admission to Holy Family University with application fees waived. Conwell-Egan students are also able to take dual-credit classes at both Conwell-Egan and Holy Family University and earn both university credits and high school credit. Teachers, administrators, staff, and employees of Conwell-Egan are also able to enroll in Holy Family University undergraduate and graduate courses, as well as degree programs, with waived admission fees and reduced tuition.
"This partnership is a wonderful opportunity for our students and will prepare them even greater for college, career, and citizenship after high school," said Conwell-Egan Principal Marion Mann. "This collaboration presents valuable experience for our students, strengthening our commitment to offering high-quality education and allowing students to earn college credit without even leaving CEC's campus. The addition of benefits for our faculty and staff is outstanding."
"We are so happy to collaborate with Conwell-Egan High School. Our high school partnerships continue to be one of our most exciting initiatives at Holy Family University," said University President Sister Francesca Onley, CSFN, Ph.D. "We are deeply committed to finding ways to effectively help dedicated students achieve their dreams of higher education and to offering students, faculty, and staff new opportunities for scholarly growth through our values-based education."
Conwell-Egan Catholic High School, within the tradition of the Catholic faith, collaborates to build character through service, achieve academic excellence, and demonstrate commitment to lifelong learning. Conwell-Egan Catholic High School offers a comprehensive, college-preparatory curriculum, with a majority of students opting to take Honors and Advanced Placement (AP) courses. It is the purpose of the academic program at Conwell-Egan Catholic to develop students' abilities and talents by preparing them for a challenging college career. Conwell-Egan Catholic's goal of educating the whole person is an intricate part of the experience of service. Through its exceptional academic, spiritual, athletic, and social programs, each student receives thoughtful attention and instruction to help guide them on their path towards success. CEC offers a full complement of activities for every type of student.
Holy Family University is a premier Catholic university offering 45 undergraduate, graduate, and accelerated degree programs. The University's main campus is in Northeast Philadelphia, with additional locations in Bensalem and Newtown, Pennsylvania. Founded in 1954 by the Sisters of the Holy Family of Nazareth as a private, not-for-profit, faith-inspired community, Holy Family University propels graduates to purpose-driven, values-centered lives through outstanding academic programs, flexible delivery options, manifold experiential learning opportunities, supportive career development and deep personal connections.