Holy Family University's Greg Pellegrino Honored by Eastern Athletic Communications Association
Holy Family University's Greg Pellegrino Honored by Eastern Athletic Communications Association
The Eastern Athletic Communications Association (East-Comm), an organization that supports communications in collegiate athletics, recently announced the honorees of awards that will be presented during the 2021 East-Comm Virtual Workshop on June 22-23.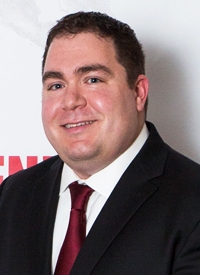 Among the honorees this year is Holy Family University's Greg Pellegrino, Director of Sports Information, who is being recognized for his outstanding contributions to Holy Family University and service to East-Comm and his community with the 2021 Bob Kenworthy Award.
The award is named after a long-time Gettysburg College sports information director who proudly served at Gettysburg for 40 years. In addition to Pellegrino's work in athletics, the award also recognizes his work with The BennettStrong Foundation, an organization founded by Pellegrino and his wife, Mary, to help support families with medically complex children and is named in honor of their son, Bennett.
"Greg continuously goes above and beyond to highlight the accomplishments of others and is a tremendous supporter of our student-athletes, University, and community," said Tim Hamill '04, M'08, Director of Athletics. "I am beyond excited that Greg has been named the 2021 Bob Kenworthy Award Winner for exceptionalism in the profession of sports information, media, and community. This award is well deserved as Greg has shown tireless dedication to his profession while living a life of leadership and service with his Bennett Strong Foundation. Congratulations to him and his family!"
"I'd like to thank East-Comm for selecting me as the 2021 Bob Kenworthy Award recipient," said Pellegrino. "I am truly honored to be this year's honoree. It's very humbling to be recognized by your colleagues for the job you have done in the profession as well as the work I have done with BennettStrong. It's a wonderful feeling to be acknowledged for our efforts to support that mission."