At Home in the Lab—Kopiński Researches Signal Networks Between Mitochondria and Nucleus
At Home in the Lab—Kopiński Researches Signal Networks Between Mitochondria and Nucleus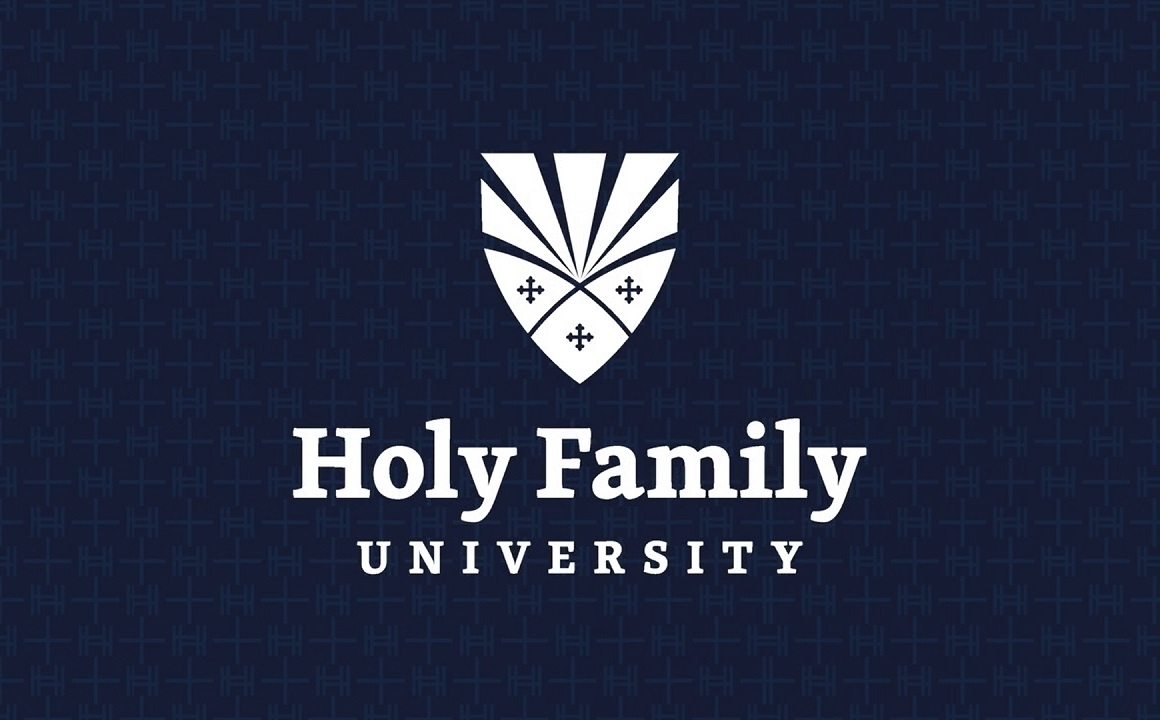 Spending his days in the laboratory, it wasn't long ago that Piotr Kopiński was on the fourth floor of Holy Family Hall conducting his first experiment under the microscope.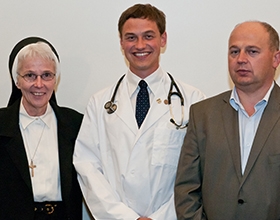 A graduate of Holy Family University, an MD-Ph.D. student at the University of Pennsylvania, and a Howard Hughes Medical Institute International Student Research Fellow, Kopiński now spends his time with world-renowned scientists studying the signaling functions between mitochondria and the nucleus.
While attending St. Jadwiga the Queen Gymnasium and High School (Gimnazjum i Liceum imienia Świętej Jadwigi Królowej) in Kielce, Poland, Kopiński made his first connections with the Sisters of the Holy Family of Nazareth. After years of political turmoil that resulted in the school being closed, the Sisters regained control of the school and ran the operations. While in junior high, Kopiński met the delegation from Holy Family University, including then President Sister Francesca Onley.
"Together with some students, we gave the Sisters a tour of the premises," Kopiński said. "During that time, we discussed Holy Family University in Philadelphia and I jokingly said to Sister, 'See you in Philadelphia' when she was departing."
What started as a joke quickly became a reality. Fast-forward three years later—Kopiński found himself being summoned to the Headmaster's office for an unscheduled meeting.
"It was somewhat unexpected, but I couldn't remember any mischief I caused that could result in Sister Benedetta Ewa Pielech wanting to see me," Kopiński said. "Sister sat me down and calmly said 'Piotr, the Sisters of the Holy Family of Nazareth from Holy Family University decided to sponsor two of our students on a full scholarship to go to Holy Family University in the United States. Would you be interested?'"
Faced with such a big decision, Kopiński needed to take time to digest the opportunity and visit the campus. After scheduling a meeting in the spring semester during his senior year of high school, Kopiński was won over by the charm and opportunities that Holy Family University could offer him.
"My original plan was to enroll in medical school in Poland, so a visit to Holy Family University was necessary," Kopiński said. "I still remember the professors and students I met during that short visit. The faculty were very interested in meeting with me and talked about the opportunities available at Holy Family. The science faculty were clearly enthusiastic and very supportive of their students."
After accepting the offer, Kopiński officially became a member of Holy Family University. It was there that his scientific prowess took off. Taking as many science courses as he could, paired with liberal arts classes to round of his skillset, Kopiński thrived in the HFU classrooms.
"As far as my degree choice, biochemistry seemed natural given my interest in science and medicine. My favorite courses were molecular biology and genetics. I was able to perform real experiments for the first time, learned how to use scientific equipment, and how to think about designing experiments. It was the foundation of my future experiences with lab bench work."
"Genetics was a theoretical course that made a big impact because it applied mathematics and logical thinking to biology. The other two courses that became the foundation of my degree were biochemistry and physical chemistry. The first is basically the chemistry of life, a subject I always had a great interest. Physical chemistry combined two of my favorite subjects, physics and chemistry, into a science that could be applied to living organisms such as cells and explains important physiological processes on a molecular level."
Though he was succeeding in the classroom and with his experiments, Kopiński was always looking to do more. After a chance meeting with Dr. Margaret Nieborowska-Skorska and her husband, Dr. Tomasz Skorski, Kopiński was able to secure an internship in the cancer research laboratory in the Department of Microbiology and Immunology at Temple University School of Medicine.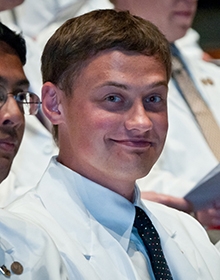 "They offered me a summer position in the lab, which turned into a three year internship that Holy Family University allowed me to incorporate into my school workload," Kopiński said. "It was amazing—I spent three days a week in classes, and three days a week in the laboratory during the semesters, and I was in the laboratory full time in the summers. This tailor-made program changed my life. That was where I wrote my first research proposal, which received the American Society of Hematology Research Trainee Award Dr. Skorski pushed me to become a confident and hard working scientist. He also allowed me to deliver a lecture at an international meeting of the European School of Hematology held in Washington DC. I was the only undergraduate student with a full oral presentation that I delivered in front of over 500 faculty and graduate students. That meeting exposed me to world-class research and renowned scientists."
After completing his studies and graduating from Holy Family University with a Bachelor of Arts in Biochemistry, Kopiński went on to apply and be accepted to the MD-Ph.D. program at the Perelman School of Medicine at the University of Pennsylvania. It is here that Kopiński has been able to pursue his dream of becoming a physician scientist and study mitochondria in a variety of ways.
"The MD-Ph.D. Program is designed for people who want to pursue medical research as a career and translate discoveries in the laboratory to the clinic," Kopiński said. "I think medical school provides a great foundation of knowledge for a scientist interested in curing human diseases and training the mind to turn interesting clinical observations into important research questions. My laboratory studies mitochondrial genetics and was founded by Dr. Douglas Wallace, who founded the field of mitochondrial genetics and discovered that mitochondrial DNA is inherited only from the mother, and that mutations in the mitochondrial DNA can cause disease in humans. More specifically, my project aims to find out the signaling network functioning between mitochondria and the nucleus."
"If you compare the cell to a city, then the mitochondria become the power plant and the nucleus becomes City Hall," he continued. "During a power outage, the Mayor gets a call from the power plant stating that because of an emergency, only 50 percent of regular power output can be supplied. The Mayor then has to make decisions about who gets power—like police, fire department, and hospitals—and which districts to cut off—like schools, which would equate to them getting a day off. In the case of a cell, the nucleus reacts to energy shortage similarly. It adapts to the energy deficit by shutting off certain functions and upregulating others to compensate. I study who makes the 'phone call' from mitochondria to the nucleus to let it know that it needs to adapt to the new situation."
Kopiński's work has not gone unrecognized. In September 2015, he was awarded a Howard Hughes Medical Institute International Student Research Fellowship, a three-year designation worth $129,000 that covers his PhD training, tuition, stipend, and provides an educational allowance for travel to attend research conferences. It also comes with an invitation to the HHMI Investigator Meeting, which brings together some of the best biomedical scientists in the world.
"The award makes it possible for me to pursue more independent research projects that are high risk, with potential high returns," Kopiński said. "The award is given to about 50 students in the United States each year, and I am the first Polish individual to receive it. I am very honored to be an HHMI Fellow."
Kopiński was also awarded a Foerderer Grant from the Children's Hospital Philadelphia and, most recently, a $100,000 grant from the Institute for Translational Medicine and Advanced Therapeutics at the University of Pennsylvania to be used as seed money to start his research.
As he works tirelessly in the laboratory to make a breakthrough discovery, Kopiński looks back fondly on his time at Holy Family University—the institution that helped him break into receiving an education in the United States.
"Holy Family really gave me everything it had," he said. "It provided me with the education and mental support I needed to develop into a well-rounded person who can pursue his dreams. Whether as a volunteer for Habitat for Humanity, a tutor in the Center for Academic Enhancement, or a teammate on the golf team, I always felt the values of family, respect, and vision were present. People here encouraged me to reach for the stars and gave me their time and attention to help me achieve my best. Without Holy Family University, I would not be where I am today."