James Ross to Present on American Cinema and Intellectual Property
James Ross to Present on American Cinema and Intellectual Property
As a child, James Ross only ever needed a pencil and a notebook, delving into the world of science fiction to create short stories and illustrations.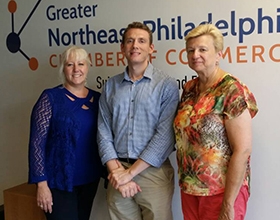 Now, as an undergraduate communications student at Holy Family University, Ross wants to transform his passion for writing into a career as a journalist.
Ross is spending his fall semester interning at the Greater Northeast Chamber of Commerce, where he is combining his creativity with the digital world.
"My responsibilities include event preparation, communications, and telephone outreach to clients," he said. "Additionally, I participate in membership outreach. The Greater Northeast Chamber of Commerce has allowed me to break out of my shell and network with others, which will allow me to develop a rapport with individuals when gathering sources for a news story."
Interning isn't the only way Ross is getting his foot in the door, as he has been selected to represent Holy Family University at the 27th Annual Conference of the Mid-Atlantic Popular & America Culture Association (MAPACA) on November 3. This is an annual scholarly conference committed exploring a wide variety of popular and American culture topics—ranging from fashion to horror.
Ross learned about the opportunity to present when his advisor, Dr. Janice Xu, assistant professor of Communications in the School of Arts and Science, informed him of the conference after he submitted a paper for her Branding class.
Ross will present his paper, "American Cinema and the Value of Intellectual Property" in the Film Studies sector, which observes all features of the motion picture from genres, film artists, the studio system, technology and technological advances, American films, and other parts that go into film. His paper is anything but ordinary, as he touches on an ongoing occurrence in the film industry that has sparked debate from everyone in the business.
"The paper is about intellectual property and how it relates to modern cinema, both creatively and financially," he said. "Grounded in the discussion is the protection of one's ideas and creative works under copyright law. Intellectual property refers to the protection of one's creative works where a patent, copyright, trademark, etc. can be obtained. With the advancement of free-speech and the freedom that is given to us on the internet, copyright cases have been under much discussion. I find the subject interesting because of my fascination with the ins and outs of the Hollywood studio system."
As a cinema fan, this opportunity will give Ross the chance to speak about a very relevant and fascinating subject, with hopes that it leads to his ultimate goal: to become a journalist.
"It is tough at first, but I've had tremendous success as a communications major and look forward to expressing my voice through newspapers and online publications as a journalist."