Non-Traditional Student Finds Traditional Path to Success
Non-Traditional Student Finds Traditional Path to Success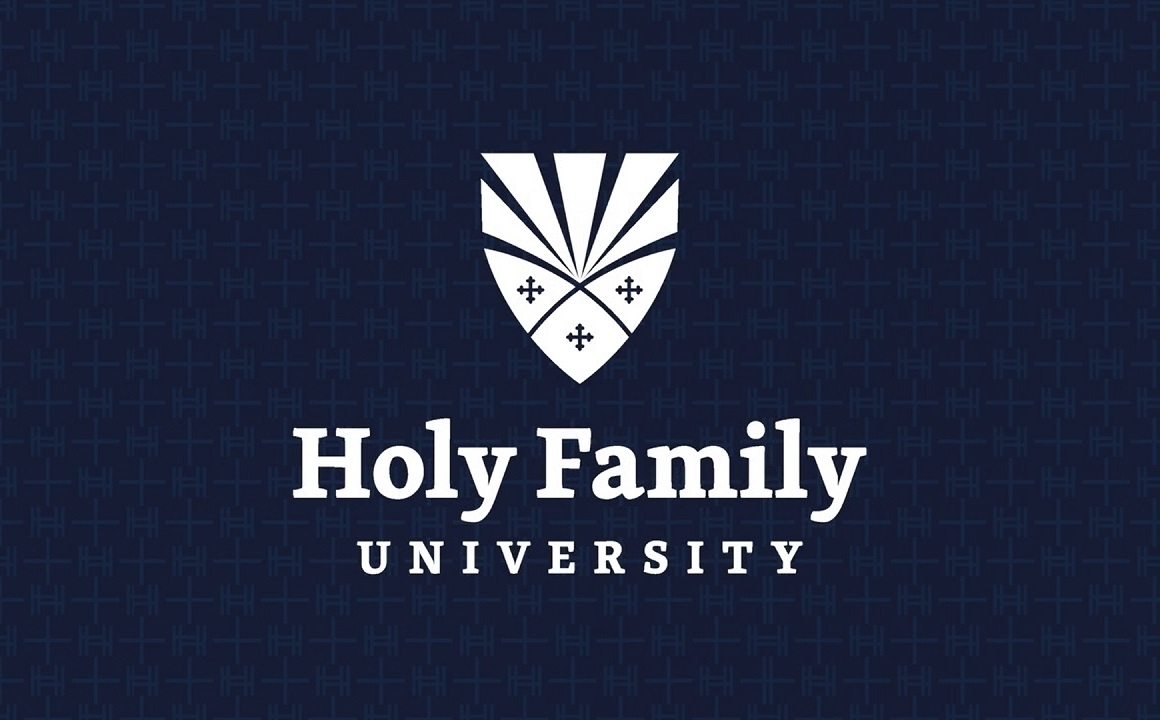 Adam Lee Price isn't a traditional student.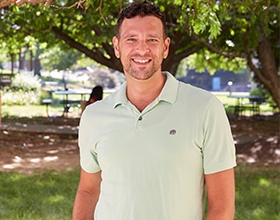 At 36 years old, the writer, filmmaker, and horror buff has found himself on a winding educational journey. A Pennsylvania-college journeyman, Price now finds his success in the halls of Holy Family University, proving that it's never too late for a second chance.
After attending and subsequently leaving multiple colleges throughout Pennsylvania and Florida because they weren't the right fit, Price, a communications major, put his education on the backburner, instead focusing on other passions.
"I really wanted to do film and acting," Price said. "I did a semester in New York where I shot a movie. I really liked it. I took some time off to act and model, and I was moderately successful."
After multiple attempts to finish his education that never materialized, Price was left feeling dejected and unsure of where his future would take him.
"I gave up on school," he said.
However, on his mother's advice, he decided to enter the working world, using his abilities for good, rather then sit around, waiting for his next opportunity.
"I started bartending and I liked it," he said. "I was good at it. Then it escalated to me running these bars and nightclubs and making them better."
Price's successful track record as a manager and brand rejuvenator spanned throughout multiple popular downtown Philadelphia bars. Combining what he briefly learned in the classroom with what he had taught himself, Price used social media, promotional tactics, and marketing to breathe new life into these bars.
However, the experience left Price searching for his identity.
"I was 29 when I was really getting into it and I gave it up at 32," he said. "I had no clue who I was anymore, except for the bar scene. I forgot that I could even write. I couldn't let that happen. I've been up and down so many times, and now I forgot what I wanted to do."
Price took a four-month hiatus where he was able to reevaluate where he was at professionally. He took a job as a foreman at his brother's construction company and worked in a warehouse with his uncle before deciding to give his education a final shot.
"Finally, after 10 years, I realized that I wanted to go back and I wanted my undergraduate degree, a masters degree, and a PhD. I want to teach and make movies. For a while, I forgot what I wanted to do. You get stuck in the world and that's it."
Holy Family University presented itself as an excellent opportunity for Price to get back into the swing of things academically.
"I wanted to go back to school but I didn't know what direction I was heading in," he said. "Holy Family was very close to me. I knew they were good for education. Like I said before, I wanted to teach. Even though I'm a writer and I want to make movies, I still want to teach. I've been to the biggest, smallest, most exclusive, and religious institutions. I have been everywhere, but I would recommend Holy Family University to anybody."
When deciding to attend Holy Family, a strong internship program was a must. After getting his feet wet and taking some classes, Price wanted to have the opportunity to do a co-op. He set his sights high, applying to top broadcast companies such as NBC, CBS, and ABC.
"An internship is a backdoor to get into a company," he said. "I shot for the highest ones. NBC was where I really wanted to be because of Saturday Night Live!—I would love to write for them."
One of the places that Price wanted to intern at was FANGORIA, a monthly magazine focusing on all things horror. Price, a horror connoisseur and a fan of the magazine since its inception, wanted to be a part of its staff and was determined to make it happen. After a chance encounter on LinkedIn with Cydney Neil, Owner of Rocky Point Haunted House and fellow horror enthusiast, Price was able to get a foot inside the door.
"Cydney was best friends with Tony Timpone, who was the Editor-and-Chief of FANGORIA for 20 years and is now Editor Emeritus," Price said. "She got me in, and I couldn't believe it. Push comes to shove; the school helped me connect with this magazine through its co-op program."
As an intern with FANGORIA, Price has had the opportunity to travel to New York City and interview actors and directors, among other interesting horror pieces.
"I work at FANGORIA because of Holy Family," Price said. "An internship was a required part of my degree, and that motivated me to seek out an opportunity that I was passionate about. I have read the magazine since I was 13 years old. I'm working with people that I've been reading since I was a kid. I interviewed film director Sean Cunningham and I met director West Craven before he died. I've been published multiple times through the magazine. It all started here."
Looking back on his journey, Price knows that Holy Family University was an important piece of his educational puzzle.
"Doors have opened for me because of this school, because of the interactions I've had with professors, staff, and faculty," he said. "Holy Family has surpassed my expectations. Certain people here have really guided me and took the extra time with me. I'm lucky enough to have people who really cared about my success."