School of Nursing & Health Sciences Hosts DNP Poster Presentation Event at Newtown Campus
School of Nursing & Health Sciences Hosts DNP Poster Presentation Event at Newtown Campus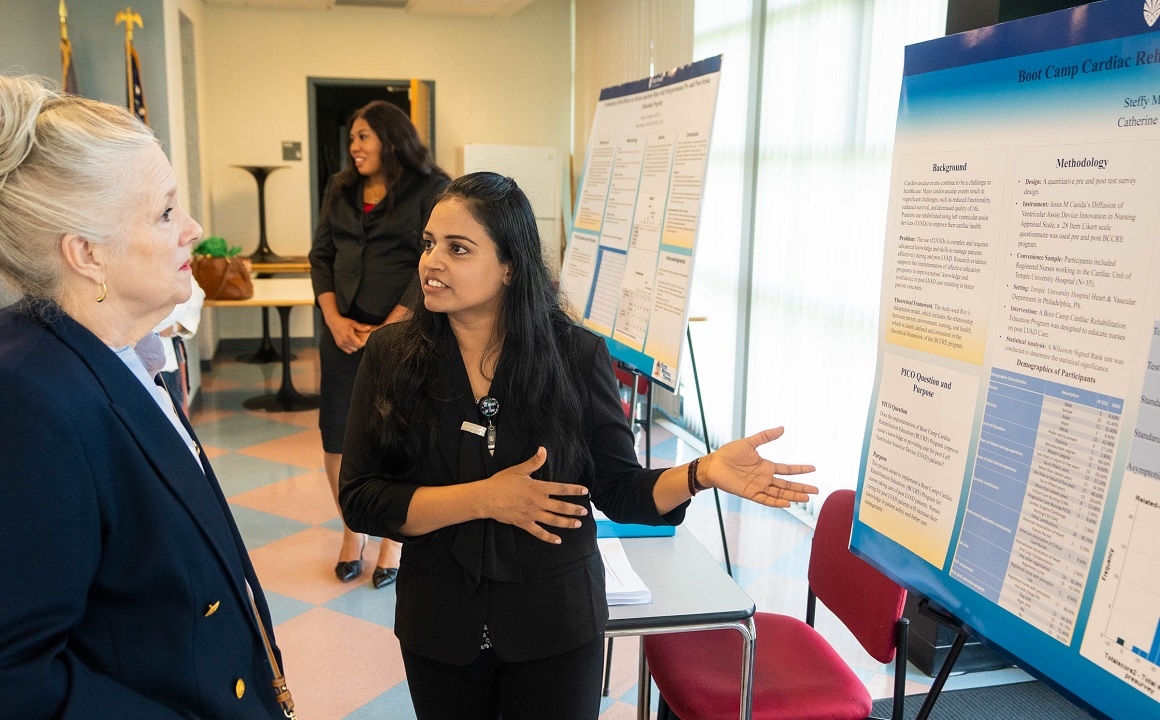 On Thursday, May 19, Holy Family University's School of Nursing & Health Sciences presented the Doctor of Nursing Practice (DNP) Poster Presentation event at the University's Newtown campus.
This year, 21 graduates from the School of Nursing & Health Sciences received their DNP degree at the Class of 2022 Graduate & Doctoral Commencement ceremony. Of those 21 graduates, nine students who had completed the program in April 2022 presented the research that they completed for their DNP Scholarly Project at this pre-Commencement event.
The students who presented their posters are Chigozie Amaefuna '20, D'22; Helene Dailey '18, D'22; Nicole Dixon D'22; Joeann Hall '86, D'22; Mary Hanes '16, M'20, D'22; Diana Kukuzenko '20, D'22; Steffy Mathew '20, D'22; Roopa Pappan D'22; and Selva Samuel '20, D'22.
The faculty who served as Project Advisors and Primary Investigators for the students included Catherine Hasson, DNP, RN; Jinsy Mathew, DNP, MSN, RN; Elaine Maruca, DNP, RN, FNP-BC, CNE; and Michelle Murphy-Rozanski, Ph.D., RN, CRNP.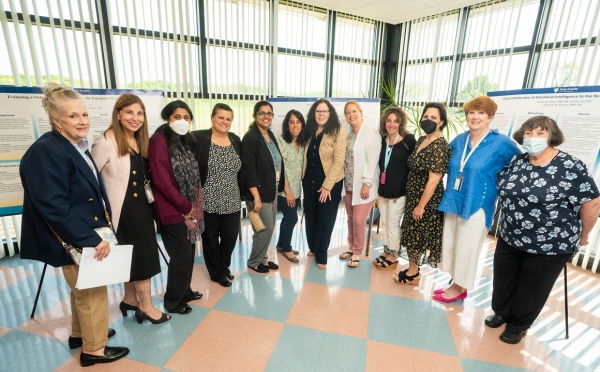 "We worked closely with our professors on our doctorate projects and they invested a lot of time into them as well," said Dr. Hanes. "It was nice to come together to celebrate not just our hard work, but the professors' hard work as well."
"This event gave us doctoral students the opportunity to showcase our dedication," added Dr. Pappan. "Our mentors and faculty were present to support us and congratulate us on completing our journey."
"The DNP poster presentation allowed formal dissemination of all the DNP graduate nurses' research projects," said Dr. Hall, who is also the Second Degree BSN Fast Track Coordinator in the University's School of Nursing & Health Sciences. "It enabled interaction and the ability to explore each other's projects focused on healthier population outcomes with identified issues. Most importantly, it helped us share our research with our family, friends, and colleagues. It was a setting that was as special as the graduation ceremony."
"This was an excellent opportunity to display the culmination of the students' hard work on their project with their families, friends, and the Holy Family University community," explained Dr. Maruca, DNP program director and assistant professor in the School of Nursing & Health Sciences. "The DNP Scholarly Projects are grounded in evidence-based practice with a focus on improving patient outcomes such as safety and quality. The students are planning to disseminate their work with their place of employment and national Conferences."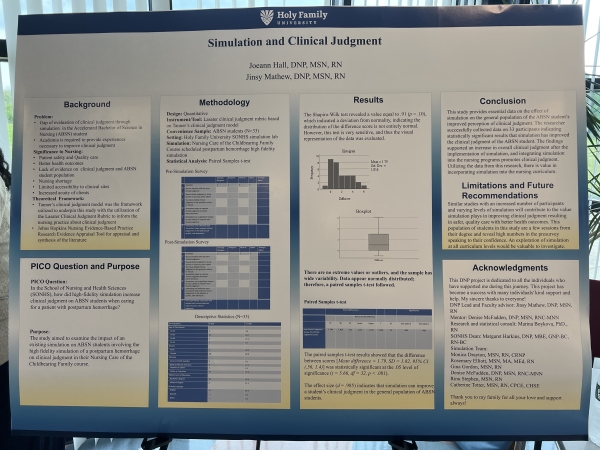 "I am extremely happy and proud of our DNP students who were committed and worked hard to reach the most important milestone," said Dr. Jinsy Mathew, associate dean, assistant professor, and DNP Team Lead at the School of Nursing & Health. "I would like to thank my DNP team for their dedication in preparing our students to be doctorally prepared professionals. The DNP Poster presentation held at the Newtown campus was excellent. The DNP scholarly project translates evidence into practice and focuses on patient safety. The ultimate purpose in completing the DNP scholarly projects is to improve the quality of care and health outcomes for patients."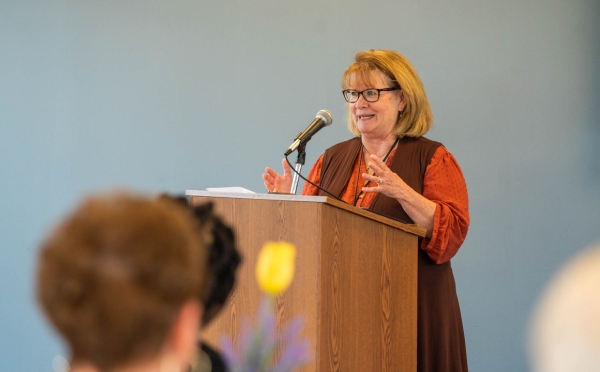 "I am very proud of all of our DNP students as well as the leadership team consisting of Dr. Mathew and Dr. Maruca," shared Margaret Harkins, DNP, MBE, GNP-BC, RN-BC, dean of the School of Nursing & Health Sciences. "Our DNP program is demanding and very rigorous. The contributions that our students have and will continue to make to the nursing profession will help improve patient care outcomes across a wide variety of specialty areas." 
Due to a limited number of spaces each semester, admission to Holy Family University's DNP program is highly competitive. For more information (including admission requirements), please visit the program website or contact the Graduate and Professional Studies Office at 267-341-3327 or e-mail gradstudy@holyfamily.edu