School of Nursing & Health Sciences Hosts Second DNP Poster Presentation Event at Newtown Campus
School of Nursing & Health Sciences Hosts Second DNP Poster Presentation Event at Newtown Campus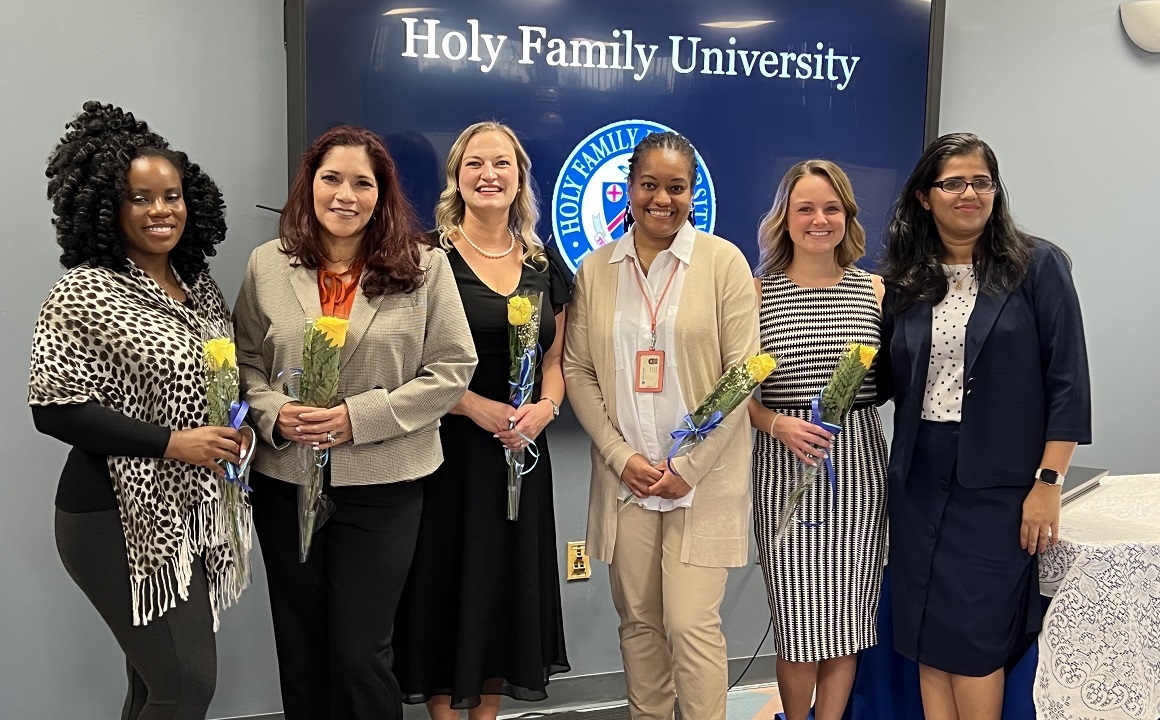 On Monday, November 7, Holy Family University's School of Nursing & Health Sciences presented the Doctor of Nursing Practice (DNP) Poster Presentation event at the University's Newtown campus.
This was the second Poster Presentation event held by the DNP program after a successful inaugural event earlier this year in May.
Six students who had completed the program in October 2022 presented the research that they completed for their DNP Scholarly Project at this event. The students who presented their posters are Cassandra Alexandre D'22; Shenia Howard '20, D'22; Amanda Luce-Caterino '16, M'21, D'22; Rinu Stephen D'22; Mindy Subbiah D'22; and Nancy Wilson '21, D'22.
The faculty who served as Project Advisors and Primary Investigators for the students included Elaine Maruca, DNP, RN, FNP-BC, CNE; Jinsy Mathew, DNP, MSN, RN; and Mai-Ly Pulley, DNP, MSN, RN.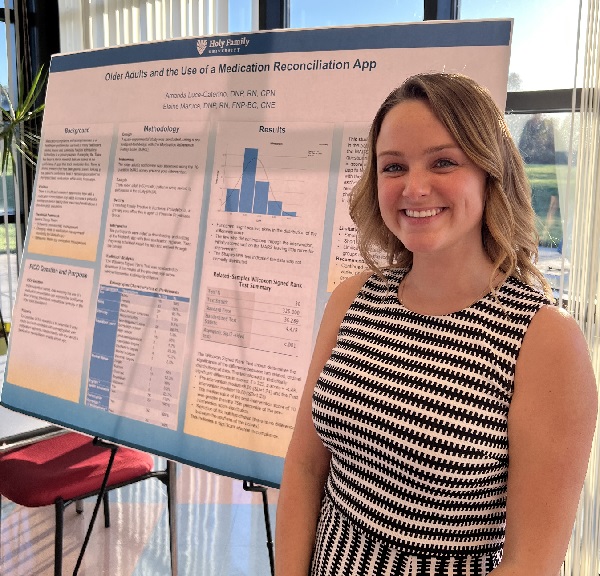 "The Doctor of Nursing Practice program at Holy Family University addresses diverse healthcare needs by preparing nurses to assume leadership, mentorship, and advanced practice roles," shared Dr. Stephen. "I am grateful to complete my doctoral degree at Holy Family University, which equips me to combine practice expertise with scientific knowledge to improve healthcare outcomes. The poster presentation was an excellent opportunity to interact with other DNP graduates and disseminate research findings to my nursing students, colleagues, teachers, family, and friends. It was my privilege and honor to represent Holy Family University and be a role model to my peers advancing education to serve society better."
"The poster presentation was an excellent opportunity to disseminate our findings and share them with friends, family, Holy Family faculty, and members of our cohort who supported us on our journey," added Dr. Subbiah. "I enjoyed learning in more detail about all of the scholarly projects and having the opportunity to discuss my project with my peers. It was a great way to celebrate all of our hard work in the program."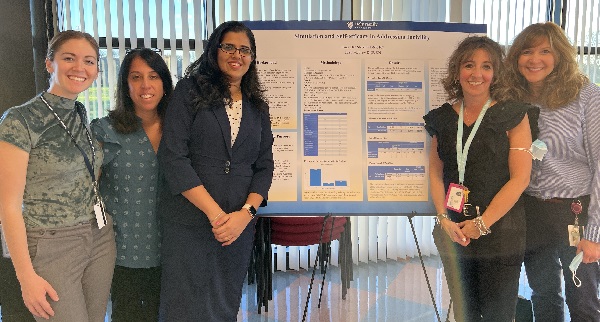 "The DNP Poster Presentation event was an excellent event and opportunity to showcase all of the hard work that the students completed for their DNP scholarly project," explained Dr. Maruca, DNP program director and assistant professor in the School of Nursing & Health Sciences. "Their families, friends, and the University community enjoyed the opportunity to interact with the students and explore their project findings. The projects are focused on evidence-based practice to improve patient outcomes of safety and quality of care. We are very proud of each of the students and their commitment and dedication to doctorate nursing education."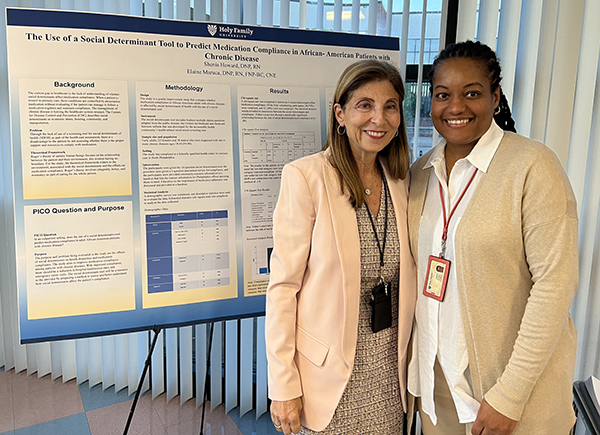 "This is a great milestone for our DNP students," said Dr. Jinsy Mathew, associate dean, assistant professor, and DNP Team Lead at the School of Nursing & Health Sciences. "Their commitment and hard work helped them to be successful. The DNP Scholarly poster presentation was excellent and relevant to the current needs of health care. The DNP scholarly project translates evidence into practice and focuses on patient safety and better health outcomes for patients and the community. I am happy and proud of our DNP graduates for their hard work and commitment to accomplishing this great achievement."
"I am so proud of our DNP student graduates here at Holy Family University," shared Margaret Harkins, DNP, MBE, GNP-BC, RN-BC, dean of the School of Nursing & Health Sciences. "Our DNP graduates are prepared at an advanced practice level to improve patient outcomes through their scholarly doctoral work and continue to be leaders in our field."
Due to a limited number of spaces each semester, admission to Holy Family University's DNP program is highly competitive. For more information (including admission requirements), please visit the program website or contact the Graduate and Professional Studies Office at 267-341-3327 or e-mail gradstudy@holyfamily.edu