School of Nursing & Health Sciences Hosts Spring 2023 DNP Poster Presentation Event
School of Nursing & Health Sciences Hosts Spring 2023 DNP Poster Presentation Event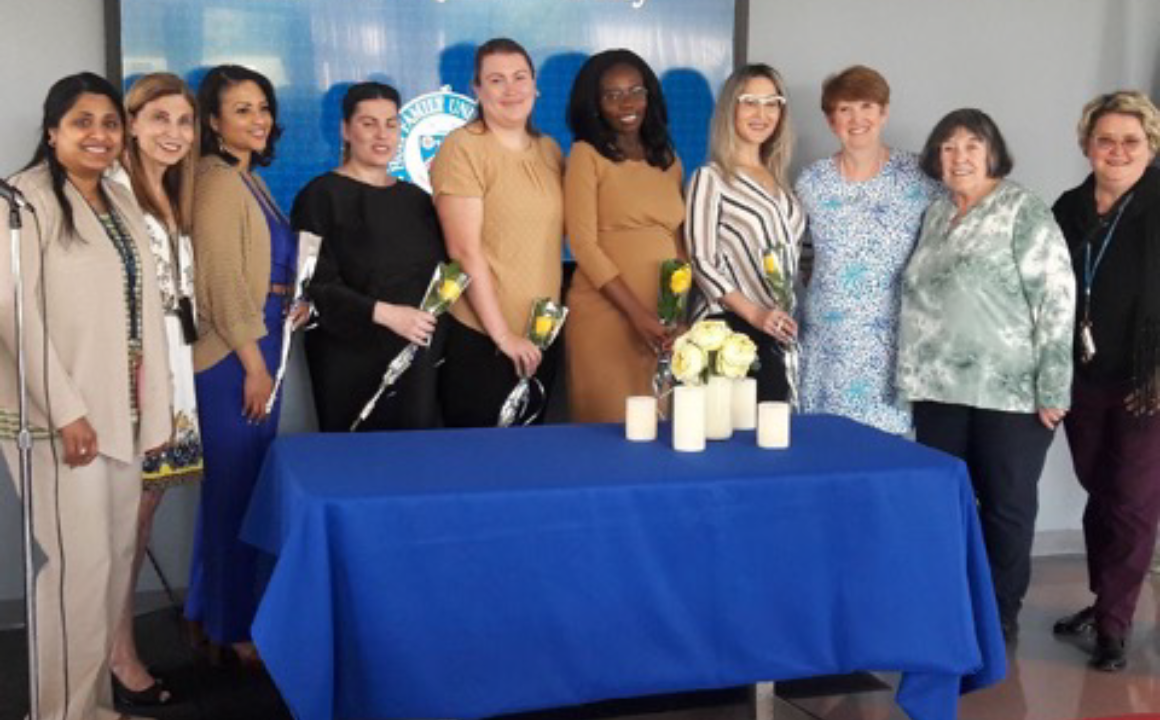 Doctor of Nursing Practice (DNP) students presented their research at the DNP Poster Presentation event at the University's Newtown East campus on May 17, 2023.
Holy Family University's School of Nursing & Health Sciences' DNP Poster Presentation event which began in Spring 2022, has become an ongoing tradition by the DNP program.
The most recent Poster Presentation event was held on Wednesday, May 17, 2023 at the Holy Family University Newtown East campus. This year, 11 graduates received their DNP degree at the Class of 2023 Graduate & Doctoral Commencement on May 20, 2023.
Of those 11 graduates, five students who completed the program in the Spring Semester, 2023 presented the research they completed for their DNP Scholarly Project at this pre-Commencement event. 
The students who presented their posters are Lisa Abdul-Haqq, Artemisa Balilaj, Kimberly Bishop, Mleanen Gilman, and Oksana Libelt.
The faculty who served as Project Advisors and Primary Investigators for the students included Elaine Maruca, DNP, RN, FNP-BC, CNE and Catherine Hasson, DNP, RN. 
Featured Scholarly Projects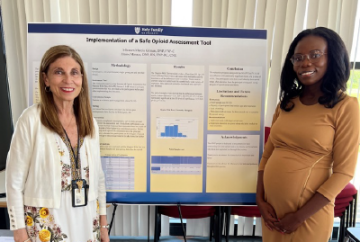 The Impact of Language and Cultural Barriers on Health Literacy among Haitian Immigrants in Philadelphia by Lisa Abdul-Haqq; Faculty Advisor: Dr. Catherine Hasson
Education on the Hypertension Guidelines in Improving Patients' Self-Efficacy and Hypertension Control by Artemisa Balilaj; Faculty Advisor: Dr. Catherine Hasson
The Effect of Virtual Reality on the Satisfaction of Graduate Students in a Nurse Anesthesia Program by Kimberly Bishop; Faculty Advisor: Dr. Elaine Maruca
Implementation of a Safe Opioid Assessment Risk Tool in an Outpatient Chronic Pain Clinic by Mleanen Gilman; Faculty Advisor: Dr. Elaine Maruca
Application of Ethnopsychopharmacology Education in Outpatient Psychiatric Clinics by Oksana Libelt; Faculty Advisor: Dr. Catherine Hasson
"The DNP Poster Presentation event provides a unique opportunity to showcase the applied knowledge that our students gained by completing this scholarly project," explained Dr. Maruca, DNP program director and assistant professor in the School of Nursing & Health Sciences. 
"The students' peers, families, friends, and the broader University community enjoyed interacting with our students and gaining a firsthand understanding of project findings. Each project centers on evidence-based practice to improve patient outcomes of safety and quality of care. We are proud of our students' dedication to advancing research along with their commitment to doctorate nursing education."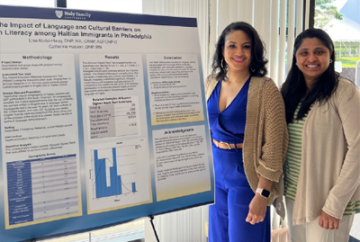 "This event is a wonderful achievement for our DNP students," noted Dr. Jinsy Mathew, vice dean, assistant professor, and DNP Team Lead at the School of Nursing & Health Sciences. "Their dedicated efforts advanced their work and enabled the successful completion of this important work. The DNP Scholarly poster presentation addresses today's healthcare needs. The DNP scholarly project puts evidence into practice and focuses on patient safety and better health outcomes for patients and the community."
"I am extremely proud of our DNP student graduates at Holy Family University," shared Margaret Harkins, DNP, MBE, GNP-BC, RN-BC, dean of the School of Nursing & Health Sciences. "Our DNP graduates acquire advanced practice skills designed to improve patient outcomes. Their scholarly work at the doctoral level positions them to become leaders in healthcare."
Due to the limited number of spaces each semester, admission to Holy Family University's DNP program is highly competitive. For more information (including admission requirements), please visit the  program website  or contact Graduate Admissions at 267-341-3327 or gradstudy@holyfamily.edu .