Screening of "Urban Trinity: The Story of Catholic Philadelphia" During 2016 Charter Celebration
Screening of "Urban Trinity: The Story of Catholic Philadelphia" During 2016 Charter Celebration
In conjunction with the 2016 Charter Week celebration of Holy Family University, History Making Productions, an Emmy-award winning production studio located in Philadelphia, will have a special screening of "Urban Trinity: The Story of Catholic Philadelphia" at Holy Family's campus in Northeast Philadelphia on Thursday, February 11, at 7 p.m.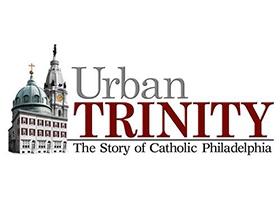 "'Urban Trinity: The Story of Catholic Philadelphia' explores Philadelphia's history through the lens of the many Catholic immigrants who shaped and changed the city," said Sam Katz, Executive Producer and Founder of History Making Productions. "The film exposes the experiences, challenges, sorrows, and triumphs of the diverse and unique Catholic communities who have shaped the religious, social, and physical landscapes of the Greater Philadelphia region throughout the past three centuries."
The screening, taking place in the Education and Technology Center Auditorium, will also feature a discussion by Katz.
The viewing of the movie coincides with the 2016 Charter Celebration of Holy Family University. The weeklong celebration runs from February 8-12, featuring a Mass celebrating the 61st anniversary of the University, a welcoming ceremony, the Mission Core Value awards ceremony, and a day of service.
"Charter Week holds special meaning for Holy Family because it provides an opportunity for us to pause and appreciate the value of the University expressed through the many—past and present—who have been part of its Mission to serve families," said University President Sister Maureen McGarrity, CSFN, Ph.D. "The airing of the film, 'Urban Trinity,' is especially meaningful as part of this celebration because it places the University in the larger context of a Catholic tradition that has significantly shaped the history of our country. As we come to appreciate more fully the accomplishments of the past, we will surely be inspired to renew our own efforts, personally and collectively, to 'seize the day' and transform the future."
Seating is limited. To reserve your seat, please email events@holyfamily.edu or call 267-341-4002 no later than January 28.