From St. Lucia to Philadelphia—Augustin Finds His Stride at HFU
From St. Lucia to Philadelphia—Augustin Finds His Stride at HFU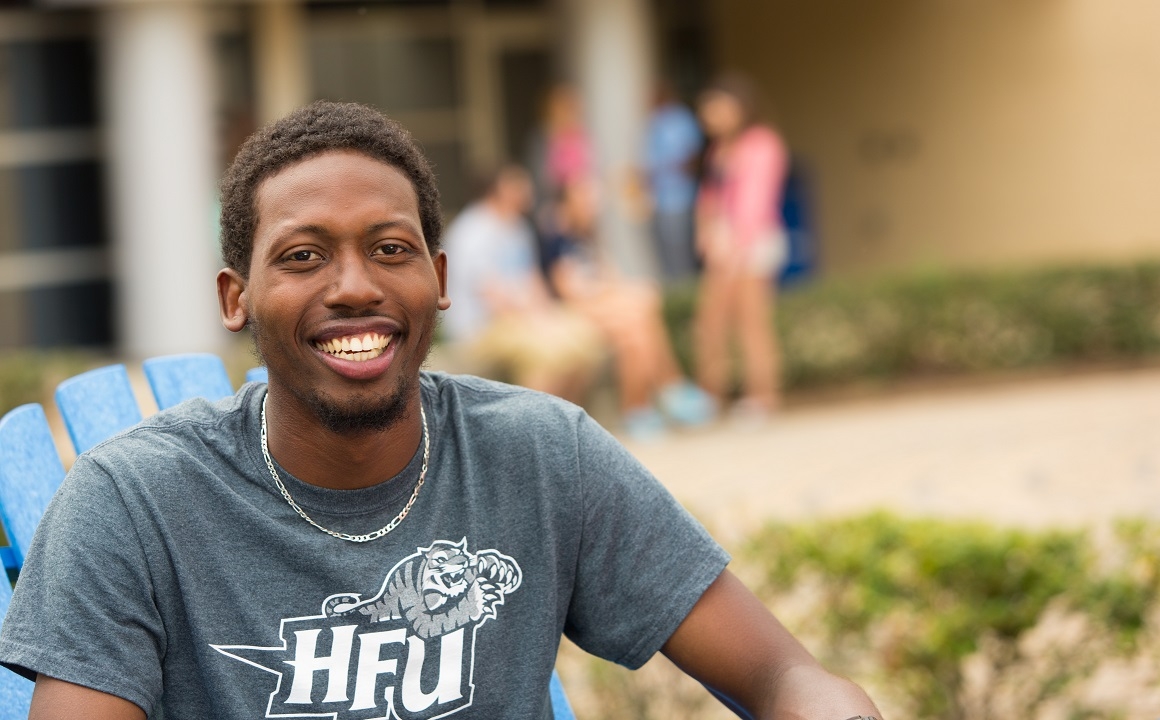 1,993 miles.
That's the distance between Philadelphia and St. Lucia. If you're fortunate enough to secure a flight with only one stop, it'll take roughly eight hours in the air—others can take up to 29 hours. When leaving from Philadelphia International Airport, you'll eventually arrive at Hewanorra International Airport, where you'll still have to endure an hour and a half drive, a 59-kilometer journey, to La Clery, the northwest tip of St. Lucia, and the hometown of junior Taurai Augustin.
Augustin's arrival in the United States was planned, but his journey to becoming a college athlete at a small school in Northeast Philadelphia was a little bit of a shock.
In 2013, Augustin packed up his belongings and moved from St. Lucia to live with his grandmother in New Jersey. He began attending Union County College, where he became a member of the track and field and cross-country teams. After finding success in the classroom and on the track, Augustin piqued the interest of scouts from Holy Family University. The rest, you can say, is history.
"I had always been a dedicated and focused student," Augustin said. "My coach at Union County was always keen on me picking the right school to transfer to afterwards. One of my offers was to Holy Family University, and after discussing the school, academics, and my role on the team, I was certain I would transfer here."
Though most of his family lives in the United States, his parents still reside in St. Lucia. With the support of his extended family, the culture shock hasn't been too dramatic, though Augustin admits it can be difficult to be away from your parents and the laid-back island life.
"It has been a little challenging being away from my home, especially not being able to see my parents as much as I'd like, but that is part of the college experience," Augustin said.
"Growing up on a small island and than coming to Philadelphia, there are a lot of changes. The roads, the huge buildings, the scenery, and the food are some of the things that were difficult to adjust to, not to mention the Philly dialect. Besides my family, I miss the atmosphere, the people, and the somewhat simplistic lifestyle of St. Lucia. The island life brings a culmination of beautiful weather, surreal environments, and hardworking people. I miss the scenery, the food, the festivities and the culture, but it still remains in me and I share it with my peers at Holy Family."
Augustin's accomplishments haven't just come on the track. He was presented the Top XV Award by the Central Atlantic Collegiate Conference in May, an award that recognizes student-athletes with the highest cumulative grade point average that participated at the CACC Championships. A Biology major with a focus on Pre-Med, Augustin has a 4.0 GPA, thriving in the small classroom environment at Holy Family.
"My educational experience at Holy Family University has been comprehensive," he said. "Each professors shows their desire to teach, as well as make themselves available for any issues that may come along during the duration of the course. The fact that Holy Family University is a small institution allows my professors to be able to identify who I am so that we can build meaningful relationship."
As far as what he'd like to do upon graduating, Augustin has his eyes set on a career as a sports medicine physician, where athletes can receive the same kind of treatment he has been provided.
"When I graduate, I'd like to enter the medical field, prepare for getting into medical school, and eventually specialize in sports medicine so that I can treat athletes," he said. "This degree will be the foundation for my medical career and I hope to use it to signify that hard work is a key part of success."