From Student to Instructor in the Second Degree BSN Program: Meet Bryan Hill '18 M'21
From Student to Instructor in the Second Degree BSN Program: Meet Bryan Hill '18 M'21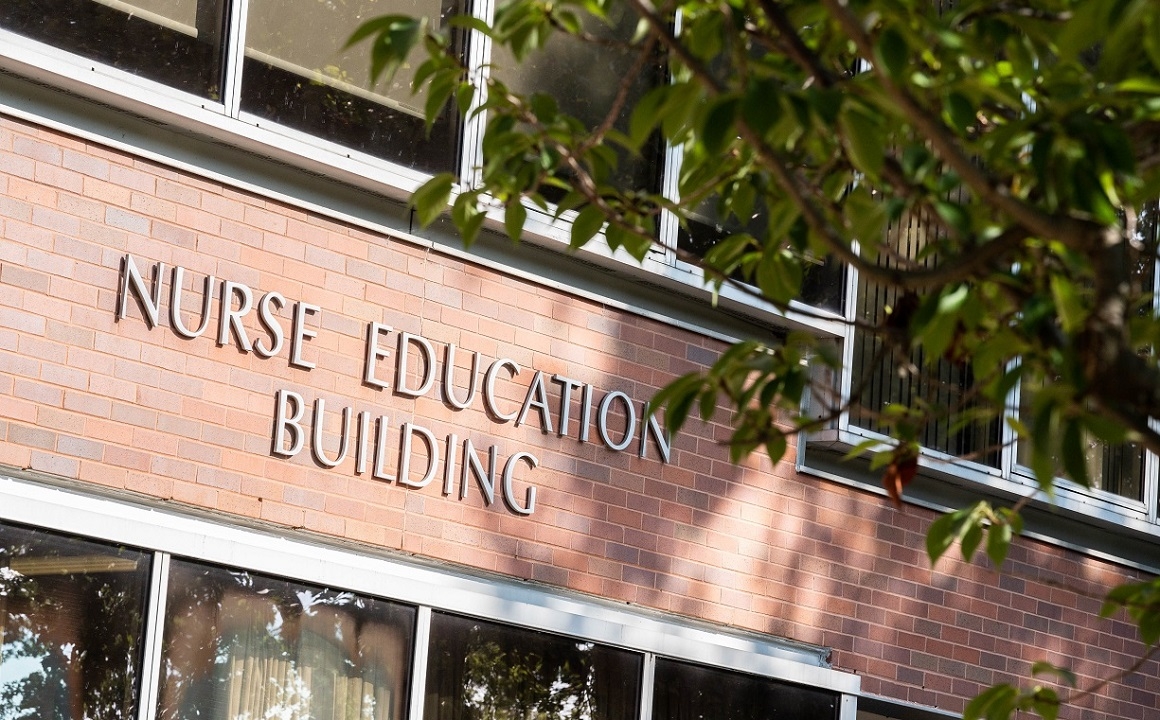 Holy Family University graduates are leaders across the healthcare industry—from award-winning nurses to department heads in hospitals. Some of these leaders even practice close to "home," like Bryan Hill '18 M'21, who is both a current DNP student and an instructor at Holy Family University's School of Nursing & Health Sciences.
Hill started at Holy Family University in 2017 in the accelerated Second Degree BSN program. He initially decided to go to Holy Family to have a different educational experience than the one that he had while earning his first undergraduate degree. "One of the reasons I was interested in Holy Family was the smaller class sizes," he explains. "I went to a big university for my first bachelor's degree and I felt like a number versus a student. While looking at Holy Family the idea of 'family' really stood out to me. I thought that it was something I'd like to be part of while I was working on a nursing degree."
It did not take long for Hill to become convinced that he had made the right decision. "When I came in for Orientation for the program I knew that Holy Family was the right school for me," he remembers. "I met very friendly and supportive professors that were approachable and easy to talk to. I immediately felt like I was somewhere where I would be supported. That was my first impression, and it has continued to be true throughout my journey here."
After graduating with his BSN degree, Hill continued his professional journey at Holy Family by enrolling in the BSN–DNP Family Nurse Practitioner (FNP) program, a graduate degree track designed for a BSN nurse to become a FNP at the doctoral level. "Because of the great experience academically and personally with the faculty here, it was no question that I wanted to do my graduate work at Holy Family," Bryan says.
After Hill completed his MSN degree as part of the BSN-DNP Family Nurse Practitioner program in May 2021, he expanded his role at Holy Family in a way that he unexpected by becoming an instructor. He currently teaches Introduction to Professional Nursing, Foundations of Nursing Practice Lab, and Medical Surgical Nursing I Lab in the accelerated BSN program and Foundations of Nursing Practice Lab in the traditional BSN program.
"I did not plan to become an educator, but I was so inspired by how my professors acted toward me and how much of an asset that they have been to me," notes Hill. "After receiving my MSN, I felt like I wanted to give back to students in the same way that other professors had done for me and support students during the rigorous process of earning a nursing degree. I thought this would be such a great place to work alongside some of the people who were role models to me. They continue to be role models to me in educating the next generation of nurses."
Above all, Hill points to his experience learning from—and now working with—the University's faculty as an essential part of his experience. "The academics at Holy Family are rigorous as you learn the foundations of the nursing practice through the extensive experiences of the faculty," he explains. "You can engage with the faculty with our smaller class sizes in a way that you can't at other universities. You develop such a strong rapport that will last through your entire education here."
Holy Family University was recently named a Top 10 Accelerated Nursing Program in Philadelphia for 2021 by Best Value Schools. The University enrolls two Second Degree BSN Cohort – 14-Month Daytime Cohorts and two Second Degree BSN Cohort – 22-Month Evenings + Weekends Cohorts a year (spring and fall). Due to a limited number of spaces each semester, admission to the program is highly competitive. For more information (including admission requirements), please visit the program website or contact the Graduate and Professional Studies Office at 267-341-3327 or e-mail gradstudy@holyfamily.edu.