The Way of St. James: Father Mac's Journey
The Way of St. James: Father Mac's Journey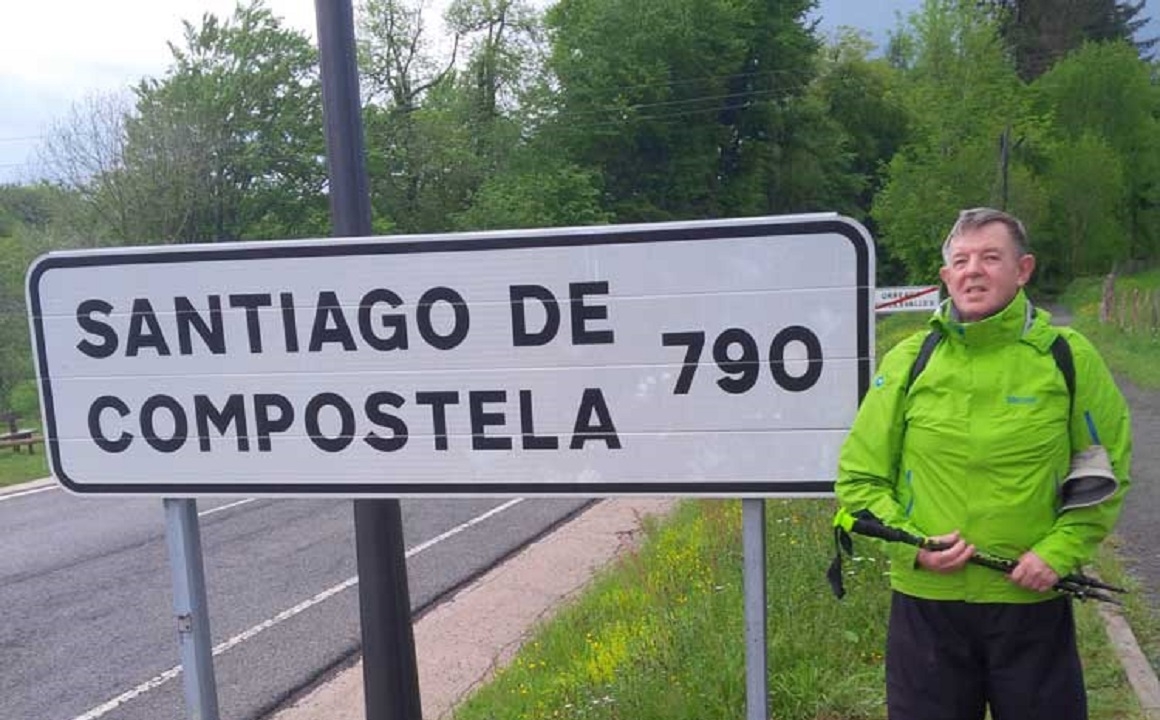 During Summer 2014, Holy Family University's Chaplain, Father James MacNew, is travelling The Way of St. James, a famous pilgrimage dating back to the Middle Ages.
Father Mac will be sending updates as frequently as he can throughout this journey. Check back frequently for updates; they will be listed in reverse chronological order.
Sunday, June 15
Dear Holy Family, once again, Father Mac is driven from a Spanish town following a lengthy homily with too many Navy references!!! Ha!
I have sent along a photo and text from Astorga on the Camino de Santiago! This statue in Astorga of a pilgrim on the way to Santiago stopped me in my tracks!
More GOOD updates coming!
Fr. Mac
Thursday, June 5
Father Mac sporting new Holy Family Working Uniform: Holy Family High Visibility Working Khaki.
I was embarrassed purchasing these high viz colors for the Camino. When I dressed like this on the Flight Deck of the aircraft carrier, it made sense. At the hiking store, I kept thinking, "what are the other priests wearing today?" But the truth is that motorists and truckers on tight Spanish roads CAN'T slow for every pilgrim...so they don't slow for ANY! One speeding trucker backed me into a barbed wire fence bordering a sheep pasture...and then waved in apology! Thank God for the Green jacket!
Context is always critical to understanding situations! Honestly, you CAN'T apply the Gospel to a situation UNTIL you UNDERSTAND the situation! People might think I'm dressing like a 62 year old "Dead Head", but, actually, I'm striving not to become road kill! It's all a matter of context!!!!
Love To All,
Fr. Mac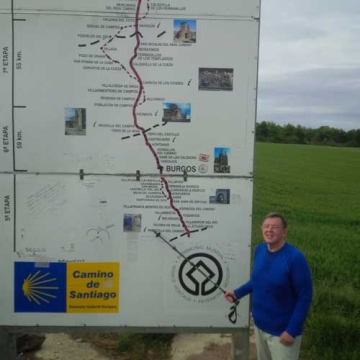 Tuesday, June 3
"'I know Bear Mountain must be on this map somewhere."
This map reminds the pilgrims that their 500 mile journey has a destination. The journey takes us up mountains and down into valleys, into forests and through verdant pastures. The journeys takes us past bars and stores and all sorts of potential distractions, but always we are striving to track faithfully to the relics of St. James in the Cathedral at Santiago de Compostela.
In life itself, we are always striving to track faithfully to God in all that we do. We must courageously and consistently choose the narrow way that will lead us most directly to our heart's true desire. We must bypass the unhelpful diversions that could, delay, distract, or dissuade us from our ultimate goal.
Sometimes OTHERS help us to make the right choice!
Yesterday I visited the cloistered Visitation Sisters in Burgos! They were founded by St. Francis de Sales and were completely warm and welcoming to an Oblate of Francis de Sales like me.
As I left the monastery, Mother Begona Sancho gave me two rosaries. Then she held up two cellophane bags of wonderful cookies and said, "The sisters also make THESE...," and returning the cookies to the shelves, she said, "But THESE are not for the CAMINO!"
See? Sometimes OTHERS help us!!!
P.S. Please don't tell Mother I've already HAD an ice cream cone!!!
From the "Narrow" Road,
Father Mac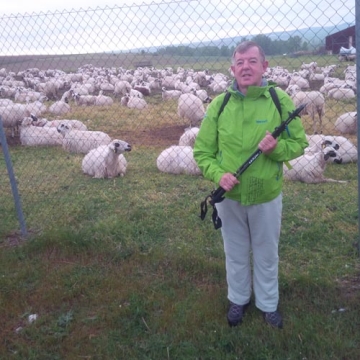 Saturday, May 31
"Hey, I found the sheep! There must be a 'good' shepherd somewhere nearby!" Fr. Mac poses before Praxis Exam in Shepherding!
The People along the Camino
My pace and distance increase daily: 14.7 miles yesterday! Today's track only called for 12 (an easy day). My feet are very sore and tender, but there are no blisters!
On about day 4 of the Camino, I severely sprained my ankle on an ancient Roman road. Hours later, I limped into the gas station-restaurant-rooming house where we had a reservation. One guy was running the whole place. He asked about my limp. The guy did not know I was a priest. He carried my pack to my room, put me in his car and drove me to see a doctor--leaving his business unattended! Unbelievable! The guy didn't know me from Adam! He saw my injury and took generous loving action to help me! Two days ago, I was talking to God about my sore feet and ankle and then I met the guy making the Camino in his wheelchair!!! That caused some "re-framing" on my part!
Yesterday, a 60 year old woman who has been away from her Catholic faith since after 12th grade spent the day walking next to me, teaching me to use my poles properly, and helping me keep a steady (rapid) pace, and she unburdened herself of all of her hurts and anger about the Church. Like the road to Emmaus, I very gently opened the scriptures and a mature and correct understanding of Church teaching for her as I struggled to maintain the pace she set. At day's end, she slowed on a long uphill and said, "I've been away a long time. I need to get back." We agreed to walk together tomorrow! "Yes, I'm looking forward to what God will do tomorrow, but I'm dreading her pace on the uphills!"
Love to all,
Father Mac
Sunday, May 26
Everyone anticipates blisters on the feet but I have blisters on my hands from the hiking poles! This whole journey is long, steep uphills and jarring descents! The poles are essential.....so is daily mass! Every town seems to have a special pilgrim's mass at night! They call the pilgrims forward at the end of mass for a special blessing! Very Special!
Two high school students from Minnesota walked next to me for a while today. One said, "the movie made this all look FLAT!" The other said, "Yeah, Martin Sheen and the fat guy never broke a sweat! We're doing 26 kilometers a day like billy goats!"
In the end, each person gives daily what she or he is able to give to God and that becomes their gift! People keep reminding us: "It's YOUR Camino! Do it your way. Flex and adjust as necessary to make it your best gift to God. Don't judge, but be understanding if someone needs to take a taxi part of the way! Perhaps, in his zeal he has overdone it and now his feet are raw. Be loving, be helpful: that is what the Camino calls you to, not just on the path, but, so when you return home!
Writing this from my taxi,
Father Mac
Saturday, May 25
Father Mac plays combat medic to himself on day 8 of the Camino not far from Los Arcos! He used to buy books by the dozen, now he lives on moleskin, mole foam, and blister medic! Only five weeks to go at 13-17 miles per day! This was day 8 with heavy downpours throughout! Why the same jacket in every photo? You don't carry 2 jackets on a 500 mile hike!
Love to all!
Father Mac
Thursday, May 22
Hi Holy Family University,
"Hola!" from the Camino of St. James! Yes, i'm doing the 500 mile trek from the movie "The Way" with a member of the Board from Dominican College.
On day one, we stepped out into a teeming deluge in a dramatic thunder and lightning storm! It was time to begin. Stepping into the storm, I felt like I was giving a true gift to God, but within a hundred splashing paces, I realized that it was God who, in fact, had given me the inspiration, desire, and courage even to try! Days one and two were off and on with rain gear throughout! Day 1: 17 miles over the Pyrenees from St. Jean in France to Roncevalles in Spain! Tough! Thank God for high visibility rain gear on narrow country roads where trucks pass pilgrims close aboard at high speed. I feel holy on the back roads talking to God, but maybe the highway with the bars and restaurants is safer!
Rain each day so far and predicted through Saturday (3 more days)! Hey, this is the Camino of St. James!!! James and John were known as "Boanerges," which means "sons of thunder," and they sure have been speaking to us! On Day 2, another pilgrim snapped the attached photo at a kilometer marker sign! Be optimistic! Maybe it's all downhill from here!!!
Love from Pamplona!
Father Mac