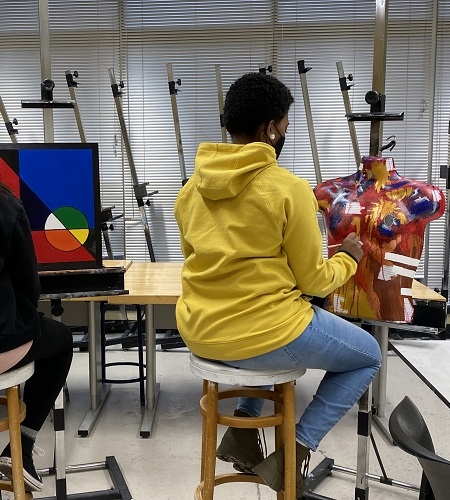 Art-Studio, Minor
The minor in Studio Art includes a strong foundation in art-making as well as the opportunity for advanced study that can be customized to address a student's particular interests.
What Can I Do with this Minor?
Students with an Art minor can go into specific fields such as book design, advertising, art law, and medical illustration. Graduates with a background in Studio Art can work in politics and medicine. The study of Art develops self-discipline and a strong work ethic as well as creativity and the ability to communicate. These are skills that will enhance any career.
Opportunities for students with a minor in Studio Arts include:
Animator
Arts administrator
Fine artist
Graphic designer
Illustrator
Instructor in the visual arts
Printmaker
Program Information
Degree Awarded

Program Type

Program Location

Main Campus - Northeast Philadelphia

Required Credit Hours

18
Program Overview
The minor in studio art is designed to allow an in-depth investigation of one art-making process or a sampling of a variety of art-making processes. The minor offers students the opportunity to pursue a course of study in painting, sculpture, graphic design, printmaking, watercolor, and ceramics.
The study of Studio Art gives students the opportunity to develop imaginative and expressive skills in small studio classes. The art-making experience offered in the Studio Art minor will also reinforce a lifelong appreciation and enjoyment of art.
Spring Open House
Hear from Admissions, Financial Aid, Faculty, and more, and discover all that Holy Family University has to offer.
Register for this Event
Campus Center, 9801 Frankford Avenue, Philadelphia, PA 19114