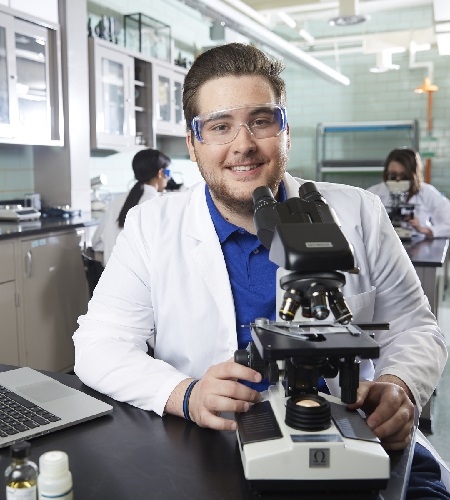 Biology, B.A.
The Biology program is designed to expose students a broad base of biological knowledge ranging from the events that occur in an individual cell to those that govern entire ecosystems.
What Can I Do with this Degree?
The Biology major prepares students for a career or for additional graduate studies where they may pursue research, various health professions, teaching, business, or service in government or independent agencies.
Career opportunities for Biology majors include:
Agricultural and food scientist
Biochemist
Biological technician
Biology teacher
Environmental scientist
Health communications specialist
Medicine
Microbiologist
Pharmaceuticals
Program Information
Degree Awarded

Program Type

Program Location

Main Campus - Northeast Philadelphia
Program Overview
The Biology program starts by providing a fundamental understanding of general biology concepts that are essential to comprehend the advanced topics that students encounter in the upper-level courses as they advance through the program. The Biology program offers pre-professional tracks in Pre-Medicine, Pre-Physical Therapy, and Pre-Physician Assistant that have focused sets of courses within the major.
The small and highly supportive learning environment allows students to obtain the necessary competence of the disciplines that are essential to all aspects of biology, such as physics, chemistry, and math. Students in this program thrive in a close-knit yet challenging learning environment as the program incorporates hands-on experiences that serve to reinforce what is covered in the classroom.
Where Students and Alumni Intern and Work
Academy Injury and Health
Centra State Medical
Charles River Labs
Children's Hospital of Philadelphia
Churchville Nature Center
Comprehensive Dental Care
CVS Pharmacy
Drexel Community, Family and Preventive Health
Drexel University, Department of Microbiology and Immunology
Dutton Road Veterinary Clinic
Einstein Medical Center
Elizabeth Carroll
Esco Techologies
Fels Institute for Cancer Research
Fitchett Chiropractic Center
Fox Chase Cancer Center
Genesis Biotech Group
Glen Foerd
I.Rice
IC Laser Eye Care PC
InReach
Jefferson-Frankford Hospital
Jefferson-Torresdale Hospital
Jefferson University Hospital-Urogynecology and Female Medicine
Leonard and Madlyn Abramson Pediatric Research Center
Mercer County Wildlife Center
Montgomery County Rehab & Sports Therapy
NovaCare
Pathways to Housing PA
Peninsula Physical Therapy LLC
Penn Vet Working Dog Center
Penndel Middletown EMS
Pennypack Environmental Center
Petroski Physiotherapy and Performance
Specialty Assays
St. Mary's Medical Center
Suburban Testing Labs
Temple Fels Institute
Temple Medical Research Center
Temple Shriner's Hospital
Temple University Lewis Katz School of Medicine
University of Pennsylvania, CDB
Wuxi Advanced Therapies
Spring Open House
Hear from Admissions, Financial Aid, Faculty, and more, and discover all that Holy Family University has to offer.
Register for this Event
Campus Center, 9801 Frankford Avenue, Philadelphia, PA 19114