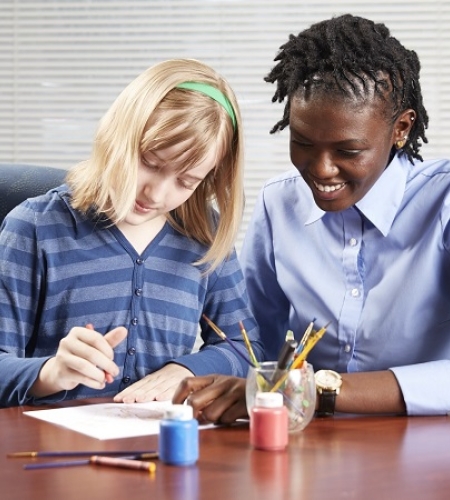 Education, Concentration in Pre K-4, B.A.
Education, Concentration in Pre K-4, B.A.
UG
The Bachelor of Arts in Education with a concentration in Pre K-4 provides the necessary training for students interested in teaching at the PreK-4 level.
What Can I Do with this Degree?
The Pre K-4 concentration enables students to become certified to teach all courses from Pre K-4 (nursery/age three) through fourth grade (age nine). 
Graduates who hold a certificate for Grades Pre K-4 are qualified to teach foundational subject matter content in the areas of language, literacy (including foundations of reading), math, science, social studies, arts/humanities, and motor development/health. They may also teach developmental reading in pre-kindergarten through Grade 4.
Program Information
Degree Awarded

Program Type

Program Location

Main Campus - Northeast Philadelphia
Program Overview
We strongly believe in placing students into the field and into as many different classroom environments as possible. Our comprehensive field placement program, unmatched in its amount and variety of field experiences, starts with freshman year and continues until graduation. Our field experiences include the following features:
Opportunities for observation, teaching, and tutoring at Alpha House, our early learning center located right on the Northeast campus
Field placements arranged for you by our Field Experience Office in a wide variety of settings, including public, private, urban, and suburban schools
Experienced cooperating teachers and supervisors for junior-level practicum and student teaching
University supervisors who provide regular feedback, coaching, and mentoring
Class field trips to apply coursework in school settings
Where Students and Alumni Intern and Work
School districts working with our students and employing our graduates include:
Archdiocese of Philadelphia
Bensalem
Bristol Borough
Bristol Township
Centennial
Central Bucks
Cinnaminson
Council Rock
Hatboro/Horsham
Independence Mission
MaST Community Charter
Mount Laurel
Neshaminy
New Hope-Solebury
Pennsauken
Pennsbury
School District of Philadelphia
Spring Open House
Hear from Admissions, Financial Aid, Faculty, and more, and discover all that Holy Family University has to offer.
Register for this Event
Campus Center, 9801 Frankford Avenue, Philadelphia, PA 19114