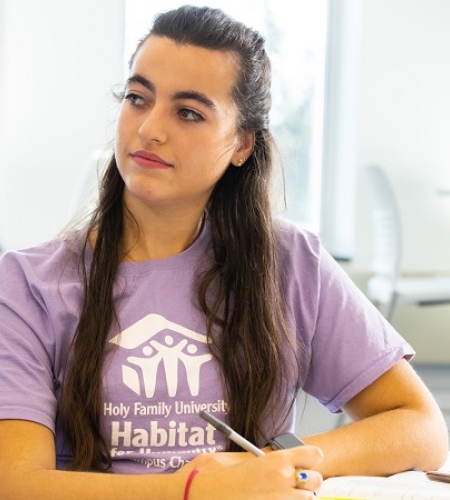 Health Promotion and Wellness, B.S.
Health Promotion and Wellness, B.S.
UG
The Health Promotion and Wellness program prepares students to assume roles as wellness and health promotion professionals in private business, community organizations, and healthcare agencies.
What Can I Do with this Degree?
The momentum to promote wellness over the traditional disease model of care is growing at a rapid rate. The US Department of Labor Statistics projects job growth of around 16 percent from 2016 to 2026 for positions focusing on promoting health and wellness for individuals and communities. Organizations recognize that there is a tremendous return on investment when their employee or members get healthy and stay healthy.
A Bachelor of Science degree in Health Promotion and Wellness from Holy Family University places graduates at the forefront of this national trend toward living a healthier, more rewarding life with professional positions such as:
Community health and wellness director
Corporate wellness administrator
Director of fitness or wellness
Health educator
Wellness program manager
Program Information
Degree Awarded

Program Type

Program Location

Main Campus - Northeast Philadelphia
Program Overview
The innovative curriculum focuses on strategies to promote healthy behaviors and lifestyles with an emphasis on living well. Foundation courses such as anatomy, physiology, nutrition, and human development serve as building blocks for courses in the major where students plan, implement, and evaluate programs to promote healthy behaviors and wellness. This program includes a two-semester internship coordinated by our Experiential Learning program with an off-campus industry leader.
Where Students and Alumni Intern and Work
Academy Injury and Health Chiropractic
Acclara University
Albert Einstein Medical Center
Appletree ChildCare
Blessed Margaret Costello Home for Crisis Pregnancies
Blessings4Ever Home Care Agency, LLC
BreakThru Physical Therapy
Bridge Care Hospice
Bucks County Association for the Blind and Visually Impaired
Center for Families and Relationships
Child Guidence Center Resource
Children's Crisis Treatment Center
CVS Pharmacy
Deptford Center for Rehabilitation and Healthcare
Drexel Community, Family and Preventive Health
Health Advocates
HealthLink Dental
Hillcrest Center
Holy Redeemer
iliomedia LLC
Kinney Center for Autism Education and Support
Lannett Company Inc.
Liz Curran Health and Anxiety Coaching
Lavanga Hollistic Centre
Lyceum Physical Medicine
Montgomery Montessori
Nationalities Service Center
NOVA Care
Oh How Healthy
Pennswood Village
St. Mary's Medical Center
Tohickon Internal Medicine
Trevose Day School
Rated one of the Top 100 Most Affordable Health & Wellness Colleges by UniversityHQ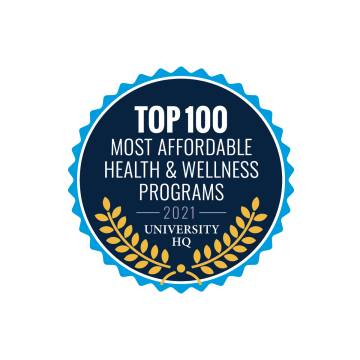 Spring Open House
Hear from Admissions, Financial Aid, Faculty, and more, and discover all that Holy Family University has to offer.
Register for this Event
Campus Center, 9801 Frankford Avenue, Philadelphia, PA 19114